Annual Meeting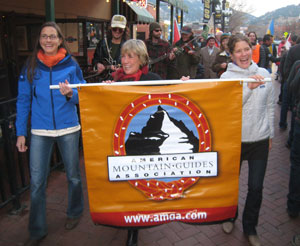 Betsy Winter and Majka Burhardt hold the AMGA flag walking down Pearl Street, Boulder, Colo.
Why come to the Annual Meeting?
Each year the AMGA achieves the impossible by bringing America's top climbing guides together in one place for our Annual Meeting. How do we do it? Free micro-brewed beer and food! Yes, that definitely helps. And we hold the meetings where our guides and attendees can climb the sweetest cracks and the most beautiful mountains, from the Shawanagunks to Yosemite National Park, among others. If you're a guide, you can meet potential employers, interact with manufacturers in the outdoor industry, or develop your professional skills. Take a clinic on crevasse rescue, short roping, or other tricks of the trade. Or check out the latest, high-tech demo equipment provided by our industry partners. If you're a Corporate Partner, you'll have the opportunity to showcase your stuff to the core group of users in the mountain climbing and skiing community.
Corporate Partners
The Annual Meeting offers our valued corporate partners a great opportunity to showcase your stuff to the core group of users in the mountain climbing and skiing community. Our guides are your brand champions; they wear your clothes and use your gear because you provide the highest-quality, most cutting edge clothing and gear in the industry. Subsequently, they inspire their clients to do the same. Sponsor an evening party, the Guides Olympics, or whatever component of the event you choose, and meet AMGA members face to face. This is your best opportunity to connect with a high concentration of professional mountain guides and guide service owners.
Everyone
The Annual Meeting provides all our esteemed attendees—guides, aspiring guides, industry leaders, and our corporate partners—with a plethora of networking and professional development opportunities. Plus, it's a lot of fun. At the Guides Olympics, test your mettle and practice your guiding skills. Winners get cash and swag for jumaring a fixed line, searching for a beacon faster than everyone else, or performing various other feats while duct taped to a fellow guide. Each night we throw parties to celebrate the achievements of fellow guides. Eat hearty, dance, dress up (or in costume), and bid on or win plenty of high-quality outdoor equipment and clothing at one of our raffles or silent auctions. Attend the Annual Meeting and connect and reconnect with members of your climbing  and skiing tribe. The price of admission is free for AMGA members and $15 for non-members.
Annual Meeting Photos:
Over the years…