Access Opened at Gate Buttress
Posted on April 10, 2018 by Monserrat Alvarez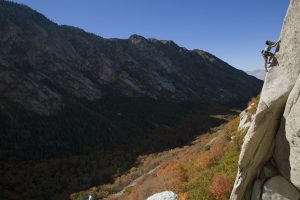 We are pleased to announce a new access opportunity at the Gate Buttress in Little Cottonwood Canyon, UT. After extended negotiations with the Church of Jesus Christ of Latter Day Saints (LDS Church), an agreement has been signed to allow guided rock climbing on 140 acres of private LDS Church property around the Gate Buttress.
This includes over 588 routes in popular areas such as Green Adjective, School Room, and The Fin. The effort to open this area was led by the hard-working team at Salt Lake Climbers Alliance (SLCA) and was supported by AMGA's Advocacy department.
SLCA will be hosting an informational session on April 18, 2018 from 6:00 -7:00 PM at the Black Diamond Headquarters (2092 East 3900 South, Salt Lake City) in the garage conference room. Interested parties should RSVP to Julia Geisler, SLCA Executive Director, at [email protected].
Information about the permitting process and requirements can also be obtained by contacting Matt Wade, AMGA Advocacy & Policy Director, at [email protected] or 303-847-4482.  
Photo credit: Andrew Burr