Allen & Zimmerman narrowly miss coveted Piolet d'Or award.
Posted on March 29, 2014 by AMGA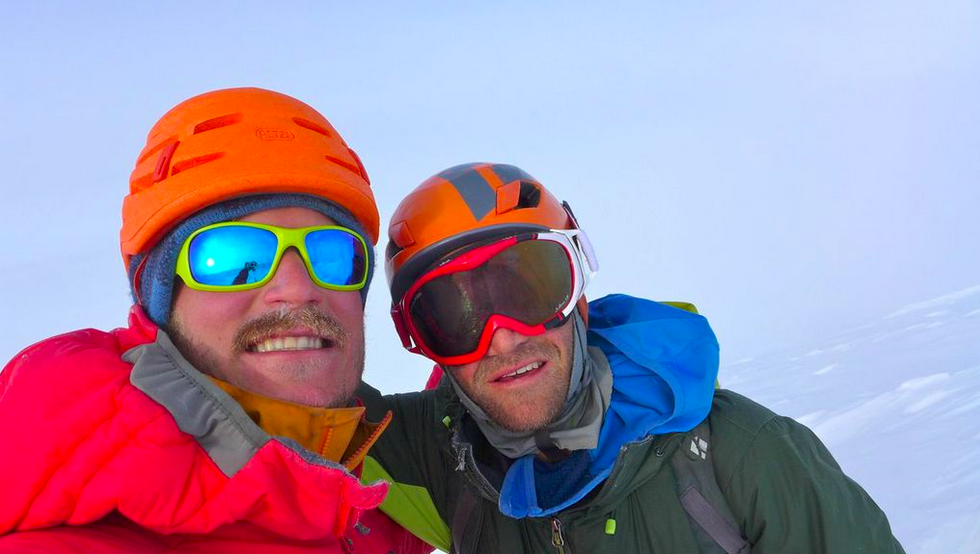 By AMGA staff
AMGA Guide Mark Allen and his partner Graham Zimmerman were on the short list for the Piolet d' Or Award for their 2013 ascent of the Northeast Buttress (1400m, V AI4 M7 A1) of Mount Laurens (3,052m) in the Alaska Range. Though they didn't win, they were really pleased just to be nominated, Allen told us in an email correspondence late after the event.
"Graham and I are not bummed at all; if we were to pick our two favorites, these would be it," he said of Ueli Steck's solo new route on the south face of Annapurna and Raphael Slawinski and Ian Welsted's first ascent of K6 West. "We were just so pleased to be nominated and brought to France for this celebration and to represent the United States."
Plus, he stated, their climb appeared to motivate and intrigue many European journalists for "the sense of adventure." They had more than a dozen interviews with many publications and TV stations. Furthermore, the two men were thrilled to have Catherine Destivelle introduce them and their climb and to have George Lowe applaud their style.
"It was an achievement to have a panel of alpinist who we hold in such high regard identifying our style as contemporary and cutting edge," he said. "That was the best award I could have received."
AMGA Executive Director Betsy Winter stated that she and the AMGA staff and members have reason to be proud of Allen. "In terms of adventure, style, spirit, remoteness, and exploration, the Allen/Zimmerman ascent really celebrates the spirit of alpinism," she said. "These guys went to one of the most remote, untrammelled regions of Alaska, and they embarked on a true adventure. And while they claim their route isn't that hard, it is actually quite an impressive and difficult line that was done in the purest style. Mark is a role model for other guides, not only for his guiding abilities, but also for his personal accomplishments."
"Graham and I were just doing our thing," Allen explained. "The style and objectives that provoked us the most, the features and terrain that made us want to explore and in a method that was fair to the mountain and the sport. It is really fun (and flattering) to see that a group of Alpinists—part of a culture we hold in such high regard—are giving two dark horses a nod. This has stoked the fire for sure."
Read Mark's full account of his adventure by clicking here.