Delap Teaches Basic Rescue Training to NPS employees
Posted on May 10, 2014 by AMGA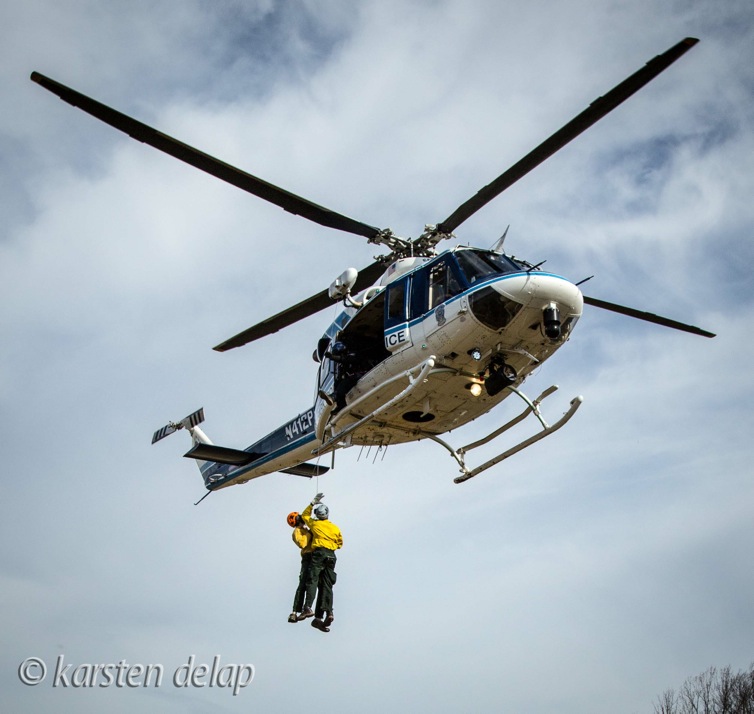 Karsten Delap recently returned from training National Park Service employees in basic rescue techniques. An AMGA Board member, Delap also serves on the board of the Appalachian Mountain Rescue Team. When that organization had an opportunity to send some folks to the National Park Service Basic Technical Rescue Training East, Delap applied to take the course. Unbeknownst to him, Kevin Moses, the director of the course, called and said that he had gotten a few recommendations that Delap should actually help teach the course and that his application had confirmed this. So Delap obliged and joined the "cadre" as they are referred to. The training took place at Catoctin Mountain Park, MD, Harper's Ferry, MD, and Michaux State Forest, PA. Training was mostly NPS employees but there were a few others invited including some military special forces.
AMGA: What did the course involve?
Karsten Delap: The course covered basic rescue techniques, knots, anchors; and progressively moved into more advanced pickoffs and technical revolutions.
AMGA: What is your background in Search and Rescue?
KD: I have worked on the Transylvania County Rescue Team in Brevard, NC since 2007 and also help with various other organizations such Muir Valley, where I helped with their rescue needs when I am in the area.
AMGA: What are some important things that AMGA guides can bring to these sorts of trainings?
KD: It is good for AMGA certified guides to come to these trainings and help rescuers understand more basic self-rescue techniques when they may not have access to the heavier and more extensive rescue gear that they are used to. It is also good for Guides to have an understanding of organized rescue techniques and protocols that rescue teams must use to comply with various organizations.
AMGA: In what ways does this sort of thing strengthen the relationship between AMGA & NPS?
KD: It is great to work directly with the NPS and to get to know them more and develop relationships. It is imperative that we work together on our public lands and understand more about each other.