La Sportiva Halo Pant Review by Michael Soucy
Posted on December 15, 2015 by Dana Ladzinski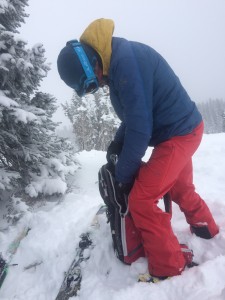 La Sportiva launches their apparel into the "freeride touring" category with the Halo Pant.
These highly water resistant softshell bottoms arrived at my house bright red and with big old cargo pockets, hardly what I expected coming from the Euro-centric brand.
My American Mediums were automatically sized down from their Euro Large; take that into account if you're expecting a svelte cut. It's worth referencing Sportiva's size chart to make the proper selection. I found them, in general, to have more of a relaxed fit, and a bit boxier of a shape than other softshell models.
The initial tour on snow confirmed that I was no longer self conscious of my Schoeller Booty, but also surprised me with a comfortable, quiet, and weatherproof experience.
The integrated belt keeps the sag to a minimum. Front zipper pockets secure your avalanche beacon or phone, and the cargo pockets are just right for quick access to your neck gaiter, snacks, or notebook.
Nearly full-length side zips extend from mid-thigh to hem, providing ventilation and on/off over your boots (they don't fully separate). They also have a slight flare below the knee to easily fit over ski boot cuffs, along with an integrated gaiter.
The SuperFabric scuff guard will undoubtedly protect the ankles from stray points and edges.
As someone who works in ski pants more days than not over the winter, I'm psyched to have these on my rack. Sportiva has designed a functional, comfortable, and maybe even fashionable product this year and I'd recommend checking them out.