Nate Fitch: Report, Reflection & Thank You
Posted on February 14, 2015 by AMGA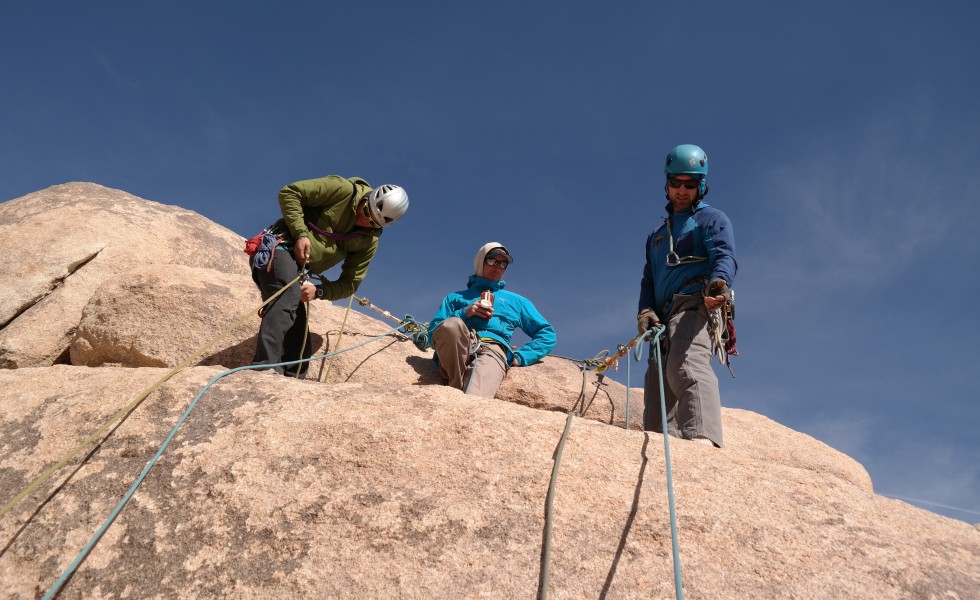 Text & photos by Nate Fitch, Certified SPI and Mountain Hardwear Scholarship Recipient
The ten-­day Rock Guide Course was a truly great experience. I enjoyed this learning opportunity and was positively challenged by instructors and peers to get the most out of this course. I am truly thankful to the AMGA and to Mountain Hardwear for making this experience possible.
The organized progression of skills days and climbing/guiding days in the RGC was well designed and an effective way to manage the rigors of the course. We had technical skills sessions on days 1, 3, 5, and 7. We were able to see an instructor in a guide role on day 2 while acting as a mock client. Students took guide roles and client roles (for roughly a half day each) on days 4, 6, 8 and 9. Day 10 featured a review of a few skills, a group debrief, and an individual debrief. I felt a good balance of physical and mental challenges as a result.
I was fortunate to experience these challenges and learn in the great outdoor classroom of Joshua Tree National Park! We had sites appropriate for the course and each day's goals, including; Intersection Rock, Thin Wall, Hemmingway Buttress, Sentinel Rock, Lost Horse Wall, Peyote Cracks, Saddle Rock, and The Blob.
Participating in this course was enjoyable, helpful, and applicable in my development as a climbing professional. I am a better instructor and better able to help others as a result. I feel I learned huge amounts, made some new personal connections, and moved closer to my ultimate goal, which is to become a SPI provider. The depth and breath of the learning was great. I enjoyed the extensive nature of the course content. I also valued the ability of the instructors to organize the course and present the material in a manner that emphasized simplicity!