New USFS Recreation Special Uses Guide
Posted on March 2, 2018 by AMGA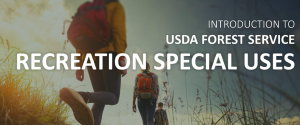 The United States Forest Service (USFS) issues over 8000 special use permits every year for outfitting and guiding activities. These permits authorize the holder to conduct business on public land managed by the Forest Service. For decades, the process of obtaining a permit has been unpredictable and difficult due to variations in requirements from one ranger district to another. Additionally, requirements have rarely been published for viewing in advance of submitting a proposal, making it very difficult for a potential applicant to prepare for the process. This has prevented new guiding businesses from being established and it has made it challenging for existing guide services to expand their offerings.
USFS Modernization of Special Uses
Despite the challenges of the past, there is good news for the future. In 2015, the Forest Service embarked on an initiative to modernize the special uses program. This includes an effort to standardize the permit application process across the agency and improve communication between the agency and the public.
Learn How To Navigate the USFS Permit Process
In cooperation with Transforming Youth Outdoors and Coalition for Outdoor Access, the Forest Service has created a guide to help potential applicants understand and navigate the USFS permit process. The Introduction to USDA Forest Service Recreation Special Uses provides an overview of the special uses program, describes how to apply for a permit, and offers tips for a successful application. It also provides a brief overview of related topics such as nominal effects, non-commercial use, and National Environmental Policy Act (NEPA).
Need Help? Contact Us
If you have questions after reading the guide, or you need additional assistance with a permit application, the AMGA Advocacy department is on hand to assist you. Please contact Matt Wade, Advocacy and Policy Director, at 303-847-4482 or [email protected]