Packing for an AMGA Alpine Guide Course, Part 1 – By Angela Hawse
Objectives on the AMGA Alpine Guide Course aren't as big and demanding as what's to come on the AAGC/AE and Alpine Exam, but you should be thinking ahead and strive to keep everything light and tight. We don't often do carry-overs on AGC's but an alpine kit rather than an adapted rock kit (heavier) helps increase guide security and saves your back for the long haul. On some objectives you may want your rock harness, on others a light alpine harness is better suited. Some days you may be in approach shoes and others in mountain boots. Having the best tool for the job is the goal and packing for these programs requires some thought.
I make up a list before I start packing and tick items off as they go into the duffle. You'll get an AGC Manual before your course, which has an equipment list and covers some of these details as well.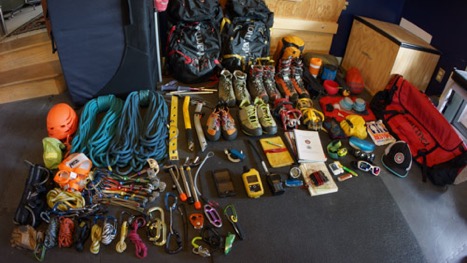 PART 1:  TECHNICAL EQUIPMENT
Helmet – The Petzl Sirocco is my favorite. It's more durable than any other helmet in its weight class and has good coverage.
Ropes – One 60m and one 40m. There are many days were a 40m is the best rope for the job. If you only have one rope it has to be a 60m. My 60m is a 9.2 Sterling Aero and the 40m is a 9.0 Sterling Nano. Both are in very good shape and dry treated without fuzzy sheaths. Yours should be too. If they are not bi-color they must have middle marks.
Yates mid-clip Picket – Superior to other models out there.
Ice Axe – Semi-technical with a T-rated shaft. Go for a classic alpine pick and adze that chops steps well and climbs moderate ice easily. No leash. My tool of choice is the Grivel Air Tech Evo. Length is of course dependent on your size, but a shorter tool is more versatile when you need to swing it and it'll fit in you pack instead of on the outside.
Ice Axe w/ Hammer – The Petzl Sum'Tec 43 is a nice very light tool that both climbs well and pounds in pickets beautifully.
A light trekking pole – Find one that breaks down into 3 pieces enabling you to put it in or on your pack. The Black Diamond FLZ Trekking poles are a good choice.
Alpine Harness – Petzl's new Altitude Harness is worth having a look at. Racking is not suitable for rock but for snow and ice it's adequate.
Rock Harness – For rock objectives. I'm a big fan of Metolius's Safe Tech.
Alpine Runners – 5-8 Dyneema 24" slings for extending protection. I use a single carabiner on these and only making one or two into alpine draws. This saves weight since each of my cams already has a carabiner on it.
Quick Draws – 3-4 come in handy for stopper placements and short extensions. Go light.
Small Rack – Single set of cams from a 0 to 3". Metolius Ultra-Light Master Cams are sweet for the alpine. 4-6 stoppers from small to medium.
Ice Screws – 3 ranging from 16-22cm. At least one 19 or 22cm for V-threads.
V-Threader – I like the J-Snare, which makes threading the rope easier.
Gloves – A sturdy pair of leather gloves for short roping, belaying and climbing in cool temps are essential. I have a dedicated Metolius Mini Carabiner for mine (full strength).
Cordelettes – I go with two of Sterling's 5.9mm Powercords. Same bulk as 6mm Nylon but nearly twice as strong. 7mm Nylon cord is a lower cost but stronger than 6mm alternative. A 6mm Nylon cordelette or two is good to have on hand for reinforcing or replacing rappel anchors.
Rappel Ring/s or Quick Links – Designed and rated for the application.
Personal Tether – A 11/16 or 1" Nylon 48" sling for rappel/anchor extensions is ideal.
Double Length Sling – One or two Dyneema 48" slings for pro extensions and/or anchors.
Triple Length Sling – One Dyneema 72 or 96" is great for anchors ,both rock and snow.
Prusik Cords – One Sterling 13" Hollowblock on a dedicated small locker and one 6mm 24" nylon cord is a versatile combination.
Locking Carabiners – Three lightweight HMS style. I like the BD Magnetrons.
Locking Draw – A great tool for the alpine. One small locker and one round stock HMS.
Cleaning Tool – Crucial for cleaning alpine cracks for pro and for your client to use.
Petzl Micro Traxion – Lightweight progress capture pulley for crevasse rescue and hauling.
Plaquettes – I bring three. A Eldelrid Mega Jul, a Petzl Reverso 4 and a Kong Gi-Gi. All serve different purposes of which you'll learn the ins and outs on the AGC. One dedicated round stock carabiner for the belay device. I prefer the Metolius Element.
Knife – Light and sharp. Petzl's Spatha is a slick one. Dedicated Mini Biner.
Footwear = Guide Security. The primary focus of the AGC is on short roping and managing 3rd and 4th class terrain with moderate 5th included. It's critical to have a selection of appropriate shoes and boots to choose from based on the objective and conditions. We can not emphasize this enough.
– High-Top Approach Shoes – Rock objectives with more complex approaches/talus. I am a fan of the SCARPA Gecko Guide. Having a pair of Aluminum Crampons that strap onto these makes a great lightweight set up for crossing small bits of snow.
– Low-Top Approach Shoes – Ideal for simple rock objectives with straightforward approaches and descents where I don't need ankle protection.
– Rock Climbing Shoes – All day cruisers that can accommodate socks for alpine rock.
– Mountain Boots – Either two pairs or one that does it all. I have two pairs of SCARPA's Rebel Pros, the first version without the toe welt and the 2nd version with the toe welt and an integrated gator. If I was going to choose one boot to do it all, it would be the new SCARPA Rebel Pro. This boot blends the desirable light weight performance of a 3/4 shank boot with the benefits of a rigid platform full shank. Although comfort may be compromised on long trail approaches, it climbs like a machine and kicking steps in snow will give you much more security and confidence than a pair of "Red" boots. Granted they are stiff so slab climbing is not their forte but they'll edge on a dime.
Crampons – One pair of Steel hybrid/semi-automatic spikes. I like Grivel's G12 – New-Matic for everything alpine. Combined with a full shank boot, this semi-rigid crampon will climb steep alpine ice extremely well. A pair of aluminum spikes are optional. In some venues like the Tetons where less snow may be encountered and more time spent on pure rock routes, aluminum spikes can be a good option for short sections of snow. In general this is a pretty specialized setup and going with steel spikes and boots should be your go-to in most alpine conditions.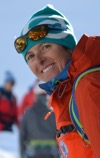 With 25 years of mountain guiding experience, Angela is one of the most experienced and active women in the profession. She was the 6th woman in the U.S. to become a fully certified IFMGA Mountain Guide through the AMGA. Angela's based in Ridgway, Colorado but travels the world for work and play.