Promoting a safe and supportive culture
Posted on December 13, 2019 by Holly Barrass
Scholarship Report | Erin Laine | 2019 Patagonia Scholarship Recipient
3:27am. The time on my phone confirming once more that my sweaty elbows and racing thoughts were entirely inappropriate, and I should definitely be sleeping. resting up for the AMGA advanced ski guides course starting tomorrow-well today. One look at the roster and I had felt a little sink in my belly. Only woman. OK. Adding another layer of pressure to an already stressful course. The next morning as I looked around the room at the strong forearms and bushy mustaches of my fellow candidates contrast against my blonde ponytail and wiry frame, I made some mental notes: lighter boots. More snacks. Remember where you came from.
Growing up in the rural Colorado potato fields my upbringing was far from easy. Never knowing my father, with my mother putting her all into making ends meet and leaving my siblings and I to fend for ourselves. Most of my childhood is a blur, finding refuge in books, the four school sanctioned ski trips each season and the sunsets on the Sangré De Cristos in our backyard. I didn't dream of being a ski guide, but I dreamed of a life of adventure, of cold wind and freedom. Little did I know one day I would have the best job in the world, and all the cold wind a girl could want.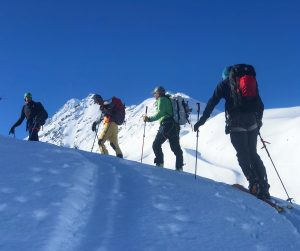 As day 1 turned to day 6 and skin track convos turned to apres at the wheelhouse, the strong forearms and bushy mustaches gave way to kind eyes and shared vulnerabilities. Realizing many had come to Alaska – oldest, youngest, snowboarder, academic, – feeling like outsiders. But over the countless hours spent together we became a team, a team made stronger by our differences.
The instructor team of Amos Whiting, Forest McBrian and Mike Poborsky did an exemplary job of modeling respect and inclusion, fostering teamwork and camaraderie throughout the course. Sprinkled between lessons on glacial navigation and short roping were lessons on humility and communication.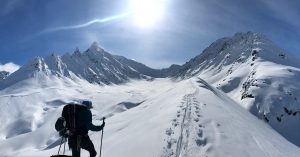 So how can we promote a safe, supportive culture with our own guests, students, workplaces and teams?
Meet differences with curiosity and an openness to learn
Resist stereotypes by getting to know each as individuals, especially those from underrepresented groups. Recognize that they may carry extra stress and do what you can to mitigate that stress
Research the ways that women's contributions are commonly ignored and minimized in a classroom setting and work to recognize and correct those habits in your realm of influence
Avoid speaking negatively of those not present, and challenge those who do
Whenever possible represent diverse groups in the courses you teach and trips you lead. Take time to learn about the history and culture outside the dominant viewpoint
Acknowledge when we fall short, and make steps for improvement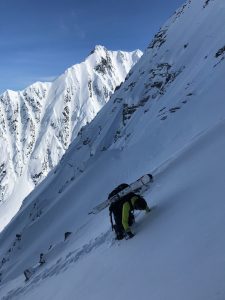 Thank you to the AMGA for supporting professionalism and inclusivity. For promoting excellence in all aspects of mountain guiding.
Thank you to Mike, Forest and Amos for the inspiration, for helping me to find my weaknesses and strengths. Thank you for the direct feedback and encouragement to progress.
And Patagonia- thank you for advocating for women, thank you for keeping me warm and dry on many an occasion. Thank you so very much for believing in me and supporting my dreams.