Tico Gangulee – Marmot Scholarship Recipient
Posted on March 29, 2016 by Dana Ladzinski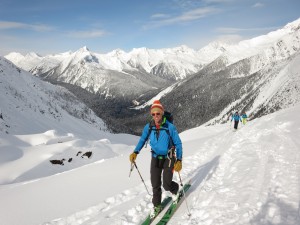 I am in no way the best skier in Houston, Texas. I can't really say accurately that I'm the best ski guide in Houston. I am, however, without a doubt the most qualified ski guide in Houston, having passed my final AMGA exam, the Ski Guide Exam, with financial help from Marmot.
My ten year journey to IFMGA Mountain Guide culminated with this exam, and it was still very much a learning experience. I think in our profession there are no greater mandates than to always be mentally agile, always reassess methods and methodology, and always be willing to change; in these respects the AMGA programs and process brightly shine. Without a third party assessment of skillsets, in addition to a curated curriculum and benchmarks for performance, how can a guide know if he or she is any good at all? Blind luck can get a group up and down any hill (trust me, I'm proof), but surviving, even with a summit, is not the end form of guiding.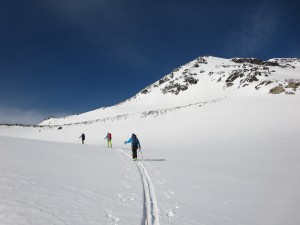 This was my crux during the entire ski program: coming to terms with the fact that delivering enjoyment was as important, if not more, as delivering an objective. It is a different mindset and requires different techniques than a lot of rock and alpine guiding, but in the end the holistic and enlightened guide can meld the skills and tactics of all disciplines to produce the most refined product.
"Deliver the most refined product" was one of two mantras I repeated to myself during the Rogers Pass exam, the other was "have the most fun"; a piece of advice given to me by Angela Hawse. With the support and advice of my fellow candidates, it became apparent that in ski guiding, these two things often mean the same thing. If the guide isn't having fun skiing, it's unlikely the guests are; seeking the best snow for yourself means getting the goods for the guests. The pitfalls are many though; like deciding when the skiing is over and the survival starts, or the ever present danger of over delivering: you may be bored of skiing flat pow and want to poke into that sickter couloir, but perhaps the guests are having a blast and don't need anymore risk.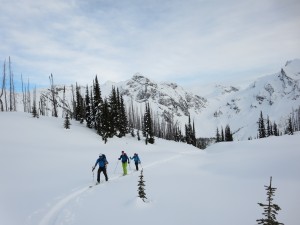 During my time at Rogers I found in watching my colleagues and examiners many styles that can be used to manage people and terrain while staying "at the standard". My own guiding is a touch schizophrenic; I tend to think in terms of "What would Hargis/Chauvin/Leh/etc do here?". While I would prefer to eat a guide's heart to gain his skills and mindsets, I guess I can be satisfied by learning from them in a more traditional manner. This is the core of the AMGA process, and what I will miss the most; the forced training, the forced friendships and collaboration that have bloomed into some of my most cherished relationships. Margaret Wheeler told me years ago how getting her pin was a scary and lonely moment; suddenly she was alone without the community of guides working their way through the process. I feel this keenly after a decade of being in the program, but have hope that I will find a way to continue the learning and community building processes outside of the courses and exams. Thanks so much to Marmot for the scholarship and opportunity to finally put that pin on my chest.
– Tico Gangulee