La Sportiva Trango Ice Cube GTX – Review
Posted on March 23, 2016 by AMGA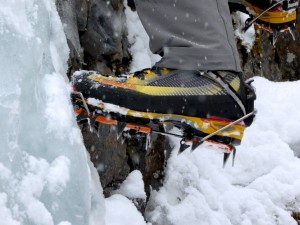 First of all, what a great name for a great boot. I recently saw the movie Straight Outta Compton so Ice Cube is fresh on my mind. These boots are a perfect blend of performance and comfort. Initially I was worried they wouldn't be warm enough for ice guiding in Hyalite Canyon, but I found them to work well in all but the coldest days in Montana. Like Ice Cube might have said: "F*@# the cold feet!"
The Ice Cubes are extremely lightweight: weighing in at just 1.6 pounds, they feel like rock shoes. They are very low profile allowing for precision footwork without the bulk and weight other cumbersome mountain boots wield. The Ice Cubes excel on a wide spectrum of terrain from delicate ice pillars to tenuous scratchy pitches and even the approach slog.
Here are a few less than ideal aspects of the new Trango Ice Cube GTX. First, these boots are very narrow: even for La Sportiva, which already runs on the narrow side. I would highly recommend trying these on before you buy a pair. Second, if you lace these boots snug they quickly cut off circulation to your feet, which could relate to the narrow fit. I have had to adopt the tactic of loose laces for approach and belaying, then tightening them down just before swinging my tools. Luckily this is easily done: the built in quarter gaiter protects the laces and the top of the boot from snow and crampons catching.
Overall, I think the Trango Ice Cube GTXs are some of the best boots I have worn. Their cutting edge technology and sleek design are going to allow ice climbers and alpinists to push the limits.
– Geoff Schellens