Become an SPI Provider
New for 2023!
The process of becoming an SPI Provider has been fully revised. Please check out this revamped page to learn about the path to becoming an SPI Provider.
What is an SPI Provider?
Single Pitch Instructor (SPI) Providers are a vital component of the AMGA. Based throughout the country, SPI Providers teach AMGA SPI Courses and facilitate SPI Assessments.
As representatives of the AMGA and providers of the SPI curriculum – we look for dedicated educators with comprehensive teaching and/or mentoring experience that are committed to helping students succeed. In addition to climbing and technical expertise, being able to articulate written and verbal feedback is an essential skill for those interested in becoming a Provider. We are also seeking individuals who are committed to creating inclusive and supportive learning environments for all aspiring climbing instructors.
The process of becoming a Provider is a partnership between the applicant and the AMGA—the training program is taught and facilitated by the AMGA.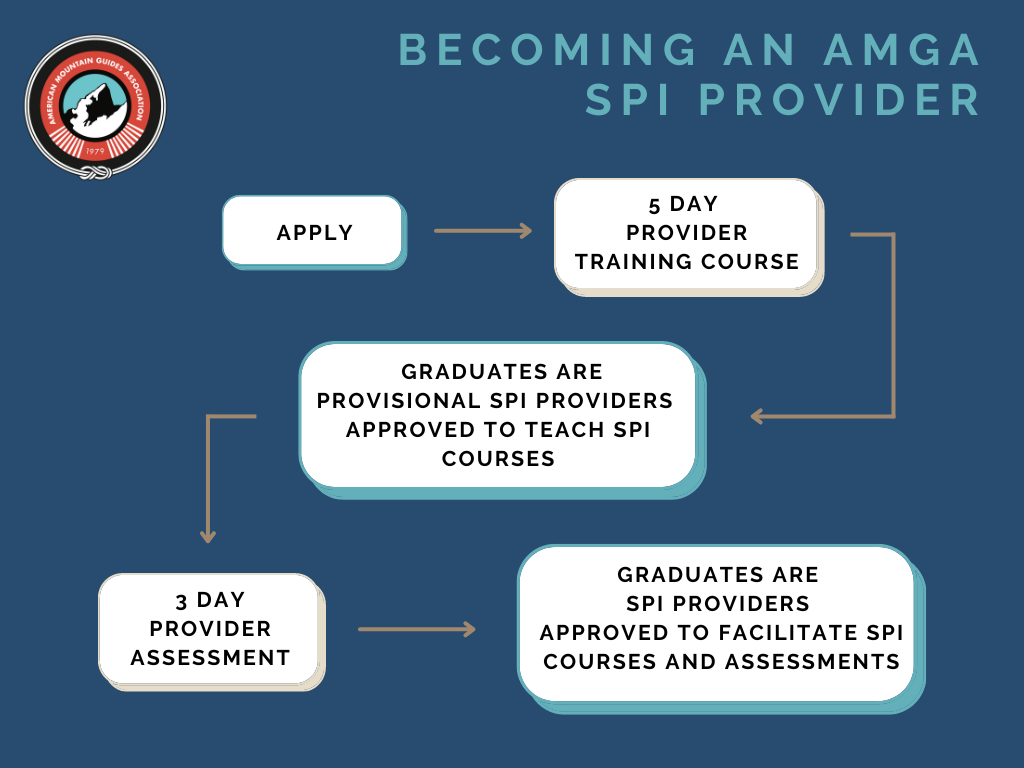 How do I become an SPI Provider?
Steps:
Start by applying to the 5 day Provider Training Course! Please see prerequisites and "how to apply" information below.
Participate in the 5 day Provider Training Course: those candidates who successfully pass are approved to teach SPI Courses independently as a Provisional Provider, at the 6:1 student to Provider ratio. 
Teach programs: once the Provisional Provider has taught, or co-taught a minimum of 4 SPI Courses within a 2 year timeframe, they will meet the teaching requirement for applying to the 3 day Provider Assessment. This, combined with performance that meets the standards expected of an AMGA SPI Provider, will make them eligible to apply to the Provider Assessment. 
Apply to the 3 day Provider Assessment: If they pass the Provider Assessment, they will then be approved as a Provider and approved to facilitate SPI Assessments in addition to teaching SPI Courses, both at the 6:1 student to Provider ratio.
Please visit the FAQ for more information.

If you are a current Assistant Provider:
Check out the Assistant Provider Bridge Program for more information and options for your advancement toward Provider status.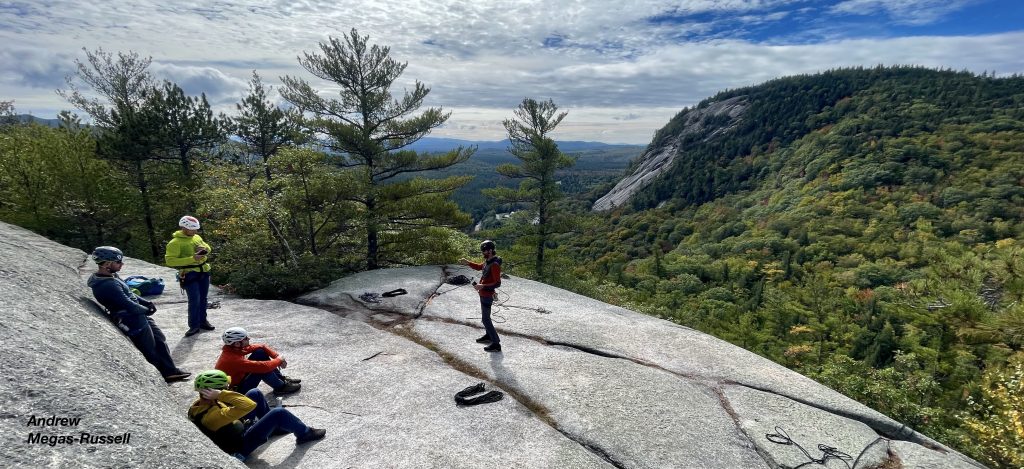 Program Information
Prerequisites:

SPI Provider Prerequisites:

Minimum training level required: 

Minimum instructing experience:

Able to onsight lead 5.9 traditional climbs at the time of the training course 

Current AMGA Member

Current CPR Certification and Wilderness First Responder (WFR) Certification or higher

SPI Providers are required to be in compliance with

AMGA Scope of Practice

.

How to Apply:

Application Instructions:

In order for your application to be considered please submit the following items prior to the application deadline.

Email application packet, in a google drive folder, to the Climbing Instructor Program Manager, Andrew Megas-Russell [email protected] and pay the application fee prior to the application deadline.

1. Essay Questions:
Answer 5 out of the 6, limit 250-500 words per question
• What will make you an effective provider and what elevates you above other candidates?
• What would you bring that would be valuable to the Climbing Instructor Program?
• How do you provide an atmosphere that makes you approachable for instructors both professionally and personally?
• Share a time when you received tough feedback from a supervisor or boss?
• Describe key elements related to facilitating effective daily, end of day, and final debrief feedback on a program.
• Provide a written example of feedback telling a student they did not pass their movement.

2. Professional resume - specifically express:

• Please include the number of days instructing at each job and number of days guiding at each job.

3. Climbing instruction and teaching resume - Applicants must use the resume-template provided by the AMGA

• Document 10 - 5.9 (or harder) traditional climbs within the past year
• Document minimum 50 days of rock climbing instruction
• Optional - Applicants may document more than 50 days if they exceed the minimum documentation requirements

4. Example Lesson Plan

• Choose an SPI Course curriculum session from the SPI Program Handbook
• Refer to the lesson plan section and use the template on pages 20-21 in the Falcone Guide Rock Climbing: The AMGA Single Pitch Manual
• You may be expected to teach this session during the program

5. Ensure your myAMGA account information is up to date:
• Upload current certification forms for WFR and CPR
• Fill out or update your AMGA Health Statement including emergency contact
• Update your Basic Information including apparel sizes and Public Profile information including current contact information

6. $65 non-refundable application fee - Email your application to [email protected] and you will receive an online payment link in return.

Please do not submit AMGA course evaluations or certifications with the application. These may be reviewed during the application process. You do not need to include these.

Application Review:

Application Review:

Enrollment decisions are based on a number of factors including the following:

Application is complete and received by the application deadline
Essay Questions, lesson plan, and resume completeness and strength
Teaching and instructing experience
Previous wait list status

Best Qualified applicants considerably exceed the minimum prerequisites

Well Qualified applicants exceed the minimum prerequisites

Qualified applicants meet the minimum prerequisites

Tuition Information:

Tuition Information:

Participants are responsible for other costs associated with the training including but not limited to food, travel and lodging.
To accept and hold your space on a program, a deposit of $500.00 is due within two weeks of acceptance.
Failure to pay your deposit will result in being dropped from the program

$150.00 of your program deposit is always non-refundable

Your full tuition is due within ten weeks of the program's start date. Failure to pay your full tuition will result in being dropped from the program.

Cancellation & Refund:

If you cancel your enrollment for any reason outside of ten weeks prior to the program's start date, you'll be refunded all but $150.00 of your tuition.
If you cancel your enrollment within ten weeks of the program's start date, the AMGA will retain 100% of your tuition. Please note:
If AMGA is able to fill your space on the program with another qualified participant, we will refund your tuition less the $500.00 deposit.
You will receive a full tuition refund if the AMGA cancels the program prior to the program's start date. The AMGA is not responsible for costs associated in these cases, outside of tuition.
Although rare, the AMGA reserves the right to change a program location at any time due to unforeseen circumstances (for example, local snow or ice conditions that make the venue unsuitable). The AMGA is not responsible for costs associated in these cases.
If the AMGA cancels your program after the program has begun, you will receive a prorated refund or tuition credit.*
If you have to leave your program after the program has begun, for any reason, the AMGA will retain 100% of your tuition. There is no refund or tuition credit option.
We strongly recommend that you purchase Trip Insurance to protect your tuition investment and other associated costs with your program.
There is no transfer option. If you drop from your training course you will need to reapply. The AMGA will waive your application fee one time.

COVID-19 Information:

Effective January 1, 2023 AMGA will no longer require Mountain Guide Program students, Provider Training Program students, participants, or employees to be vaccinated for COVID-19.

AMGA's vaccination policy may continue to change over time as the disease changes and recommendations from public health professionals evolve. If a change impacts your program, we will update you directly. 

AMGA will continue to adhere to any government requirements for vaccination.

Vaccination and booster upkeep remain strongly encouraged.

This policy change is made on advice from the AMGA Medical Advisor and recognizes the evolving nature of the COVID-19 Pandemic. The AMGA's COVID-19 Operating Plan has been updated. Field practices and program expectations described in the Operating Plan are still in place and we will continue to prioritize reducing COVID-19 transmission on AMGA programs.

Format:

FORMAT
The 5 day Provider Training Course program block is a combination of instruction, coaching, debriefing, and assessment.
The program is 5 days in length. There are 3-days of instruction and course work and a 2-day assessment.
Principle-based learning is rooted in giving candidates strategies for framing and creating a positive learning environment, organizing effective program itineraries, and managing the administrative tasks for the program.
Critical review of course curriculum session delivery as would be taught on an SPI Course is core to this program block.

The 3 day Provider Assessment program block includes:
This program block includes a combination of instructional components and assessment scenarios.
Assessment and debriefing strategies are reviewed and practiced by the Provisional Providers through SPI Assessment scenarios and or real client interactions where candidates will need to evaluate and deliver written or verbal feedback.

Additional Information:

Additional Information:

• The AMGA does not reimburse for any travel, food, lodging or associated costs to become a provider.

• SPI Providers are required to be in compliance with AMGA Scope of Practice.

• Once your application is accepted you will receive more information.

• If you have additional questions after referring to this entire page, please contact Andrew [email protected]
SPI Provider Training Schedule
Application Period Opens: November 4th, 2022
Application Period Closes: January 9th, 2023
Notification Deadline: February 17th, 2023
*** Program dates and locations will be added soon
SPI Provider Training Course (5 days):
Program Dates:

June 5-9th, 2023

Location:

Boulder, Colorado

Tuition Cost:

$2,000

Application Fee:

$65
SPI Provider Training Assessment (3 days):
Program Dates:

2023 TBD

Location:

2023 TBD

Tuition Cost:

$1,350

Application Fee:

$65
SPI Assistant Provider Bridge Program (4 days):
Only for current Assistant Providers see details here
Program Dates:

2023 TBD

Location:

2023 TBD

Tuition Cost:

$1,600

Application Fee:

$65