AMGA Ski Guide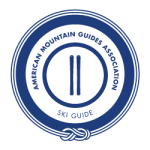 The AMGA Ski and Splitboard Guide certifications are meant for the experienced backcountry skier/rider or ski guide looking to further hone their skills in off-trail and glacial terrain. It is designed for guiding either ski tours or ski ascents/descents, on alpine touring, splitboard or free-heel equipment. Topics covered include: track setting, navigation, efficient 3rd and 4th class travel, short-rope and short pitch techniques, rescues skills, and client care.
Students are expected to arrive with a minimum of four years of recreational backcountry skiing/riding experience and an working knowledge of knots, belaying, rappelling, anchors, and basic alpine climbing systems. It is assumed that the students can ascend and descend 4500 vertical feet per day. It is expected that students are physically, mentally, and emotionally prepared for a 10+ days of continuous outdoor activity.
Splitboard Use on Ski Programs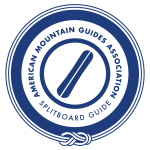 Starting in 2014, the AMGA will allow Splitboarders to move through the entire Ski Program on their boards, without being tested on skis. Splitboarders will have to demonstrate all the same guide skills as skiers, and their travel mode will have to be via skins. No snowshoes will be allowed. While those who successfully pass the Ski Guide Exam on a Splitboard will become certified AMGA Splitboard Guides through the AMGA, individuals who are pursuing American Mountain Guide/IFMGA Guide certification will not become internationally certified until they pass a one-day movement assessment on skis. This is a requirement of the IFMGA, as the association does not allow certification for Splitboarders at this point in time. Those who demonstrate that they meet the ski standard will be awarded American Mountain Guide/IFMGA Guide certification. Click here for more information about the AMGA Splitboard Guide Certification.
To get your Ski and/or Splitboard Guide Certification, you must complete:
Either the 5 day Alpine Skills Course (ASC) or the 10 day Rock Guide Course (RGC)
The 10-day Ski Guide Course (SGC) – VIDEO APPLICATION REQUIRED FOR 2020 SGCS
The 10-day Advanced Ski Guide Course and Aspirant Exam (ASGC/AE)
The 8-day Ski Guide Exam (SGE)
Successful completion of an

AMGA approved Pro 2, or Level III

For details on the updated avalanche education framework introduced in the 2017/18 season, please click here.
Current CPR Certification
Current Wilderness First Responder (WFR) Certification or higher that meets the Minimum Guidelines and Scope of Practice for a WFR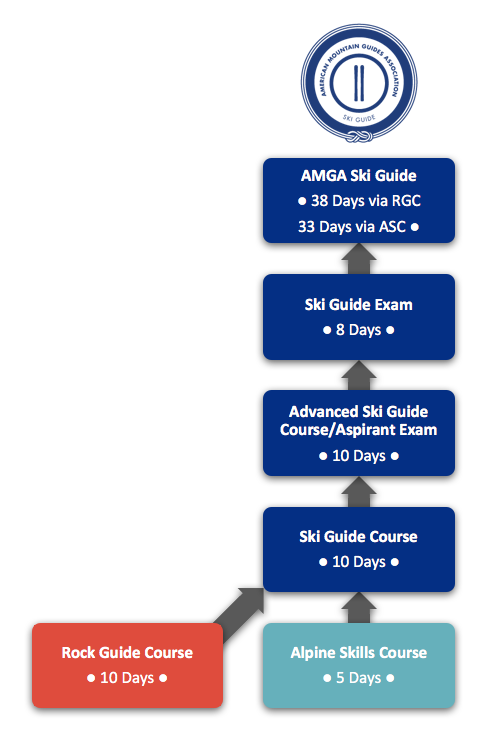 Program Information
Ski Programs Schedule
Applications open at 5 p.m on Friday, August 4th. (Applications are not first come first serve – reference the links below for more information.)
For information on how to apply to a program and how applications are reviewed, click here
For the complete AMGA Course Schedule, click here
Q: What should I do if I do not have a Ski Video at this time? If you do not yet have a ski video, we suggest that you keep an eye on program openings later in the season and apply/upload your video when you have it. In 2020 and 2021 we had many students create mid-season videos and offered them spaces on programs with openings.  You cannot gain acceptance into an SGC without a movement video.
Tuition prices are still being finalized. The exact price will be listed before applications open.
Application and Notification Deadlines
The application deadline is when your complete application is due.
The notification deadline is the latest date you will be contacted in regard to your enrollment.
Applications received after the application deadline will be reviewed on a rolling admission.


Program Dates
Application Deadline
Notification Deadline
Programs with start dates of November 25 - December 31, 2023
(S1 SGC 24 & I11 IIC 23)
August 25, 2023
September 1, 2023

Programs with start dates of January 1 - May 31, 2024
September 10, 2023
October 12, 2023
Programs with start dates of June 1 - August 31, 2024
December 1, 2023
December 15, 2023
Programs with start dates of September 1 - November 15, 2024
March 3, 2024
March 28, 2024