Supporter Membership
Support the only organization that has spent more than 40 years inspiring and supporting a culture of American guiding and instruction. You'll get the inside scoop on the latest in our network of professional guides, and your support is instrumental in accomplishing the AMGA's important work.
Benefits
Your $50 annual fee doesn't just come with the warm fuzzies. You get some tangible benefits, too, including:
Twice-annual issues of the AMGA's print publication, the GUIDE Bulletin
Updates and communication on the latest in American guiding
Access to networking opportunities with outdoor professionals and guides
Access to tech videos and other educational content
Advocate for policies that improve access for guides
NOTE: Certifications and training levels are not valid at a supporter level. Supporter members are not eligible to vote in AMGA elections, even with prior eligibility to vote with the appropriate training and certification levels.
Become a Supporter if:
AMGA membership isn't just for active guides
You want to become part of a network of professional guides and instructors who have  the knowledge to ensure that clients thrive in vertical landscapes.
You promote and hire guides to take you out on your adventures.
You aren't taking programs with the AMGA.
You have taken AMGA programs, but are no longer using your training and/or certification and still want to support the AMGA.
Have a question that's not answered here? Send an email to [email protected]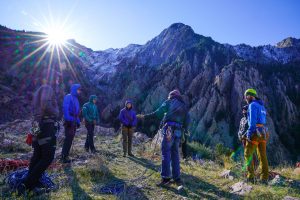 Membership cancellation requests received within 30 days of joining or renewing may be eligible to receive a full refund less a $10 cancellation fee. Cancellations requests received after 30-days will not be eligible for a refund. Cancellations will be accepted via phone or email, and must be received by the stated cancellation deadline. All refund requests must be made by the primary membership contact or credit card holder. Refunds will be credited back to the original credit card used for payment.