Trip Insurance
The American Mountain Guides Association highly recommends that you purchase a Travelex Travel Select protection plan, with the Adventure Sports Coverage optional upgrade, to help protect you and your Mountain Guide Program tuition investment. If prior to departure you, a family member traveling with you or a traveling companion needs to cancel, or if during your trip, an interruption due to a covered reason occurs, a travel protection plan will help provide reimbursement for your pre-paid non-refundable travel arrangements. The protection plan also provides coverage for trip delays, baggage loss or delays, medical expenses, medical evacuation and more!
Click HERE to request a quote and to purchase your Travelex insurance coverage. For more information on recommended plans and to enroll via phone, contact Travelex Insurance Service at 800-228-9792 and be sure to reference location number 06-0220.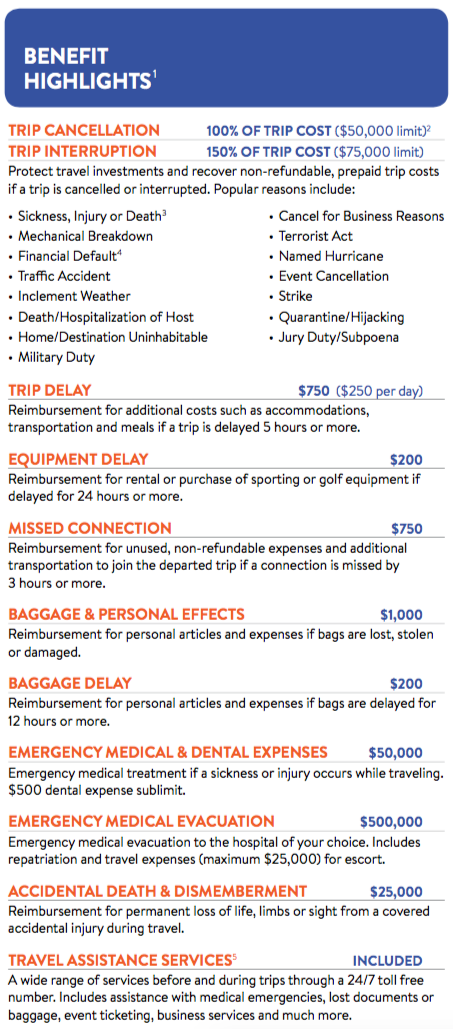 Customize your plan with Optional Upgrades: Adventure Sports Coverage, Cancel For Any Reason4, Additional Medical Coverage, Car Rental Collision Coverage, and/or Air AD&D Coverage.
Please note: The Adventurer Sports Coverage lifts general plan exclusions from your policy during your Covered Trip: professional athletic events, mountain climbing, operating an aircraft and travel on air-supported devices such as hot air ballooning.
Protection Plan Highlights Include:
Pre-existing condition exclusion is waived if the Travel Select plan is purchased within 21 days of making your initial trip deposit, full trip cost is insured and traveler is medically able to travel at the time of plan purchase.
Primary Coverage – No Deductibles Pays your claim first with not deductibles. This means faster payment to you. Purchase any time before your trip and primary coverage is automatically included!
Kids Included at No Additional Cost Children under age 17 are covered at no additional cost when accompanied by a covered adult family member; number of children is unlimited.
Online Claims New claims process that pays up to five times faster than industry average. Most claims can be filed with a "pic and click" on the go without piles of claim forms.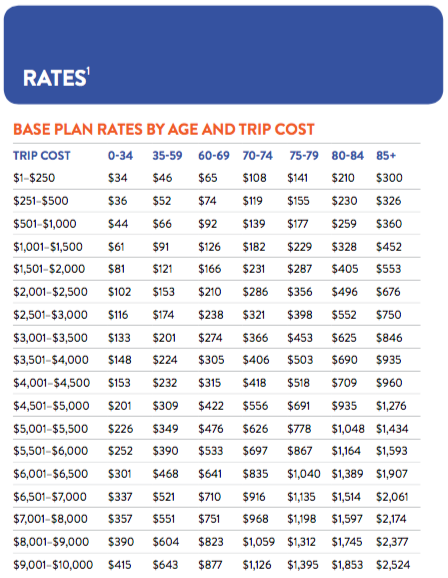 This plan provides insurance coverage for your trip that applies only during the covered trip. You may have coverage from other sources that provides you with similar benefits but may be subject to different restrictions depending upon your other coverages. You may wish to compare the terms of this policy with your existing life, health, home and automobile policies. If you have any questions about your current coverage, call your insurer, insurance agent or broker. The purchase of this plan is not required in order to purchase any other travel product or service offered to you by your travel retailers.
1 All coverages per insured up to limits listed. Coverage and rates may vary by state. Please see your policy for details or call 800.228.9792. 2 $200,000 aggregate trip cost limit for all travelers on the same policy. 3 Of you, a traveling companion, family member, domestic partner or business partner. 4 Coverage when plan is purchased within 21 days of initial trip deposit. 5 Provided by the designated provider as listed in the Policy. 6 Based on industry average. Fastest payments on approved claims when debit card or other EFT method is chosen as preferred payment method. Speed of transaction varies by processing financial institution.