Trip Insurance
To protect your Mountain Guide Program investment The American Mountain Guides Association recommends that you purchase a Travelex Travel Select protection plan, with the Adventure Sports Coverage optional upgrade (not available to WA and FL residents, scroll to the bottom of this page for options). If prior to departure you, a family member traveling with you or a traveling companion needs to cancel, or if during your trip, an interruption due to a covered reason occurs, a travel protection plan will help provide reimbursement for your pre-paid non-refundable travel arrangements. The protection plan also can provide coverage for trip delays, baggage loss or delays, medical expenses, medical evacuation and more!
Important info: 
AMGA members must purchase Travel Select coverage and select the Adventure Sport upgrade to be covered for AMGA program activities (not available to WA and FL residents, scroll to the bottom of this page for options)
Coverage MUST be purchased within two weeks of paying your program deposit
Unfortunately, if you are NOT traveling more than 100 miles from your home to participate on the program, Travelex will not be able to insure your program investment
Travelex has not excluded Covid-19 from coverage. Covid-19 is covered in the same way another illness would be under Travelex insurance. Please read all updates and info here
Click HERE to request a quote and to purchase your Travelex insurance coverage. For more information on recommended plans and to enroll via phone, contact Travelex Insurance Service at 800-228-9792 and be sure to reference location number 06-0220.
Click here for more information on benefits, coverages, limitations, and disclaimers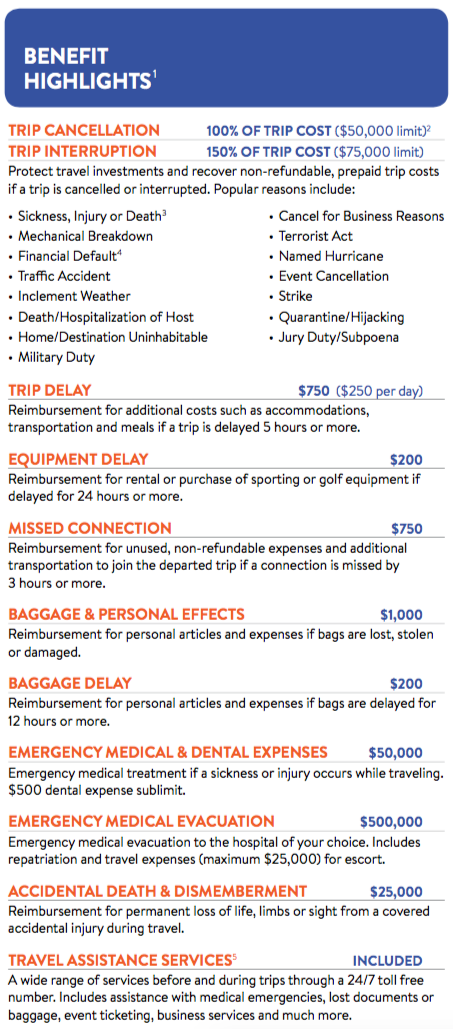 Customize your plan with Optional Upgrades: Adventure Sports Coverage, Additional Medical Coverage, Car Rental Collision Coverage, and/or Air AD&D Coverage.
Please note: The Adventurer Sports Coverage lifts general plan exclusions from your policy during your Covered Trip: professional athletic events, mountain climbing, operating an aircraft and travel on air-supported devices such as hot air ballooning.
Protection Plan Highlights Include:
Pre-existing condition exclusion is waived if the Travel Select plan is purchased within 21 days of making your initial trip deposit, full trip cost is insured and traveler is medically able to travel at the time of plan purchase.
Primary Coverage – No Deductibles Pays your claim first with not deductibles. This means faster payment to you. Purchase any time before your trip and primary coverage is automatically included!
Kids Included at No Additional Cost Children under age 17 are covered at no additional cost when accompanied by a covered adult family member; number of children is unlimited.
Online Claims New claims process that pays up to five times faster than industry average. Most claims can be filed with a "pic and click" on the go without piles of claim forms.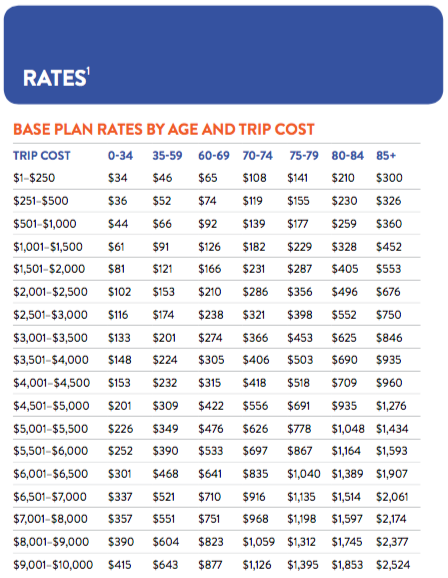 1 All coverages per insured up to limits listed. Coverage and rates may vary by state. Please see your policy for details or call 800.228.9792. 2 $200,000 aggregate trip cost limit for all travelers on the same policy. 3 Of you, a traveling companion, family member, domestic partner or business partner.  5 Provided by the designated provider as listed in the Policy. 6 Based on industry average. Fastest payments on approved claims when debit card or other EFT method is chosen as preferred payment method. Speed of transaction varies by processing financial institution.
Please refer to your policy for a complete list of plan exclusions and limitations. The purchase of this product is not required in order to purchase any other travel product or service. Your travel retailer might not be licensed to sell travel insurance and will only be able to provide general information about the product. An unlicensed travel retailer may not answer questions about the terms and conditions of the insurance offered AND may not evaluate the adequacy of your existing insurance coverage. The products being offered provide insurance coverage that only applies during your covered trip. You may have insurance coverage from other sources that provide similar benefits but may be subject to different restrictions depending upon the coverage. You may wish to compare the terms of the travel policy offered through Travelex with any existing life, health, home and automobile insurance policies you may have. If you have questions about your coverage under your existing insurance policies, contact your insurer or insurance agent or broker. The product descriptions provided here are only brief summaries and may be changed without notice. The full coverage terms and details, including limitations and exclusions, are contained in the insurance policy. If you have questions about coverage available under our plans, please review the policy or contact us. Travelex Insurance Services Inc. 9140 West Dodge Road, Suite 300, Omaha, NE 68114. Toll Free 800.228.9792. Email: [email protected]
Any inquiry regarding claims may be directed to [email protected]; P.O. Box 31003 Charlotte, NC 28231-1003; 855.205.6054. Inquirers regarding new, existing or denied claims and any other claims questions may also be directed to this address. To view state specific fraud warnings, visit travelexinsurance.com/company/fraud-warning. Consumers in California may also contact: California Department of Insurance Hotline 800.927.4357 or 213.897.8921. Travelex Insurance Services, Inc. CA Agency License #0D10209.
Consumers in Maryland may contact: Maryland Insurance Administration 800.492.6116 or 410.468.2340.
---
GLOBAL RESCUE OPTION | Open to all AMGA Participants, including WA and FL Participants
IMG Signature Travel Insurance Via Global Rescue
IMG®, a worldwide leader in global benefits and travel insurance, has created the industry's most complete product, tailor-made for the adventurous traveler. IMG Signature Travel Insurance provides coverage against a variety of unexpected expenses while you're traveling – giving you the added comfort of knowing the actual value of your trip is protected if something goes wrong.
Does include a Cancel For Any Reason upgrade option
COVID-19 is covered in the same way as other medical conditions
Must be purchased within 20 days of paying program deposit
Open to all AMGA participants, including residents of WA and FL
Click here for more information on included benefits.
To enroll in IMG Signature Travel Insurance, please click here or email [email protected] for more information.
Coverage does not need to be purchased with a Global Rescue membership but it can be
Medical and security emergencies happen – that's why over 1 million members rely on Global Rescue, the world's leading membership organization providing integrated medical, security, travel risk and crisis response services to travelers worldwide. Without a Global Rescue membership, an emergency evacuation could cost you more than $100,000. Travel Memberships provide medical advisory and evacuation, field rescue and intelligence services for travelers more than 100 miles from home. You can learn more and enroll here.