Trip Insurance
The American Mountain Guides Association recommends that you purchase a Travelex Travel Select protection plan, with the Adventure Plus Pak Optional Upgrade, to help protect you and your trip investment. If prior to departure you, a family member traveling with you or a traveling companion needs to cancel, or if during your trip, an interruption due to a covered reason occurs, a travel protection plan will help provide reimbursement for your pre-paid non-refundable travel arrangements. The protection plan also provides coverage for trip delays, baggage loss or delays, medical expenses, medical evacuation and more!
Benefit Highlights:
Trip Cancellation & Interruption
The ability to cancel or interrupt your trip, due to a covered reason, including but not limited to sickness, injury or death, employment termination/layoff, financial insolvency by travel supplier, burglary, documented traffic accidents and more.
Trip Delay
Provides reimbursement for additional costs such as accommodations, transportation and meals if a trip is delayed 5 hours or more for a covered reason.
Missed Cruise Connection
Includes reimbursement for unused, non-refundable expenses and additional costs if your cruise connection is missed by 3 hours or more for a covered reason.
Baggage & Baggage Delay
Reimburses if bags are lost, stolen, damaged or delayed for 12 hours or more.
Emergency Medical Expenses
Provides coverage for emergency medical treatment if unexpected sickness or injury occurs while traveling.
Emergency Medical Evacuation/Repatriation
Provides coverage for emergency evacuation, if necessary, to the nearest suitable hospital of your choice, also includes repatriation.
Travel Assistance & Concierge Services1
Access travel assistance and concierge services 24 hours a day from virtually anywhere in the world – with just one toll-free call.
Customize your plan with Optional Upgrades: Transportation Pak, Lifestyle Paks – Active Family Pak, Adventurer Plus Pak, and Professional Pak.
Please note: The Adventurer Plus Pak lifts general plan exclusions from your policy during your Covered Trip: scuba diving, mountain climbing, bungee cord jumping, skydiving, parachuting, hang gliding, parasailing or travel on any air supported device, other than on a regularly scheduled airline or air charter company.
Protection Plan Highlights Include:
Pre-existing condition exclusion is waived if the Travel Select plan is purchased within 21 days of making your initial trip deposit.
First Payer Coverage – No Deductibles means easy claims handling, less time and hassle to receive reimbursement for eligible losses from us first, with no deductibles. Funds may be recovered from your medical or other collectible insurance plans.
Kids Included at No Additional Cost3 Children under age 21 are covered at no additional cost when accompanied by a covered adult family member; limit of 1 child per 1 adult.
10 Day Review Period If you are not completely satisfied within 10 days of purchasing this plan, Travelex will refund your premium cost, if you have not departed on your trip or filed a claim.
Maximum Trip Length of 180 days.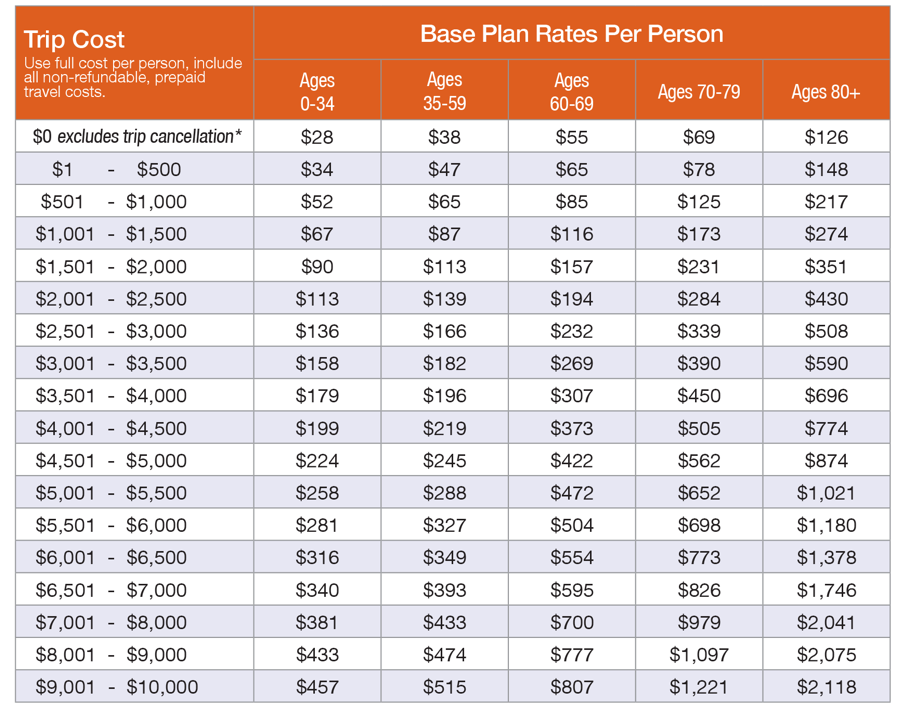 *Receive all other base plan benefits including $1,000 in trip interruption coverage.
For rates on trips costs above $10,000 please call 1-800-228-9792.
Plan is available for purchase 24 months in advance of departure date.
Maximum trip length allowed 180 days. For trips 31-180 days in length add $8 per day.
Rates are subject to change.
For additional information, a quote and to purchase, you can view all plans available by going directly to the Travelex website. For more information on the recommended plan and to enroll, please contact Travelex Insurance Service at 800-228-9792 and reference location number 06-0220.
This plan provides insurance coverage for your trip that applies only during the covered trip. You may have coverage from other sources that provides you with similar benefits but may be subject to different restrictions depending upon your other coverages. You may wish to compare the terms of this policy with your existing life, health, home and automobile policies. If you have any questions about your current coverage, call your insurer, insurance agent or broker. The purchase of this plan is not required in order to purchase any other travel product or service offered to you by your travel retailers.
1Travel Assistance & Concierge Services are provided by the designated provider listed in the Description of Coverage. 2WA Residents Only: This benefit will provide coverage if you suffer a covered loss while on your covered trip within 365 days of the Accident. 3Please list accompanying children on the enrollment form. If child's trip cost exceeds $10,000 or adult trip cost, a plan must be purchased for the child. This is a brief description of benefits. For a summary of the plan details on benefits, coverages, limitations and exclusions, refer to the Description of Coverage. Travel Insurance is underwritten by Transamerica Casualty Insurance Company, Columbus, OH; NAIC #10952. 1308434