AMGA Climbing Instructor Program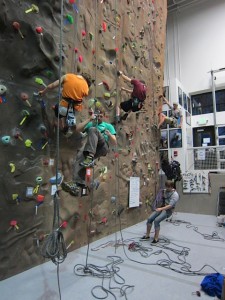 The AMGA Climbing Instructor Program consists of two certification streams: Single Pitch Instructor and Climbing Wall Instructor. The Climbing Instructor Program is intended for individuals who facilitate climbing experiences, instruct climbing skills, and/or monitor climbing activities.
Designed to enable instructors to proficiently facilitate and instruct the sport of rock climbing.
The programs are for current, active climbers that have a real desire to teach climbing skills to novices.
The target audiences of the Climbing Wall and Single Pitch Instructor include but are not limited to: college outdoor recreation leaders, experiential education program instructors, wilderness therapy staff, camp directors, youth leaders, climbing school instructors, climbing gym staff, and recreational climbers looking to improve upon their technical climbing skills.
SPI and CWI courses are offered year-round all over the United States. If there is a crag or climbing gym nearby, there is a very good chance that there is also an AMGA SPI or CWI Provider in the vicinity. SPI and CWI Providers have been vetted, trained, and licensed by the AMGA to offer these courses and certifications. All Providers hold AMGA certification and most hold multiple certifications. Along with being skilled technicians, they are also among the best educators in the business. To find a Provider in your area click here.