Dr Jim States Scholarship Fund
Dr. Jim States is a lifelong educator, accomplished mountaineer, and medical doctor. Jim is well known for his high altitude career where he spent most of his time testing high-altitude theories and passing on his skills to the next generation. He is a natural philosopher and passionate for the lessons on the mountain being applied on the sidewalks at home. Jim believes that respect for wild places and outdoor education is a critical element for a sane society. "It all begins with dreams, of routes shared with companions in high, quiet places. Dreams were followed by steady intentions, physical skill training, and route analysis. The mountains can help quiet the noise in our lives and if we choose to listen, that nature will show us the path." When asked about his climbing career, he gives the humble response- "I climbed many peaks but never conquered any mountain". He believes that instead that we really only conquer the inner self.
The Jim States, MD Scholarship fund is to honor his mentorship in the mountains and beyond. The fund is for educators and future mentors who believe the mountains are bigger than any of us and are driven to share their lessons with others.  A scholarships of $2,000 will be awarded in the alpine disciple.
Dream big, have intention, take first steps, learn from the journey, and pass it on. – Dr. Jim States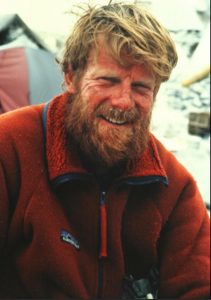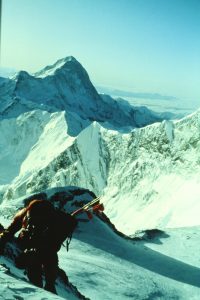 Photographs courtesy of John Roskelley (middle) and Gary Neptune (right).
Jim's Resume:
MOUNTAINEERING EXPEDITIONS
*No O2 as listed below means no supplemental or bottled oxygen.
1971 to 1992, 21 Years of cumulative high altitude experience: 
Many months above 17,000', 2 months over 22,000', 1.5 weeks over 25,000', 5 days 26600 to 29,028'
1992

Makalu N Ridge

to high camp IV 25,600 |

2 man team and  no O2/Sherpas w Brian Cox

1983

Everest Summit

17th American summit with O2 | Fixed lines from Camp III to IV w/o O2.

1982??

Polar Circus

, Canada [2000' frozen waterfall]

1980

Makalu

First American ascent to 27,500 |

no O2/Sherpas – John Roskelley summited 27,800'

1971-1992 Multiple north face routes in

Canadian Rockies

|  Andromeda [PhotoFinish], Athabasca, Fay, North Face & Ice Couloirs Stanley, 1971-1992 North Face of Temple, 

???

North Face Robson

12,975 with Greg Cronn

1976

Nanda Devi

25,645' First American Ascent North Ridge |

no O2/Sherpas with John Roskelley & Reichert

1975

Tres Picos

|

Three first ascents, Bolivia 16,500' to 17,000' with John Roskelley and Roman Laba

1975

Huayna Potosi,

Bolivia |

new ice route 20,000' w John Roskelley and Roman Laba

1975 First American free ascent

Borgeau Left Hand,

 Banff, Canada |

a frozen waterfall, with John Roskelley. 

1970's First Ascent

Split Peak

, Banff, Canada |

with John Roskelley

1971

Mt Denali

NOLS,  Karsten Ridge Route |

summit attempt to 19,000+ due to low visibility 

1968-1983 Mountain rescues: Mt. Everest, Mt Makalu, Mt McKinley, Mt Washington, 

1967 Summer – Ohio State Univ: Institute of Polar Studies research expedition to Casement Glacier, Glacier Bay, AK

1966-1971 Winter mountaineering

Three Presidential Traverses

|

Mt. Madison to Mt Washington  in New Hampshire & on Mt. Katahdin, Maine