Memorial Funds
The AMGA works with families and private contributors to establish funds that perpetuate the memories of our fallen comrades. If you would like to support one of the listed memorial funds, or would like to learn more about establishing an endowment, please contact Alex Kosseff at [email protected].
Fallen Guides Memorial Fund
The purpose of this fund is to establish and maintain the memory of the brave men and women who shared a love for being in the mountains and sharing that experience with others. The Fallen Guides Memorial Fund honors the lives of:
Suzanne Allen – 2011                              Christine Boskoff 1967 – 2006
Doug Coombs 1957 – 2006                    Julie Cheney Culberson 1957 – 1993
Scott Fischer – 1996                                Charlie Fowler 1954 – 2006
George Gardner – 2008                           Randal Grandstaff – 2002
Eitan Shalom Green 1985 – 2014           Matthew Hegeman 1976 – 2014
Heidi Kloos – 2010                                  Craig Luebben 1960 – 2009
Jake Merrill 1990 – 2014                                  Jim Ratz 1952 – 2005
Tim O'Brien – 1981                               Cole Kennedy 1990 – 2014
Kyle Mattingly 1981 – 2014                         Liz Daley 1985 – 2014
Morgan Miller 1981 – 2017
Click here to donate to the Fallen Guides Memorial Fund.
In addition, from the generous donations of friends and family of our fallen guides the AMGA has been able to establish the following scholarships:
Jim Ratz Memorial Scholarship-Jim Ratz died in a climbing accident in Sinks Canyon on May 4, 2005 at the age of 52. Jim was an avid climber and enthusiastic supporter of the AMGA and its mission. He served on the AMGA Board of Directors beginning in 2000 and was the current Vice President at the time of his passing.
Ratz had a lifelong love affair with outdoor education and subsequently inspired many guides across the country. His vision for guiding in America incorporated his love of the mountains and passion for making a living while preserving these same mountains. In his honor, this grant has been established to help support guides who are finishing their IFMGA certification. The scholarship offers partial support for a guide who is enrolled in an AMGA exam that is the final stage of one's American Mountain Guide/IFMGA training. Click here to donate to the Jim Ratz Memorial Scholarship.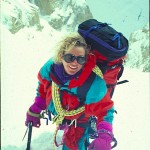 Julie Cheney Culberson Education Grant-The quintessential guide, Julie Cheney Culberson was adept on rock, snow, ice, and at high altitude. She safely guided numerous clients up the highest peaks on several continents. Even with her nearly perfect record of success, perhaps her most distinguishing characteristic as a guide was her enormous capacity for client care. Julie was strong, compassionate, and loved sharing the mountains with people. This fund has been established in her memory to help support and promote the mountain awareness and guiding education of women guides and aspiring women guides. Click here to donate to Julie Cheney Culberson Education Grant.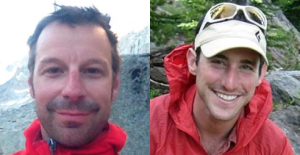 The Strength of Character Scholarship was established in 2014 by the AMGA in memory of Eitan Shalom Green and Matthew Hegeman, who were tragically killed in an avalanche while guiding on Mount Rainier in Washington State. The scholarship is intended to provide a scholarship to an eligible individual who is interested in pursuing guide education and training through the AMGA. The recipient will be one who best exemplifies a commitment to the higher values of humanity, works in some way to help repair the world, and has a strong passion for climbing and guiding. This scholarship may be applied to any AMGA guide-level course or exam. Click here to donate the Strength of Character Scholarship. 
 Friends of Rick Gaukel Everywhere (F.O.R.G.E) Splitboard Scholarship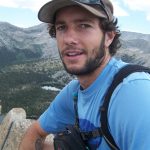 Rick was a true educator at heart. He loved the energy and feeling that he would get from really pushing his mind and body to the limits. Rick could easily dispel tension or stress in any uncomfortable situation with his humor, wit and humility. He could philosophize about anything, while being vulnerable with his emotions, struggles and growth. His openness and lighthearted nature put people at ease and created a safe space for sharing deeply about anything and everything. Rick's friends and family have created this scholarship to support people who embody Rick's passions and qualities and who aspire to become an AMGA splitboard guide. The recipient will receive a scholarship to any ski program. Click here to donate to the Friends of Rick Gaukel Everywhere (F.O.R.G.E) Scholarship.
Doug Parker and Roger Baxter-Jones Memorial Fund
Americans Doug Parker and Brit Roger Baxter-Jones were committed mountain guides, who both died at a young age in the mountains. Doug guided in Wind River Mountains for the Skinner Brothers, Pinedale, Wyo. He had quiet strength, subtle humor, and infectious love of the mountain life.
An early pioneer in Himalayan alpine style ascents of 8,000-meter mountains and a guide in Chamonix, Roger earned the tagline: "All the way with RBJ." Roger was modest, thoughtful, and jovial, and he loved sharing the mountain experience with others.
Established by friends and family of Doug and Roger, this scholarship honors their memory and is open to a qualified guide who is enrolled in one of the following exams:
    Rock Instructor Exam
    Rock Guide Exam
    Alpine Guide Exam
    Ski Guide Exam only if it is the last exam for American Mountain Guide/IFMGA certification
Click here to donate to the Doug Parker and Roger Baxter-Jones Memorial Fund.
The Chad VanderHam Memorial Fund

In honor of Chad, his family and friends have established a memorial fund in his name through the American Mountain Guides Association (AMGA). The intent of this fund is to support future aspiring ski guides pursuing training and certification in the ski discipline through the AMGA. The goal is to establish the necessary funds to support a perpetual scholarship for ski guide training.
Chad died in a skiing accident in La Grave, France on April 3, 2006 at the age of 32. Chad was an avid skier who found a second home in the European Alps. While in France, Doug Coombs became a close friend and mentor to Chad and soon he honed his skills for ski mountaineering and guiding. On March 11, 2006, Chad realized a dream and achieved his AMGA Ski Guide Certification and Aspirant Status. Click here to donate to the Chad VanderHam Memorial Fund.