2017 Annual Meeting
The 2017 AMGA Annual Meeting is back at the Petzl Technical Institute  this October 26-28th. The AMGA Board of Directors Meeting will follow on October 29th and Wilderness First Responder re-certification class on October 30th and 31st. 
This year we are excited to offer you even more technical clinics as well as an outdoor clinic option. In an effort to make space for everyone, we are asking that you only sign up for 1 outdoor and 2 technical (indoor) clinics or 3 technical (indoor) clinics.
You may view an outline of this years clinics and locations, please click here.
To register for the Annual Meeting, evening only events, and/or the WFR/WMET recert click here.
For more information on the WFR/WMET recert please click here.
If you are not a member of the AMGA but wish to sign up for the WFR /WMET recert and/or Annual Meeting Evening Only programs (Roundtable Discussion (10/27) and Awards Ceremony (10/28), please click here.
The first 30 registrants for the full Annual Meeting will receive Trango Wood Boar's Brush.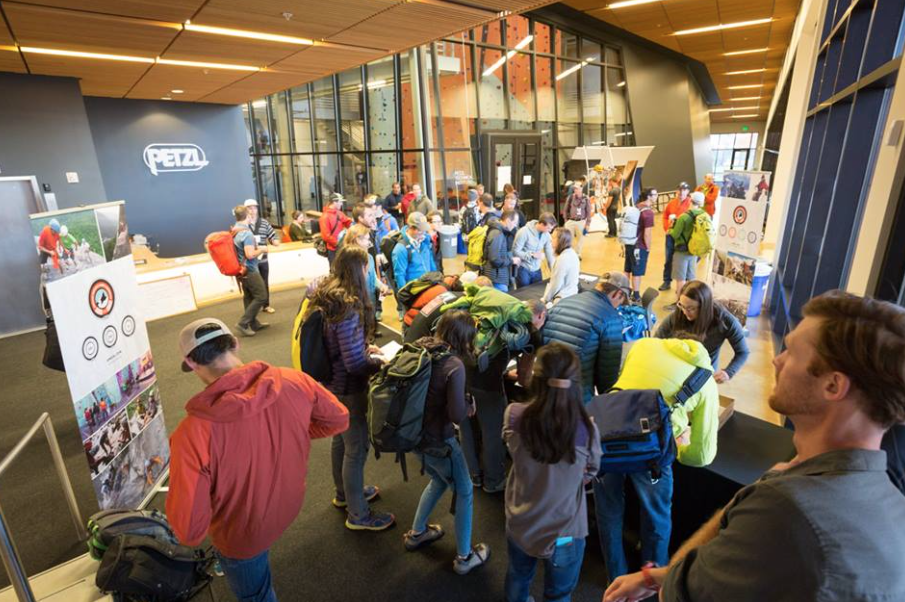 Thursday, October 26th, 2017:
Outdoor Clinics: 9am -3pm
Indoor Technical Clinics: 8am – 11:30am
Classroom Clinics: 8:30am – 9:50am and 10:10am – 11:30am
Lunch – Food Trucks will be available
Indoor Technical Clinics: 12:30pm- 4pm
Classroom Clinics: 12:30pm -1:50pm and 2:10pm – 3:30pm
Friday, October 27th, 2017:
Outdoor Clinics: 9am -3pm
Indoor Technical Clinics: 8am – 11:30am
Classroom Clinics: 8:30am – 9:50am and 10:10am – 11:30am
Lunch – Food Trucks will be available
Indoor Technical Clinics: 12:30pm- 4pm
Classroom Clinics: 12:30pm -1:50pm and 2:10pm – 3:30pm
Evening Program:  5pm – 9pm * Food and Drink provided
Roundtable Discussion and Partner Booth Activation
Saturday, October 28th, 2017:
Outdoor Clinics: 9am -3pm
Indoor Technical Clinics: 8am – 11:30am
Classroom Clinics: 8:30am – 9:50am and 10:10am – 11:30am
Lunch – Food Trucks will be available
Indoor Technical Clinics: 12:30pm- 4pm
Classroom Clinics: 12:30pm -1:50pm and 2:10pm – 3:30pm
Evening Program:  5pm – 9pm * Food and Drink provided
Award Ceremony and Partner Booth Activation
Sunday, October 29th, 2017:
8:30-3pm
AMGA Board of Directors Meeting
HOTEL OPTIONS available:
Holiday Inn Express
3038 South Decker Lane Drive
West Valley City, UT 84119
801-517-4000
OR
La Quinta
3540 South 2200 West
West Valley, UT 84119
801-954-9292
OR
Crystal Inn
2254 City Center Ct
West Valley City, UT 84119
*be sure to use this link when making a reservation