Regional Event – North Conway 2017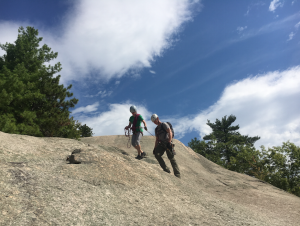 On September 21st, 2017 we are hosting our first ever Regional Event in North Conway, NH. With support from Arc'teryx, this one-day event will feature a variety of clinics and an evening roundtable discussion and dinner.
The clinic portion of this event is FULL. If you'd like to attend the evening Roundtable Discussion + Dinner please RSVP here (this portion of the event is FREE).
ARE YOU ATTENDING CLINICS? FOR FULL CLINIC DETAILS (when to meet, where to meet, what to bring, and FAQS, please click here)
---
Schedule
8-11:30am: AM Clinics (for details, click here)
12:30-4pm: PM Clinics (for details, click here)
6pm: *Dinner and Roundtable Discussion (this part of the event is FREE)
Where: Tuckerman Brewing Company :  66 Hobbs St, Conway, NH 03818
What: In partnership with Arc'teryx, the evening will begin with a presentation on some of the AMGA's current initiatives. Most of the evening will be devoted to the round table discussion, which will address opportunities and challenges facing the AMGA and its membership. The focus of the evening will be driven by the participants; however, potential topics include permits and access, Scope of Practice, and the new Ice Instructor certification that will be launching in the winter of 2018.