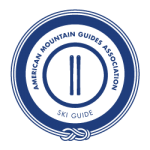 This certification is meant for the experienced backcountry skier or ski guide looking to further hone her/his skills in off-trail and glacial terrain. It is designed for guiding either ski tours or ski ascents/descents, on alpine touring, split board or free-heel equipment. Topics covered include: track setting, navigation, efficient 3rd and 4th class travel, short-rope and short pitch techniques, rescues skills, and client care.
Students are expected to arrive with a minimum of four years of recreational backcountry skiing background and an acquired knowledge of knots, belaying, rappelling, anchors, and basic alpine climbing systems. It is assumed that the students can ascend and descend 4500 vertical feet per day. It is expected that student's are physically, mentally, and emotionally prepared for a week of outdoor activity.
Splitboard Use on Ski Programs
Starting in 2014, the AMGA will allow Splitboarders to move through the entire Ski Program on their boards, without being tested on skis. Splitboarders will have to demonstrate all the same guide skills as skiers, and their travel mode will have to be via skins. No snowshoes will be allowed. While those who successfully pass the Ski Guide Exam on a Splitboard will become certified through the AMGA, individuals who are pursuing  American Mountain Guide/IFMGA Guide certification will not become internationally certified until they pass a one-day movement assessment on skis. This is a requirement of the IFMGA, as the association does not allow certification for Splitboarders at this point in time. Those who demonstrate that they meet the ski standard will be awarded American Mountain Guide/IFMGA Guide certification.
To get your Ski Guide Certification, you must complete:
The 12-day Ski Guide Course (SGC)
The 10-day Advanced Ski Guide Course and Aspirant Exam (ASGC/AE)
The eight-day Ski Guide Exam (SGE)
You must be certified in an AMGA-approved Level III avalanche course (AIARE, AAI, or CAA Operations Level II)
You must be certified in CPR and have a minimum 80 hours in WFR