2020 Petzl Scholarship | Timm Phillips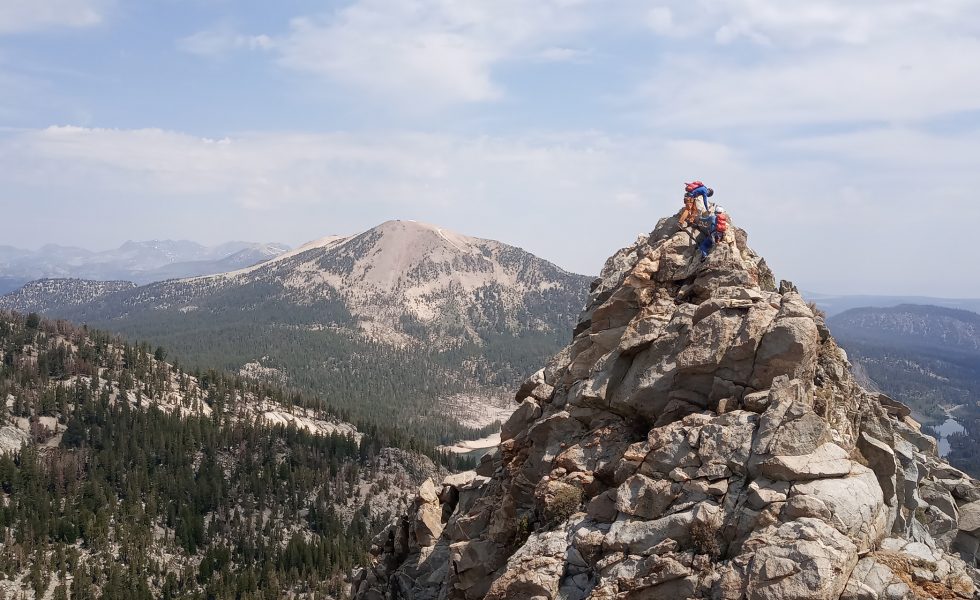 This past June, with a generous scholarship courtesy of Petzl, I was fortunate enough to participate in the AMGA's Alpine Guide Course in the sunny Sierra.  Many thanks to Petzl for their kind support.  Their dedication to the mountain guiding craft makes educational endeavors such as the Sierra Alpine Guide Course possible.  The brand invests heavily into top notch guide training.  Needless to say, that is what I got during my nine days down in the Golden State.
"Pacing, track setting, modeling, coaching," nudged AMGA Instructor Howie Schwartz, as I paused for a moment, reading the terrain in front of me, on our approach to Bear Creek Spire.  This was the sixth day of the course, and the umpteenth time Howie iterated this mantra.  For myself and fellow students, Jason and Brian, Howie's words proved to be the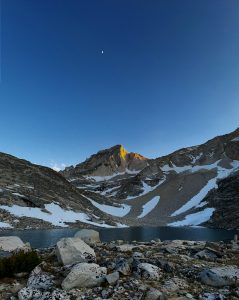 theme of the course.  Although being known as a course in short roping, the instructors challenged the three of us to adopt this mindset: to thoughtfully apply those five words to the process of helping folks have fun time in the mountains.  To ensure client security before reaching for the rope or devising a technical solution.
When the rope did come out, the Sierra granite served as an ideal classroom, affording us lots of time to get up onto high exposed alpine ridges.  Following in 1:1 short rope, I watched Howie intently as he panthered his way along the summit ridge of Crystal Crag outside of Mammoth.    With a few choice words as coaching, rather, he achieved security with his stance and position – track setting.    In what seemed to be slow, Howie seamlessly read the undulations in the granite along the ridge and placed himself in it accordingly; adding security with a rope placement here, and stepping down a foot or so there.  All the while, I kept moving, enjoying the thrill of the exposed ridge.    
It was then mine turn to lead, giving the Crystal Crag ridge a shot. Thinking to keep my client Brian secure, I focused on where I positioned him and myself in the terrain.  However, these pauses to, "park my client," ate up time and it was not the smooth flowing exhilarating experience I had.  Further refining my guiding by incorporating this element of client reward was going to take some time to hone in.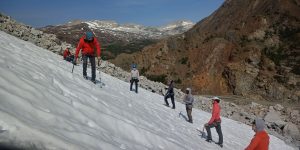 Upping the ante on our guiding objectives as the course progressed, we overnighted out in the Little Lakes Valley, attempting the Northeast Ridge of Bear Creek Spire.  At, 13,000', I took the sharp end on the alpine ridge rodeo, with fellow student Jason serving as my client.  Within a couple days, we were already thinking along these lines of client reward.    The two of us thought out loud, sharing our interpretations of the terrain at hand, where we would put the rope for to add client security or increase friction for a terrain belay.  On a tricky down climbing section, we discussed where we could park a client while we down climbed.    We tossed up where we would short pitch, and where and how we could keep a client moving through the terrain. 
Despite being known the world over for its quality alpine granite, we navigated plenty less than stellar stone.    On personal endeavors and commonly guided routes, we can easily avoid and minimize these unsavory sections.  Yet an additional value of the Alpine Guide Course was to seek out this type of terrain, and solve the related problems, inherent to alpine guiding.  This ranged from 2nd class talus and scree to, 4th class steps with kitty litter and rocks that will move if one were to look at them wrong.  Again, Howie's mantra of, "Pacing, track setting, modeling and coaching, " served as the mindset to move guests through.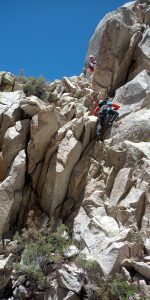 After a full day of alpine rock of Cardinal Pinnacle, Howie had us set a clean track down, back to our cars.  The challenge was to find the micro terrain features that will not completely blow up a client's quads, keep them on their feet, and minimize loose rock cascading from above – all with minimal verbal coaching.
After a forest fire on the North Ridge of Lone Pine Peak smoked us out and had us reconsider, the instructors chose the Ellery Ridges on Tioga Pass as the capstone guiding assignment, culminating eight days of instruction.   While a couple stars short of a Sierra alpine classic, the untrammeled nature of the route honed our terrain recognition.  Howie stepped back in his instruction this day, further challenging us in our judgement and abilities.   Our newly minted alpine guide mindset had us thinking how we would ascertain a track through the rubble, minimizing rockfall hazard for clients.  Modeling deliberate footwork as opposed to pitching it out allowed us to move through sketchy sections in a timely fashion.  Finally, when a technical system was determined to 
be best course of action, anchors were timely, and clients kept moving through with security.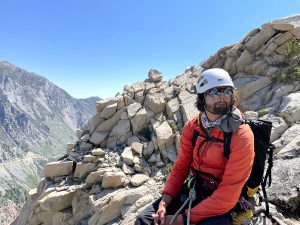 After nine days of dedicated work on the course, I am eager to see the skills put to use in my daily guiding.  A big thanks to the instructors Neil, Geoff, and Howie.  I know I will be having clients following along, walking to the rhythm of, "pacing, track setting, modeling, coaching."