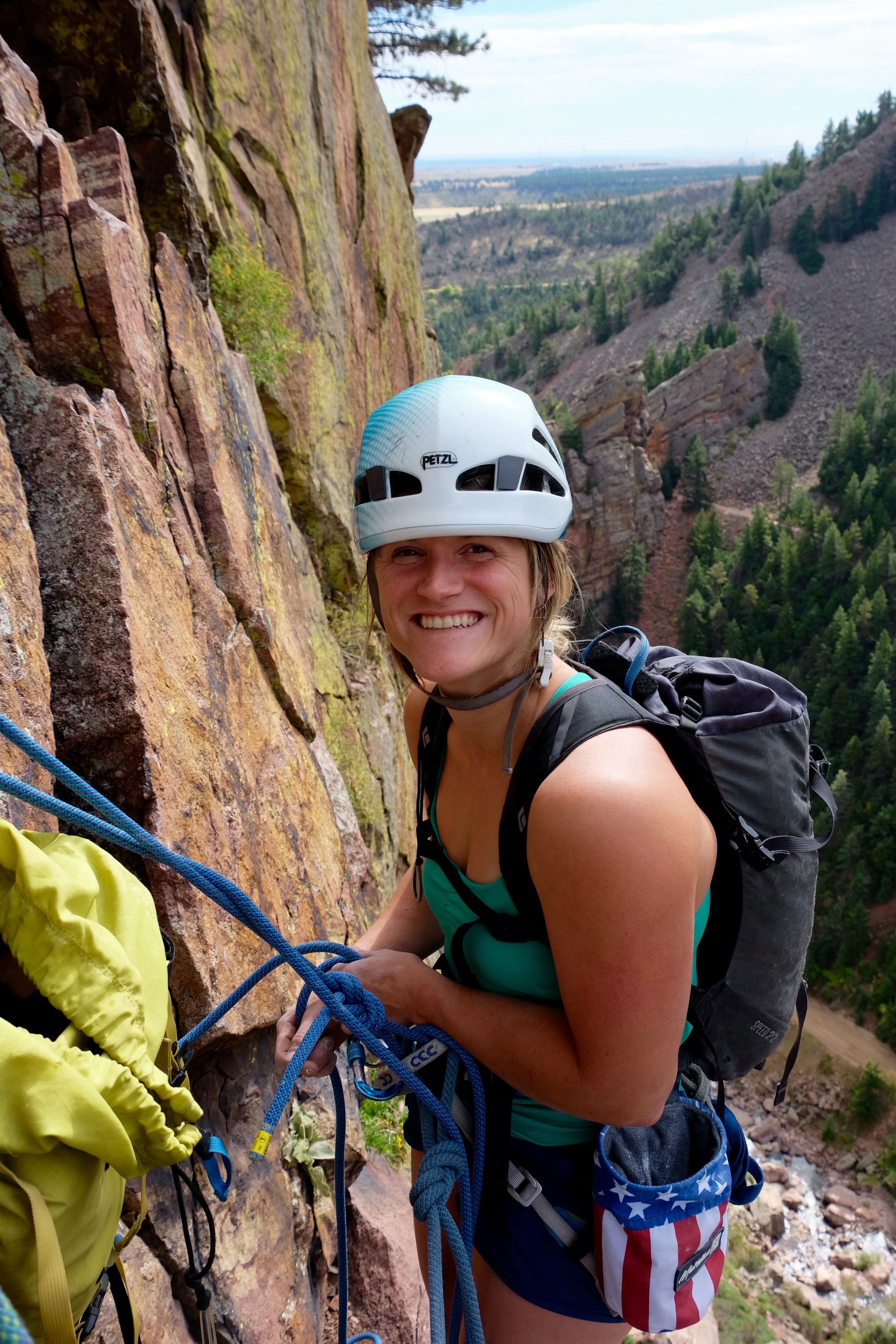 On September 21-22 of 2016, the AMGA, in partnership with Arc'teryx, ran a pilot mentorship program — the Rock Discipline Mentorship Camp. This two-day event consisted of low ratio (2:1) rock discipline specific training with the AMGA Technical Director, Dale Remsberg, in Boulder, CO. The camp offered the opportunity for two AMGA members to come to Boulder, CO and further their skill sets as professional guides.
We received 45 competitive applications for the camp and selected two individuals from the pool. We are super psyched to congratulate Billy Haas and Lindsey Hamm as the individuals who were selected to participate in the camp, and are thrilled to be able to share a bit from their experiences here.
Here's what Lindsey had to say about her experience:
What does "mentorship" mean to you? Has this definition changed as the result of attending the camp?
I define a mentor as: "Mentoring is a brain to pick, an ear to listen, and a push in the right direction." As a young adult in this wild and crazy world we live in, someone who has been searching her entire life for a mentor, this experience with the American Mountain Guides Association (provided by Arc'teryx) has given me more confidence that the Rock Discipline Mentorship Camp is the 'push in the right direction' to succeed in getting my IFMGA pin. When I found out I received the mentorship program I was beyond stoked because Dale Remsberg would be the mentor. He is the definition of what I would want out of future mentors; he is direct, encouraging, collective, knowledgeable and passionate about his guiding career, and at the end of the day I want to be the best-of-the-best in the guiding world just like Dale.
How I defined a "mentor" has not changed at all after the Mentorship Camp. It has given me more reason to keep going through the IFMGA program because there are people like Dale, Arc'teryx, and the AMGA who will go out of their way to help others like Billy Haas (other mentee) and I, who need mentoring before advanced courses and exams.
In what ways do you feel mentorship is significant to the craft of mountain guiding?
First off, Arc'teryx & the AMGA need to keep doing this every year, many times a year. Honestly, this program helped me rethink how I approach certain objectives, how to stay calm and not overthink, and to figure out where I want to be in the next five years. The mountains are big and wild, and young guides need honest and direct criticism (no sugarcoating) because guiding is no joke. I've had relatives tell me to go get a "real job" but if they only knew how much time, patience, training, athleticism, knowledge, and customer service goes into this type of career they would understand how much mentorship means to the world of guiding.
Staying calm and not overthinking when I am in a tricky spot was definitely an issue for me in this camp. Stress management is a weakness of mine, however, at some point in this program I could see myself evolving and becoming more confidant. My stress would go down, it was a growing experience. Taking a deep breath is all you need sometimes. Think KISS—KEEP IT SIMPLE STUPID, great advice, hurts my feelings every time.
Most people think guiding can't be a "real career" but I beg a differ. Dale spoke to Billy and me about where we see ourselves in the future, what do we want to have: a car, house, savings, etc. These are things we CAN have if we plan correctly. He made me realize if I start now I can have all of those things and not be a "dirtbag" my entire guiding life; I don't have to starve. Hearing those words helped exponentially. I believe in this career.
How did the 2016 Arc'teryx & AMGA Rock Discipline Mentorship Camp help you grow as a professional?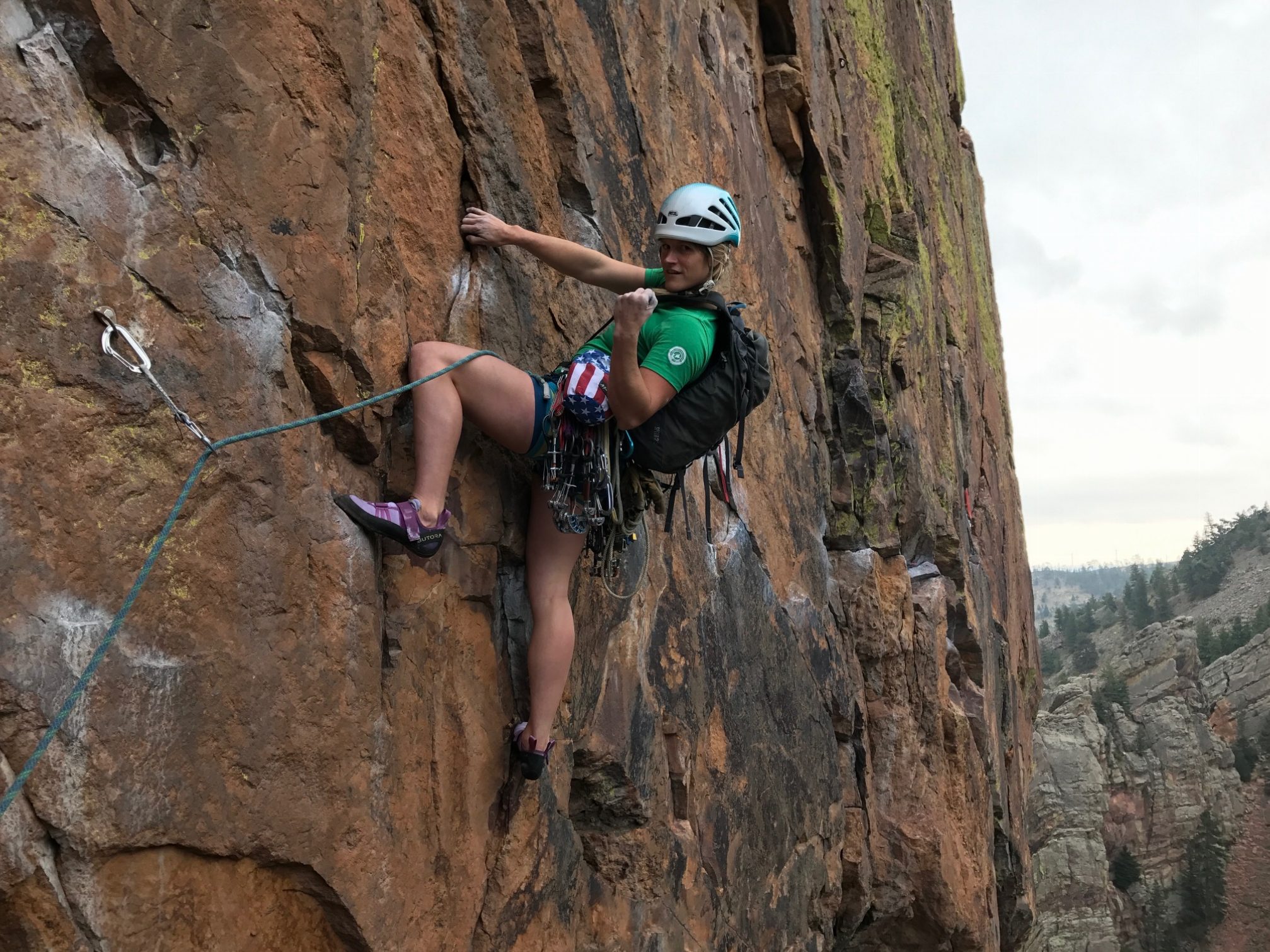 The Mentorship Camp helped me in so many ways – I realized that even great climbers do fall and we need to set a good example for those who we are guiding. Therefore, putting in enough gear is crucial on the sharp-end. Making fast but decisive decisions are important especially in tricky situations; staying calm and keep moving. Courage and self-belief is what you need to succeed, which I feel as though I've gained during this camp. While courses can be expensive there are lots of opportunities out there, so going for every opportunity that comes my way will get me closer and closer to my goal. This camp has put me one step closer. Understanding that guiding does not have to be seasonal job, you can have what you want out of this career…planning is key to building a foundation for the rest of your life. Knowing that I will always be learning throughout this career even after each of my certifications, I will continue to grow and gain more knowledge because there is always more room to learn new tricks.