Dylan Taylor Reviews the Guide 10+ Adventure Kit Solar Charger
Posted on November 30, 2014 by AMGA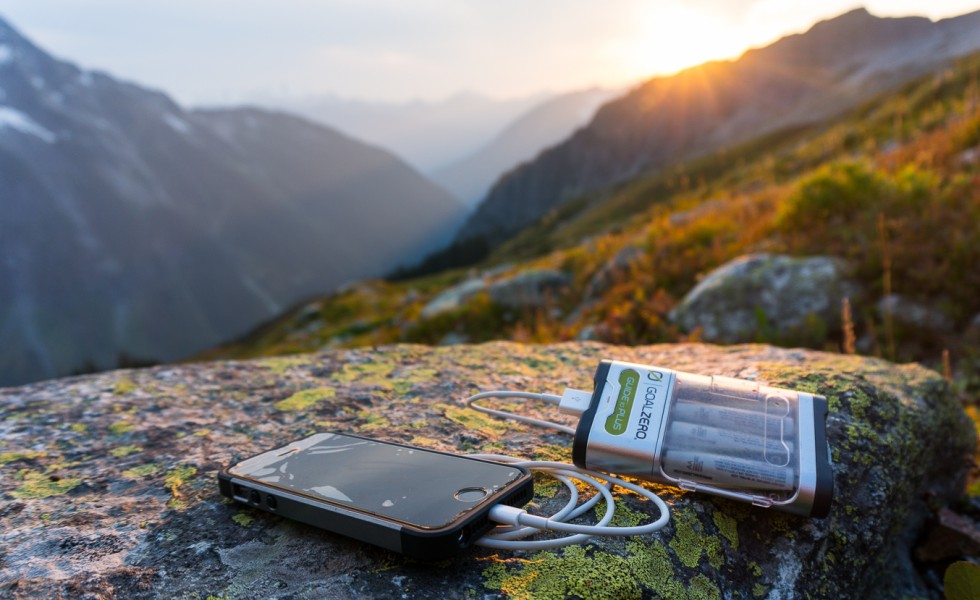 Dylan Taylor, American Mountain Guide/IFMGA Guide, tested the Goal Zero Guide 10 Plus Adventure Kit Solar Charger (including the Nomad 7 charger) over the course of seven days in the North Cascades while teaching an Alpine Guide Course/Alpine Guide Exam. He has also used this kit on various extends trips, including an expedition to Afghanistan.
AMGA: What makes this piece ideal for skiing/climbing/ice climbing guiding?
Dylan Taylor: This kit is useful for overnight outings lasting more than two nights. On most overnight outings, I leave the Nomad 7 at home, and only take the Guide 10 Plus charging unit. We took Nomad 7 panels and Switch 10 charging units on our multi-day Afghanistan climbing expedition a year ago. For most outings in the Cascades, the desert Southwest, or in the Alps, I just take the Guide 10 Plus or the Switch 8 for charging my mobile phone, my GPS watch, or head lamp.
AMGA: In what ways was it durable?
DT: The guide Switch 8 seems more durable than the Guide 10 Plus, but the intent is slightly different, and this category isn't necessarily applicable here. That said, I never had a problem with any of the units in a range of weather conditions, humidity, and precip,
AMGA: In what ways was it functional?
DT: As mentioned above, I was able to charge my mobile phone (which I use as a GPS and map-reading tool), my GPS watch, and my headlamp. It seems like these days people have tons of little electronic devices that need charging fairly often.
AMGA: How does the piece compare to other, similar pieces that you have used?
DT: I've used a similar product as the Sherpa 50 from Brunton. For the most part, these Li Ion products work well. The Switch 8 works great, the guide 10 Plus seems to have slightly less capacity to charge even given its bulk.
AMGA: Is there anything we are not asking that you want to share with us about this piece of gear?
DT: I'd be curious to see the Switch 10 in real life. For most guides, AA batteries (especially Ni Metal hydride) aren't that useful anymore. They fit in old style GPS devices, and some cameras, but that's about it. Li Ion is the way to go. It's light and powerful. That said, this little device did what they said it would do. From their website: "With the Guide 10 Plus Recharger and Nomad 7 Solar Panel you have a portable, rugged charging kit as adventurous as you are. Charge AAs from the sun or any USB port, then power your phone, MP3, GPS, or perk up your tablet in a pinch."