Inside the AMGA | Interview with Monserrat Alvarez
Posted on June 13, 2019 by Holly Barrass
What do you know about our National Office operations?
Our new series, inside the AMGA helps shed some light on our work. This month, learn more about our Membership and Communications Associate, Monserrat Alvarez.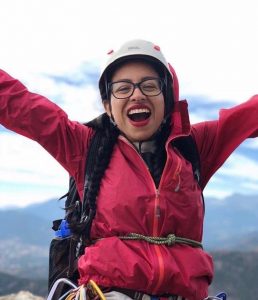 PC: Jordan Cerna
How long have you been at the AMGA and what did you do before working here?
I started working at the AMGA in May 2018, so I have been here a little over a year now. Before working at the office, I worked as an outdoor educator with various organizations like Eagle Rock School, Women's Wilderness and YEP at the Colorado Mountain Club.
Have you completed any AMGA programs?
I went through the Single Pitch Instructor Course and since supporting the Women's SPI Program, I have found a solid crew to motivate me on my climbing instructor journey.
What takes up most of your time working at the AMGA?
The majority of my time is consumed by pro deals. Whether I am sending codes to members, troubleshooting partner's websites, or following up to set up pro deals with partners, most of my time I am working with a partner to provide better membership benefits.
What is your most common member question?
"Can I get a receipt for my membership dues?" Trust me, we are working on creating auto receipts to make all of our lives easier. In the meantime, don't forget to email [email protected] if you need a receipt for your membership and license fees.
What do you wish all of our members knew about their membership?
I get emails pretty often of folks requesting a copy of their certification or course completion who no longer have a current membership. Not only are their certifications or course completion deactivated by our database, but their certifications are not valid. Even if you have a Ski Guide certification or valid SPI status, if your membership is not current your certification is not valid.
What do you like best about working at the AMGA?
The opportunities to learn technical skills and hear different perspectives, the endless support to get after individual training and outdoor shenanigans, and the coolest office mates. I would also be lying if I did not mention all of my canine office mates, all 16 of them.
Describe your perfect day out climbing or skiing?
Any adventure when I am out with my crew of lady crushers really, but I do love mellow multi-pitch trad and snacks (with a side of epic views). My climbing adventures definitely need to end with a dance party and a solid meal. I have been known to serenade my climbing partners with stellar Selena karaoke when I am super stoked (no, not Selena Gomez).