Inside the AMGA – An Interview with Petzl
Posted on May 21, 2019 by Holly Barrass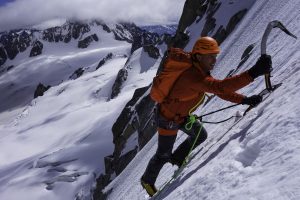 Meet AMGA Partner, Jon Rockefeller, Managing Director at Petzl North America
What do you know about our National Office operations? Our new series, inside the AMGA helps shed some light on our work. This month, hear from our partner, Petzl on guiding, and partnership with the AMGA.
How is the partnership with the AMGA meaningful to the Petzl brand?
First and foremost, the majority of the equipment Petzl produces are important tools for working guides.  We see the guide community as an important customer of ours, so much so we have a dedicated staff member here at Petzl who focuses on the product research and development for the guiding community.
Paul Petzl, built the Petzl Technical Center – where we host the Annual Meeting – because he wanted a center where people can come share their experiences, teach others and learn something new for themselves. Having Petzl being able to host the annual meeting is a huge part of the mission of Petzl America. We believe there is a lot of shared information that comes from the guide community –  products like the RAD line and RAD SYSTEM we developed after the guiding community lead the way and asked for this sort of solution for glacier work.
Petzl has always had a focus on trying to share what we learned through educational materials, sharing best practices, and supporting the guide associations like the AMGA.  We believe that our combined efforts to enhance climbers knowledge helps to create a safer community and enables people to "access the inaccessible" which is Petzl's mission statement.
Do you feel there has been a shift in people's perception of guiding in the past five years? And, if so what do you think that is?
I have been studying the climbing community for more than a decade, first when I was working at Petzl in France as a Product Line Manager then doing the same at Arc'teryx overseeing their Hardgoods (packs and harnesses) as well as the Ascent line (rock, ice and alpine apparel). There has been a huge influx of new climbers coming into the sport. Most began their journey indoor and then aim to go explore the sport outside. However, transitioning to outdoor climbing is a lot more difficult as there are no longer enough "mentors" to pair with climbers seeking knowledge and skill. The guiding community has become a lot more "busy" as guides can provide individual training and skill building at a local level and in smaller groups. This is more affordable than taking courses from other organizations like the Mountaineers, for example. The perception of guides has changed because they are now the gateway to knowledge of the next steps beyond the gym. If I were a guide, I would be working closely with local climbing gyms to develop future client opportunities and enable climbers a pathway to becoming autonomous in the outdoors as well.
Lastly, if you could be guided anywhere in the world, where would you like to go/ do?
I am at the age (47) where most of my climbing partners are too busy with family and work to take off on an "expedition" so I would love to be guided on Cerro Torre in Patagonia just to have a competent partner to tackle this beautiful wall of granite.