Review: Iridium's GO! Wi-Fi–Based Satellite Phone Device
Posted on April 6, 2015 by AMGA
Ryan Huetter, Certified AMGA Rock Guide, reviews the Iridium GO! Wi-Fi–based satellite-phone device.
As working guides in the backcountry, we have become increasingly reliant on the technology that goes into our guiding packs. Whether it is for navigation, communication or documentation, most of us are carrying multiple pieces of electronics on our guiding assignments. We can all recognize the need of having backups should these pieces of technology fail, but by limiting ourselves to devices that serve a single purpose, our pack can soon become overburdened. It is surprisingly common to find a GPS unit, VHF radio, SPOT device cell phone, satellite phone, and camera tucked away in the nooks of a guide's pack.
With smartphones now in widespread use, guides are able to make more room in their packs knowing that in one slender package they have their GPS in the form of a Gaia GPS or TopoMaps App, as well as a camera to take pictures and video of their guests. A VHF radio has no replacement, but in the world of satellite phones, a new product is seeking to give us more function in a smaller package. The Iridium GO! (retail $875, data package not included), released in summer 2014, is a Wi-Fi–based access point to the Iridium satellite network. This means that the smartphone you are already carrying is now turned into a satellite phone, and with the variety of smartphone apps designed to be used in conjunction with the device, puts a lot more information at the guide's fingertips.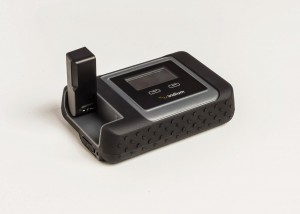 The GO! puts out a Wi-Fi signal to which up to five smartphones can connect (at this time, only iOS and Android devices are supported). This makes for a more functional satellite connection at expedition basecamps. Once connected, the GO! provides an access point to e-mail, SMS messaging, and voice calls, and uses your existing contacts to do so. For iPhone users, the interface is very friendly and familiar. Updating a trip's progress via Facebook, Twitter, and simple GPS-coordinate tracking much like a SPOT is all done within the GO! app.
A hidden SOS button on the side also allows a guest to be quickly and easily briefed on emergency communication, as this button is connected to an included GEOS Global Monitoring System rescue service, does not need the smartphone to be activated, and can also be pre-programmed to send out alerts to three phone numbers or email addresses.
What I have found most useful in my daily trip planning while on longer trips is the ability of the device to connect me to reliable weather forecasts without having to call the home office of my guide service and ask for detailed point-forecasts. With the Iridium Weather app (included) or a third-party service such as OCENS Spotcast ($80 for one year of unlimited 72-hour forecasts), quality short-term forecasts with customizable data sets are now easily available.
Web browsing is possible though quite slow, but this, like most functions of a satellite-based device, is based on the quality of the connection. The GO! likes to be placed high off the ground, with open access to the north-south-tracking satellites (east-west valleys are especially problematic for connections). Battery life is decent, and I was able to complete a five-day trip using the GO! for weather updates, photo updates to Facebook, and a daily check-in to the office on one charge.
The bottom line is a well-thought out, quality piece of technology that when coupled with a smartphone provides the functions of GPS, sat phone, and SPOT devices. And by leveraging the user-friendly screen of your smartphone, the GO! gives you greater functionality within the satellite network, in a smaller, more weatherproof package than previously offered in available satellite phones.
Specs:
4 oz.
5″ x 3.25″ x 1.25″
Military-spec ruggedness
Integrated rescue-service coverage