Scholarship Report | Chris Cullaz
Posted on October 4, 2019 by Holly Barrass
2019 Casio Scholarship Recipient | Chris Cullaz | Alpine Guide Course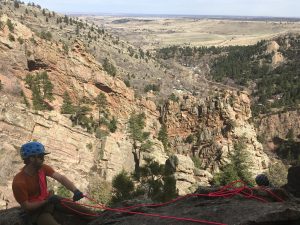 The timing of this course couldn't be better, in a few weeks I will be flying up to Alaska for my second season guiding on Denali, where I will get to apply glacier travel techniques we learned and if the weather cooperates, guide more technical snow climbing and short roping. As soon as I get back from Alaska in mid July I will then head to Jackson, for my first season with Jackson Hole Mountain Guides, where I will get to incorporate all the short pitching and short roping techniques I learned and practiced with on the AGC. Getting to guide alpine rock in the Tetons will be completely new to me and I am so excited to also share that experience with my partner, Hannah, who will be back with JHMG for her second season of guiding the Grand.
As is the case with alpine climbing our course dealt with lots of inclement weather, including a "bomb cyclone" that blanketed Eldorado Canyon with snow. This created sub-optimal conditions and gave us the very unusual experience of being the only party climbing in the entire canyon! The changing weather patterns kept us on our toes, ready to change the plan when necessary, either heading into the climbing gym to practice transitions while its nuking snow or switching up locations to allow for more ethical scratching of crampons on rock. The end of the course culminated with our party of four climbing the Spiral Route on Notchtop in wintery conditions. I felt like it fit the bill perfectly and I could apply all the different techniques we had been exposed to and practiced over the pas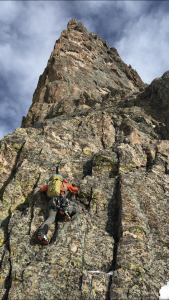 t seven days. While out front, I finally was putting together all the pieces of the puzzle, looking for the best way to get through the terrain, keeping the rope moving, being efficient and safe.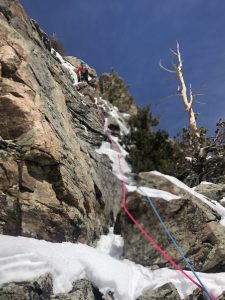 I am looking forward to taking the next step in the AMGA program, most likely the Advanced Ski Guide Course, being my strongest discipline, and then working my way through Rock and Alpine after I get more professional experience in both. I am so grateful for Casio for providing this scholarship and honored that I was chosen out of a field of many deserving candidates. I am excited to continue on this adventurous career path that allows me to show others how special our wild places are and hopefully instill within them an appreciation of our public lands and their importance.