The View: watching guided clients' awe when they summit
Posted on March 15, 2014 by AMGA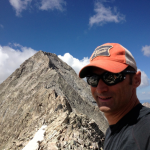 By John T. Young
I always scramble ahead of my clients to get to The View before they do. Not because I need to see it first – I've seen it many times. What I want is to watch their face as they see Capitol Peak's Knife Edge for their first time. I want to see their eyes light up! This is what I live for – that look of awe, that "wow", that something that lets me know I've made an impact.
The ridgeline is only a ½ mile long. Thin. Jagged. Exposed. Clients usually hire a guide for Capitol Peak, one of Colorado's most difficult 14ers, because they've seen pictures or heard stories of the Knife Edge; or their significant others have. They've read the accounts and have watched all the YouTube videos they could find on it, but nothing compares to being there and seeing that view across the ridgeline with your own eyes.
And there are countless Views! Is it any wonder we spend our lifetimes climbing and traveling? All it takes to talk us into a particular adventure is the promise of a spectacular view, one we are guaranteed will take our breath away. The Knife Edge, topping out on Drizzlepuss, the summit of Mt. Shuksan after climbing from the Sulphide Glacier side, pitch two of High Exposure in the Gunks, the view of the Earth from the Moon.
A good View can be life altering. Some show you the exact edges of your comfort zone – Step here, and there may be dragons. Some show you just how small you really are, and yet expand your mind farther and wider than you thought it could stretch. They are found at the boundaries of what we know and what we don't, of what think we can and can't do. They are found at turning points or decision points. I believe that the best Views don't allow us to think at all, just exists for a moment, while our overloaded brains reboot. Isn't that the very definition of awe?
A close second to seeing a View yourself for the first time has to be seeing it through someone else's eyes their first time. It's a big part of why I guide. Whether it's a new climber crossing the Knife's Edge, or the Bells Traverse, or topping out on their first 5.6 rock climb, I'm like a stoke vampire; I love that look they get, that quiet moment of bug eyed overwhelmed what did I get myself into. I love being the facilitator of a, "WOW!" moment. How many other jobs allow you to awe people? And that sense of awe can be contagious, if you let it.
Of course every climb isn't filled with high fives. Sometimes the tears aren't from being psyched on your adventure. And that's fine too. The trick then is to look for alternate ways to get your fill of second hand stoke. Maybe just getting to the View is good enough this time out. Maybe a slightly easier climb. Maybe it's beers at a locals only pub and introducing your client as a new friend just into town.
There's so much more to guiding, but how do you keep your own excitement and drive alive the 100th time you've gone up a particular route, seen a particular View? My advice is to turn around once in a while and let the smile on your client's face infect yours too.
John was born and raised in Cooperstown, NY – the home of baseball, The Last of the Mohicans, and the Susquehanna River, where he enjoyed a Tom Sawyer-like childhood. But when he discovered the granite spires of Wyoming's Tetons, Washington's glaciated Cascade peaks, Utah's red rock Desert Towers, and Colorado's high ridge-lined Rockies, he moved his family West. He came to Colorado specifically to pursue a career in guiding and teaching rock climbing and mountaineering. John also guides snowshoe hikes, backcountry ski trips, and volunteers for Mountain Rescue Aspen. John is an AMGA certified Single Pitch Instructor, Wilderness First Responder, and AIARE Level 1. You can reach him either via his My Rockin Life website or on the Aspen Alpine website.