2017 F.O.R.G.E. Scholarship Recipient – Eddie Schoen
I would like to thank the F.O.R.G.E. scholarship fund, first and foremost, for giving me the opportunity to take the AMGA Ski Guide Course.  For those unfamiliar with it, the Friends of Rick Gaukel Everywhere (F.O.R.G.E.) scholarship fund is awarded once a year to an aspiring split board guide and covers the full tuition cost of any AMGA ski guide program.   I was awarded the scholarship despite the fact that I didn't even apply for it!  I'll explain.  A few years ago, the the AMGA announced its decision to allow split boarders to go through the ski guide program, it solidified my desire to become an IFMGA/AMGA Mountain Guide.  Until that point, it felt like a bit of a pipe dream.  Climbing had long surpassed my teenage passion for snowboarding.  As I matured, I came to love the process of moving upward under my own power.  The slower pace, controlled and thoughtful movements of climbing were a stark contrast to the adrenaline and excitement fueled downhill shredding that had been the directing force in my life up until that point.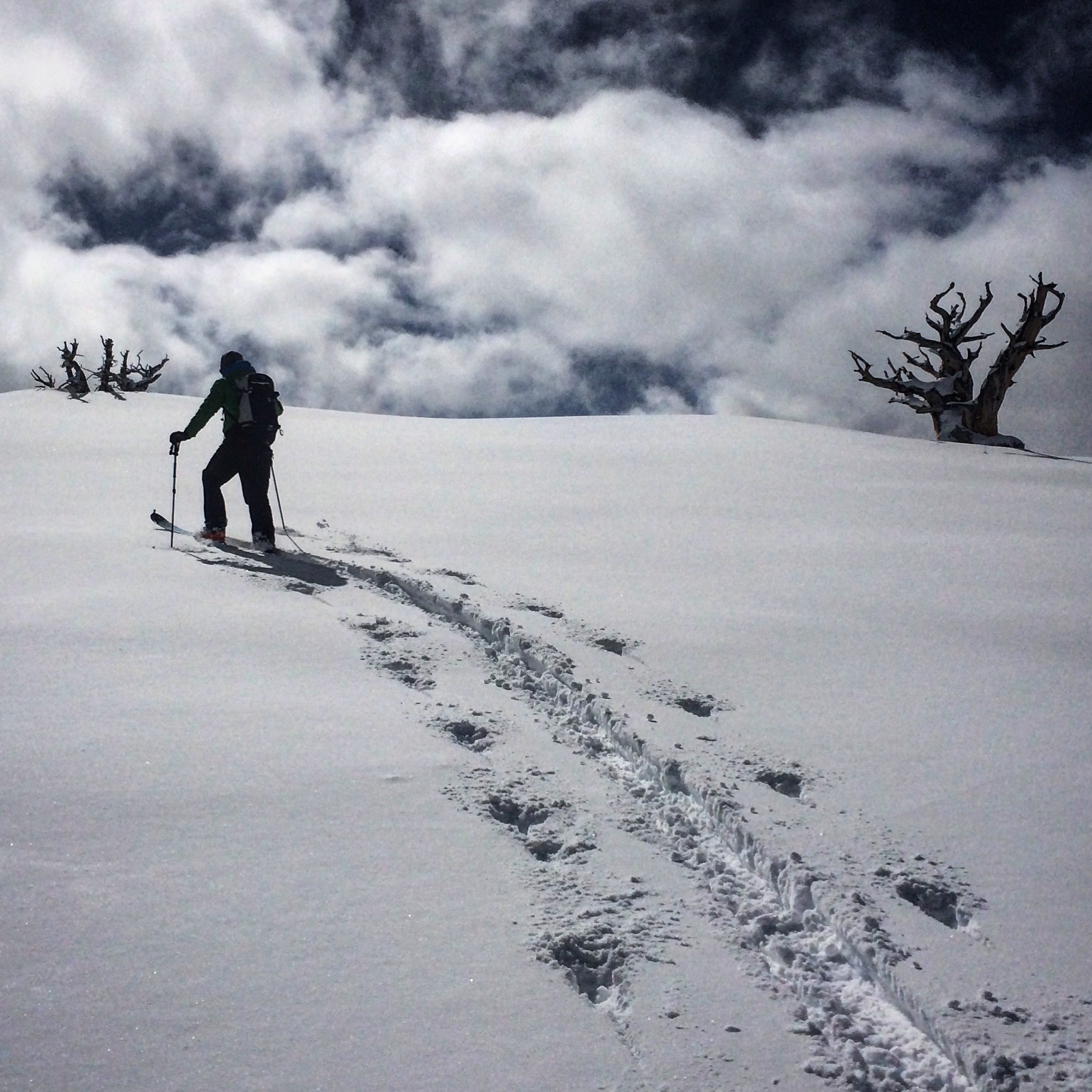 Eventually I found my way into the world of backcountry split boarding while living in Vermont.  It was an easy transition after having spent more than a decade riding snowboards and having become familiar with the winter backcountry through ice climbing.  However, being in New England, provided an opportunity to safely explore the winter back country with little concern over avalanche hazards and terrain management.  We essentially just followed skin tracks up into the woods and tried not to hit any trees on the way down.  Simple enough.   After learning that split boarders could then move through the ski guide program, I was convinced that it was a realistic goal.  I still knew relatively nothing about winter backcountry travel, and even less about skiing.  All I knew was how to skin uphill and that I loved the idea of sharing the experience with other people.  Regardless, I committed to the process.  Along the way, I decided that I wanted to learn how to ski in order to feel equally competent on either type of snow-schralpin' tool.  Along the way, I was more humbled than I have ever been!
Skiing, as it turns out, is kind of hard.  It's also kind of fun.  I moved to Colorado in order to gain experience in real, complex avalanche terrain.  I spent two winters fully committed to improving my skiing.  I gave up a comparatively lucrative day job to spend the winter working as a ski patroller. . . on skis.  When the scholarship application window came around, I had been so immersed in the world of skiing that I did not feel like I could fairly apply for a split board scholarship.  Lucky for me, no one else had applied either.  Rick's family nonetheless saw my application video and saw a similar spirit to that which Rick exemplified.  Even though I barely made mention of my snowboarding background, they decided to award me the scholarship.  The significance of this to me personally cannot be overstated.  Having the financial assistance to take another step along the IFMGA path is incredibly helpful.  What made this so important to me, however, was the fact that it reminded me why I chose to pursue guiding in the first place.  The past year had been full of new opportunities and even more challenges.  Having gone through a divorce, moving to a new part of the country, abandoning a pretty cushy career, and deciding to pursue guiding with 100% commitment, I found myself struggling at times to remember the very passion that drove me to make such drastic changes.  I had the chance to meet and talk with Rick's wife Jonna.  We talked about his passion for guiding, snowboarding, and the challenges that it presented.  We talked about the risks that mountain guides subject both themselves and their loved ones to.  After a tragic year for the guiding community, on top of my own personal losses, these questions were weighing heavily on me.  Learning more about Rick and his passion reignited my own fire for what we do.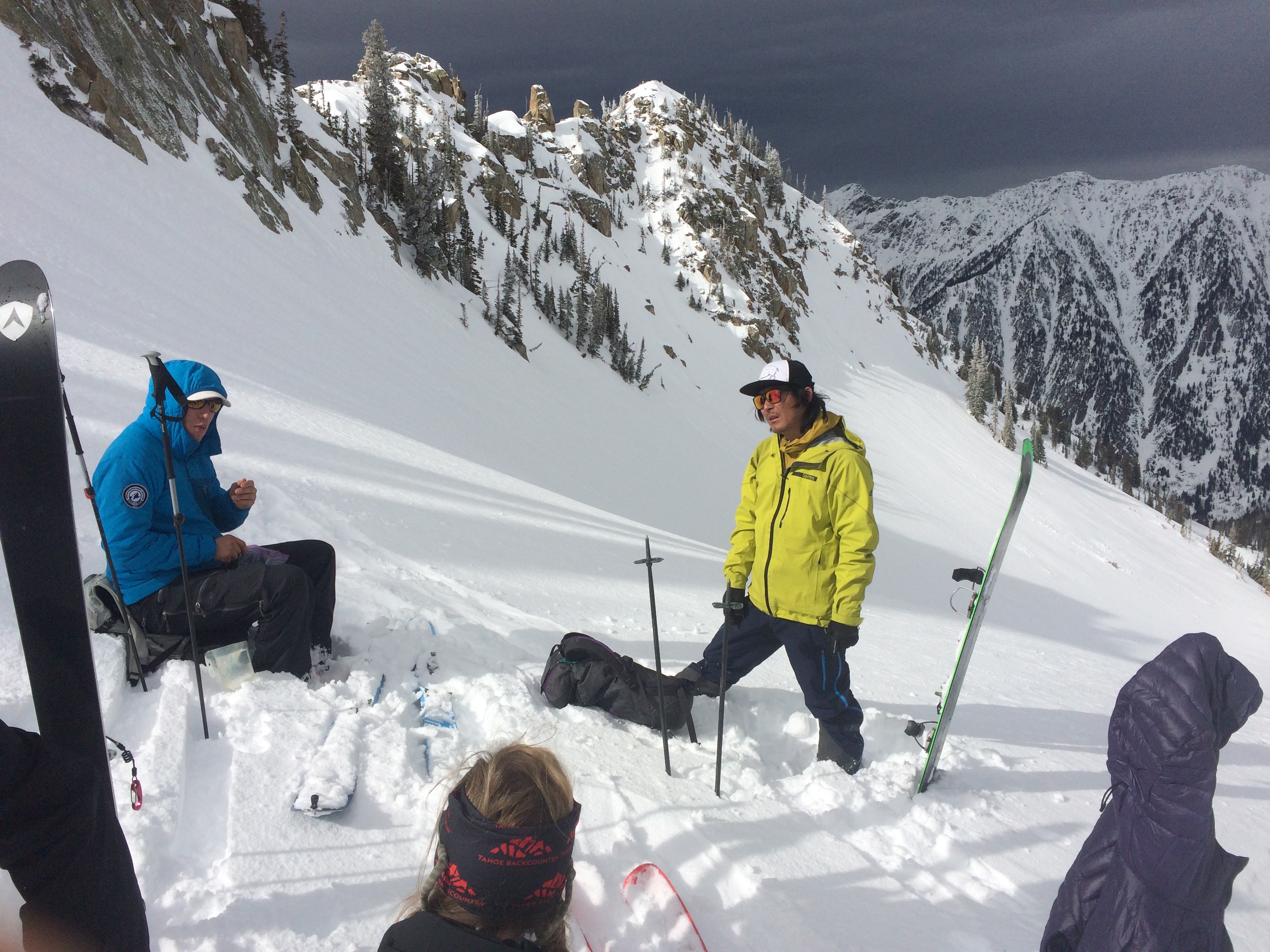 The Ski Guide Course was the last of the first level AMGA courses I have taken across the disciplines.  I suspected it would be the most challenging.  I was right.  Knowing that my skiing was still far weaker than my snowboarding, I opted to complete most of the ski guide course on skis in order to continue improving my skills.  Even after completing the alpine, rock, and ice instructor courses, the ski guide course pushed my limits.  After two winters of dedicating myself to skiing, I still struggled at times to perform at the AMGA standard on my skis.  Additionally, the ski guide course is long.  Twelve full days.  It's taxing even for the best of us.  Knowing that I had been given the honor of the F.O.R.G.E. scholarship kept me going.  Knowing that Rick's family sensed his spirit and passion in me continually inspired me to keep giving it my best.  I learned a ton, and learned how much I still have to learn.  I'm more inspired than ever and plan to ultimately pass my AMGA ski exam on both a snowboard and skis.  Rick's dedication to snowboarding and split boarding will continue to inspire me for the rest of my career.
Snowboarding was my first love, it was what first drew me to the mountains, and, admittedly, I had forgotten about it at times.  I worked for Burton Snowboards for many years before pursuing guiding as a profession.  One thing, well three actually, that stuck with me from that experience was the commitment to fun that the company embodied.  One year for an employee holiday gift I got a beach towel that had the words "Have as much fun as possible" printed boldly across the entire surface.  There were also stickers at different times going around the office, and two I always loved were "Snowboarding is still awesome" and "Splitboarding is the answer"… or something along those lines.  For me, this is the idea that snowboarding has always represented.  Having fun, and living passionately.  My passion for guiding grew out of this.  Over the years, as expected, it has become less of a dream and more of a job.  Being awarded the F.O.R.G.E scholarship reminded me in a big way what it's all about.  So thank you Rick, for all you did to progress split board guiding as a profession.  Thank you to the Gaukel family for passing along the torch.  Thank you to our entire community, of guides, climbers, skiers and snowboarders, who understand what it means to live passionately and who have built the amazing network of support and excitement that keeps it all moving along.