2019 ARC'TERYX ALPINE MENTORSHIP CAMP REPORT FROM Yoshiko Miyazaki-Back
Posted on August 26, 2019 by Holly Barrass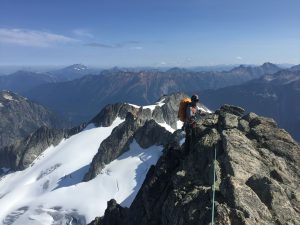 About AMGA Mentorship Camps
AMGA Mentorship Camps are low-ratio training opportunities for members going through the mountain guide programs. Mentorship Camps are unique in that they offer additional training and low-ratio coaching outside of the traditional AMGA mountain guide programs and assist with participant travel costs. In 2019 we are thrilled to be able to offer three mentorship camps thanks to our generous sponsors. Check out our mentorship camp page for more info.
Arcteryx 2019 Alpine Camp Recap
Our most recent camp took place in July in the North Cascades. Thanks to Arc'teryx, Assistant Alpine Guides Viren Perumal and Yoshiko Miyazaki-Back are both prepping for their Alpine Guide Exam and joined AMGA Instructor Team Member Jeff Ward (American Mountain Guide/IFMGA Guide) for 3 days of hands-on skills training. The camp also provided an opportunity to openly discuss concerns, challenges, opportunities, and aspirations for moving forward in their AMGA programs and guiding careers.
Here are some words of wisdom and a report from mentee Yoshiko Miyazaki-Back
What does "mentorship" mean to you? Has this definition changed as a result of attending the camp?
To me mentorship is when a more experienced colleague takes the time to pass along their knowledge and wisdom to someone, like myself, who is embarking on a path.  This could be responding to questions in writing, over the phone, or in person; providing practical challenges, and demonstrations in a way that is beneficial to the mentee.  Since attending this camp, 'mentorship' has evolved to include a better understanding of each other as individuals, as well as the mutual experience shared between participants.
In what ways do you feel mentorship is significant to the craft of mountain guiding?
Mentorship helps develop tools to better adapt to the dynamic conditions and situations one comes across when guiding.  It provides a platform to exchange experiences, problem solving, and continued development for a long and enjoyable career.
How did the 2019 Arc'teryx & AMGA Alpine Discipline Mentorship Camp help you grow as a professional?
Jeff Ward, my mentor, boosted my confidence and encouraged me in the skill set that I have learnt guiding professionally.  He really took the time to understand the questions I asked and to answer thoroughly and thoughtfully. The camp provided a forum for me to openly share my personal challenges, and to work through these in a stress free environment.
What was the biggest learning you had on the Mentorship Camp?
Not to second guess myself.
What was the most fun you had while on the Mentorship Camp?
We took the camp seriously, but did not take ourselves too seriously.
What is your next step on your path to becoming an AMGA Certified Alpine Guide?
The next step for me is to take the Alpine Exam.  In the meantime, I hope to continue training with my peers including Viren who I was able to share time on this mentorship camp with.
What advice do you have for future mentorship camp attendees?
Have a clear idea of what you'd like to gain from the opportunity, and communicate it to allow the mentor to facilitate that.  Be open, and allow yourself to have fun with it.