The Adidas Sky Climb Jacket: Made for the Mountains
Posted on November 10, 2014 by AMGA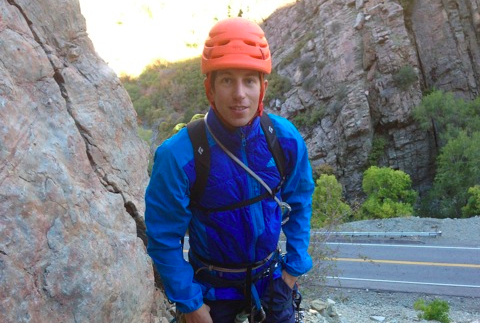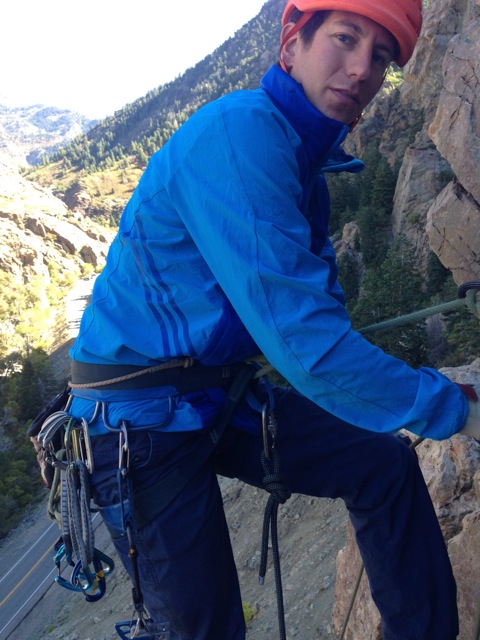 American Mountain Guide/IFMGA Guide Jonathon Spitzer recently tested the Adidas Sky Climb Jacket while guiding multi-pitch rock in Big and Little Cottonwood Canyons and for personal climbing adventures elsewhere in the Wasatch Mountains, Utah. He found the jacket to be extremely durable, as well as highly water repellent, breathable, and functional for guiding.
AMGA: What did you think?
Jonathon Spitzer: This is going to be one of my "go-to" layers for playing and working outside.
AMGA: What makes this piece ideal for skiing/climbing/ice climbing guiding?
JS: This layer has lightweight insulation in the chest and breathable/wind resistant material in the rest of the body. The combination of both of these materials in one jacket is great. This jacket kept me warm at belays in the shade, but I didn't get to hot while climbing. Up high on ridgelines the material help cut the wind and kept me warm. The material's breathability also kept me from overheating and not sweating. I like the high collar; it kept my neck warm.
AMGA: How is the water repellency?
JS: I got caught in the quick moving rainstorm with the Adidas Sky Climb Jacket, and I found the material was a bit water resistant. But, more importantly, it dried quickly and kept me warm. Overall it's good layer for rock climbing, mountain climbing and ski touring.
AMGA: In what ways was it functional?
JS: It was really functional, but I would like to see this jacket with a hood. Having a hood to fit over a climbing helmet would make this jacket even more valuable and useful in the field.
AMGA: How does the piece compare to other, similar pieces that you have used?
JS: It's a good concept and functional. I like the insulation on the chest and the soft shell material in the body. Overall it is a strong competitor for other, similar pieces I have used made by other companies.
AMGA: Is there anything I'm not asking that you want to share with me about this piece of gear?
JS: I love the color of the jacket and the look. Plus, I appreciated the thumb loops, as they added to the overall warmth of the piece. And the hand pockets are in a good location and the right size.
AMGA: What are some improvements you recommend?
JS: The size large Adidas Sky Climb Jacket fit me really well in the body and length, but there was a lot of excess material in the arms hanging down. It would blow in the wind and seemed a bit baggy for a mountain fit. Most of the time I had to use both hands to unzip the front zipper as it got stuck a lot. As well, it would be great if the jacket packed into a pocket and if I could clip it to my harness.
Jonathon Spitzer owns and operates Snow Rock & Ice Adventures and is a senior guide for Alpine Ascents. You can read more about him on Outdoor Research's blog.