Annual Meeting: Arc'teryx-sponsored AMGA Round Table Meeting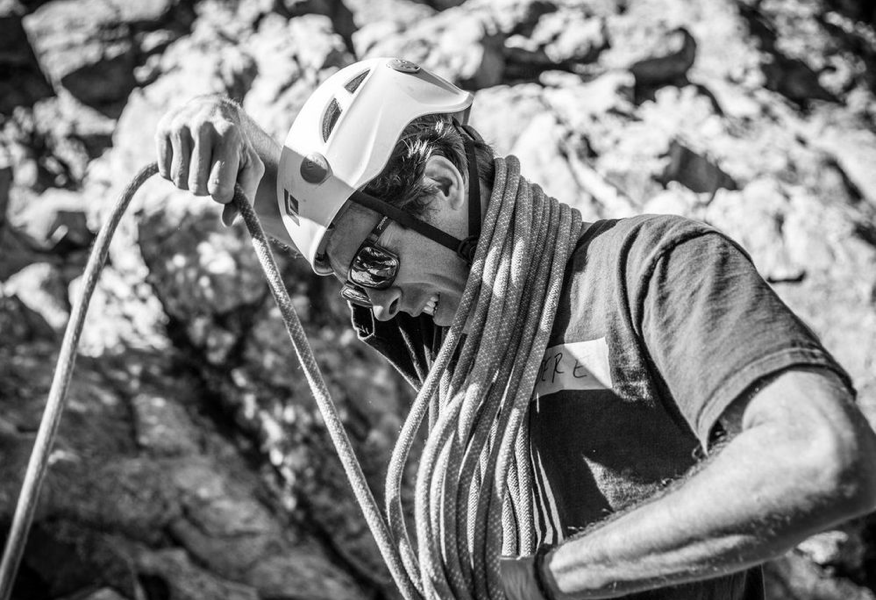 By AMGA Staff
(Updated 11/19/2014: For detailed minutes of the event, please check out the PDF link in the last paragraph.)
More than 100 people showed up for the 2014 Arc'teryx sponsored AMGA round table, the 2nd night of the Annual Meeting. Unique in the series of round table discussions, guides and aspiring guides had the opportunity to address the full board of directors with questions. In fact, after only an initial five people signed up to ask questions, AMGA Executive Director Betsy Winter entreated the audience to offer input, saying it was a monumental time in the AMGA's history.
"We are dealing with some really core issues that are going to be addressed at our board meeting and for years to come," she said. "Don't be afraid to approach the podium." Subsequently, a few dozen people along the full spectrum of AMGA certification ended up addressing the board. And despite bringing up some tough issues, the atmosphere was cordial and supportive.
One of the big questions of the evening that has cropped up in numerous blog posts and discussions this past year was the AMGA's push to continue professionalization the guiding industry by making sure people work within the terrain in which they are trained. "It comes down to the terrain guidelines and working within your scope, ability, and skillset," Board Member Silas Rossi explained. "That's really important. If we all do that, it gives value to other people who work in other disciplines. We need to say with a common voice, 'I'm trained for this terrain.'" That, he added, would also lead to indirect marketing benefits for guides, giving the public the option of choosing the type of guide they want to hire.
American Mountain Guide Patrick Ormond added to the discussion, by saying: "All of us in this room have got to preach the gospel. We understand the benefits of training and certification. It's our duty as members to inform people as peers this is what we expect from them."
American Mountain Guide Joey Thompson voiced the perspective of some guides when he brought up the question of whether members were working closely enough together. He wondered whether or not the AMGA was being sufficiently aggressive in ensuring the "government does not step in to regulate our association." Board Member Dan Nordstrom suggested the board was working hard with other key outdoor groups, such as the new Outdoor Access Working Group (OAWG), to ensure the voice of the guiding industry was heard on a national level.
"The AMGA is but one of an enormous range of organizations that bring groups of people onto public lands and have to get permits to do that," he stated. "There's lot of energy and momentum, and lots of reformers in the land management system. A large group is coming into the picture saying what's a durable, broad based way of taking care of everyone."
Another, related hot topic was access, from guiding in Yosemite National Park to the limited number of permit holders currently working in America's National Parks. Many fully certified guides who want to work on their own don't feel the system fairly represents their needs.
"I'm starting to see a rift between people who have their pin and people who own permits," stated American Mountain Guide Gary Falk. "I think we need to stand together in this industry to get what we want. Certified guides, consider that this is how you became certified and this is where you got most of your clients. But I also want to caution the companies to look at where we are going. You're not going to be the only permit holders, forever. We need to find a way to bridge the gap between us in order to stand together."
Technical questions arose as well, including one about the reason behind the extra class aspiring guides now need for the Ski Guide Course and another about the dearth of Alpine Skills Courses currently provided. Board Member and AMGA Technical Director Dale Remsberg answered that instructors were finding too much discrepancy between participants' skills, notably people who didn't take the Rock Guide Course sometimes entered the Ski Guide Course without the prerequisite skills.
"We found bottlenecking during first part of ski guide course," Remsberg explained. "We were literally teaching people how to tie clove hitches when we should be teaching skills on the mountain." As well, more Alpine Skills Courses are being added.
Board Member Rob Hess added: "In order for us to accommodate individuals who may not be climbers, we need to bring them up to certain technical standards." Guides can still enter the Ski Guide Course via taking the Rock Guide Course.
Other questions included: a request for life insurance policies and an AMGA-exclusive forum for guides; a request for a formal mentorship program; various entreaties that the AMGA recognize and support guides at all levels of certification; training the AMGA Instructor Team to carry the same messages from the AMGA to participants; and requests for more information about how guides can market themselves.
In some cases, responses were immediate, and in others, Winter promised more was to come. The AMGA team hired a scribe to take notes on every issue brought up, and Winter stated each comment would be considered in the future. Please read the official scribed minutes here.