The Alpine Guide Course Exam: Prep, Purchases, & Getting Around Jackson Hole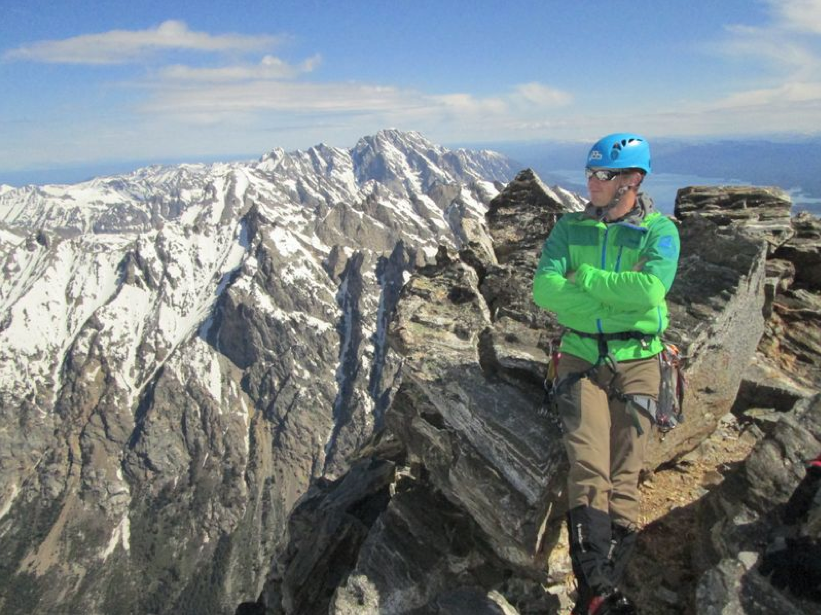 By Ron Funderburke, an excerpt from his Outdoor Research Scholarship Report
I had made certain preparations for my exam that are worth mentioning. First, I did more running that I would ever normally care to.  My typical run was an uphill mile to the south face of looking glass, 500-1000 feet of soloing 5th class rock up to 5.10, another mile run around the nose of looking glass, a couple hundred feet of soloing up to 5.5, three quick boulder problems up to V5, and then a three mile downhill run to the car. I also did quite a bit of bouldering in mountaineering boots to feel strong climbing in that kind of footwear.
I did some shopping, unnecessarily as it turns out. I bought 70l backpack that ended up being way bigger than an alpine guide should ever carry and a 32l fast and light pack for carrying and climbing. I bought 10 point crampons, but BD sent me 12 point crampons; oh well. I bought a venom ice axe with a hammer, but an adze would have been a better choice.  I bought the Tetons guide book, the big one, and National Geographic Trails Illustrated Map. I bought a pair of La Sportiva Trango Boots. I bought a jetboil with a Sumo sized cooking pot.  I bought a 60m Petzl 9.4mm rope, the first rope I have purchased in nearly eight years.
There is a theme in all of this shopping that bears mentioning. You will purchase tools relative to your experience and the equipment that you already own. But you need to ask yourself a more pressing question before dropping so much cash.  What does everyone else in the profession do? No one else in my course felt the need to acquire equipment as I did.  They already owned all the stuff that they needed. Incidentally, I did too. I could have shared the items that I lacked instead of purchasing all the  wrong stuff. Now, I have got that big pack, but I will never use it for the purpose that I bought it. I have that Venom with hammer, but I've got to purchase another one with an adze. Now, I have that goofy map, but I need to purchase a whole mapping software package to have a navigation resource that is in a practical scale.  Now I have that Sumo pot, but I have to purchase a Sol for alpine outings. It would have been nice to get is right the first time.
Some of that stuff was perfect though. The boots were fantastic hikers and climbers, and despite a persistent assertion on the course that they are too flexible for snow or ice, I climbed both mediums like hell in the Trango. I especially liked the way they climb rock.  Great edging, pretty good smearing (for a boot), I was able to rock foot jams in them. They were great. The BD Venom tool, despite the hammer, was much more versatile for me than Petzl Cosmique that I am accustomed to. It especially sunk into water ice well, while translating to snow with ease.  My Petzl rope, even though a bi-color would have been preferable, was tough, water resistant, handled well, and was nice and light on the hikes and on the short rope.
I also got to know Jackson a little bit. Here are some noteworthy observations:
The Enclosure and the Jackson Boulder at Snow King. Super fun artificial climbing. Work problems, get your pump on, hang out with other climbers, spray beta, and style a little burnoff here and there. The Jackson Boulder at Snow King, especially, offers free and endless circuits and climbing. If I lived in Jackson, I would be on that thing everyday, and my boys would be on it everyday too.  I met super free climbers at The Enclosure too; it's a pretty nice little gym for a small town.
Smiths and Albertsons are the big grocery store chains, and that kind of grocery shopping suits me just fine. Albertsons is a bit closer to most of the stuff we was doing, but the bakery at Smith's offered better fare for breakfast and lunch. I especially enjoyed the pizza and jalapeno bagels and Smith's; great for breakfast or lunch.
Dining, I ate at Ocean City a couple times before I discovered  Hong Kong Chinese next to the Goodwill.  I wish I found it sooner, because I just would have eaten every meal there.  Friendly servers, great prices, and pretty good chinese.  I find chinese to be great recovery food for me. The Jackson Bunnery has the best breakfast in town, by my reckonging.  Great coffee, heartily portioned eggs benedict, hash browns, and biscuits.