AMGA working with Colorado Outward Bound School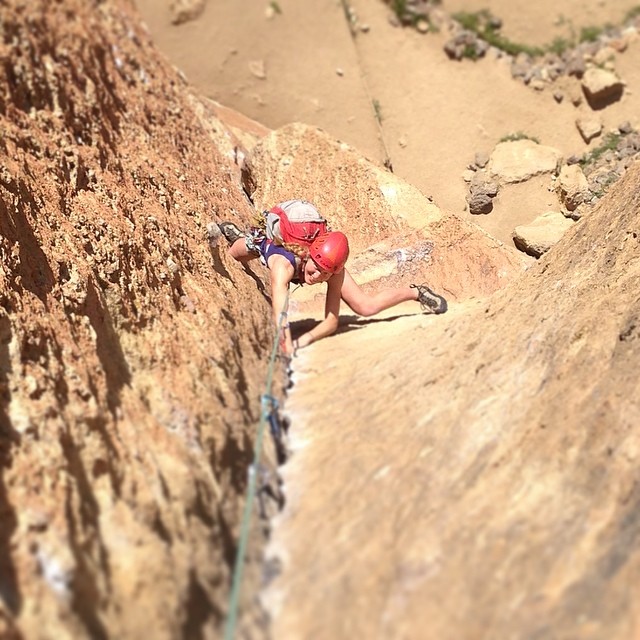 Outward Bound staff are trained to identify, assess, and approach risk as a learning tool to be managed, but not eliminated, with the goal of providing Outward Bound students with the opportunity to gain insights and perspectives into their own and their group's capabilities. Subsequently, Outward Bound staff members are expected to have a high level of competence and instructional skills in various areas, from mountaineering and canyoneering to snowboarding and skiing. At the AMGA, we believe the AMGA and Outward Bound training programs are naturally complementary and that the AMGA Instructor Team and network of Outward Bound can support each other to ensure the best-trained educators and guides in America. We recently chatted with Katherine Fritz, a Colorado Outward Bound School Lead Instructor about her perspective.
AMGA: Why do you think AMGA training is relevant to NOLS and OB instructors?
Katherine Fritz: The AMGA is generally acknowledged to currently be the United States' gold standard in the guiding industry. My AMGA Rock Guide Course enabled me to bring fresh knowledge and current best practices back to my work with Colorado Outward Bound School (COBS). The training added to my foundation of judgment, mountain sense, and tools for efficiency on rock. All of these things are incredibly relevant to my work as an outdoor educator. In a single season, technically skilled COBS instructors may span a wide gamut of programmatic rock climbing.
AMGA: What's the difference between OB training and education and AMGA training and education?
KF: First of all, I must give the caveat that I do not hold the 100% detailed vision of this topic. I have neither attended an AMGA SPI course, nor the highest level of COBS training (my training with the AMGA fulfills COBS' educational requirement). All of the trainings run by my Outward Bound school are internally run. COBS is in the process of building and refining our rock training/testing program. Currently, instructors may attend multi-day trainings that test them out to certain levels (top-rope site ground level instructor, rappel manager, backcountry rock instructor, and multi-pitch instructor). Not only are the rock trainings completely free, with provided food and camping, but second-year and -greater staff are paid a small stipend to attend. These trainings are run by senior staff, some of whom are certified AMGA rock guides or higher who are currently working in the professional guiding world.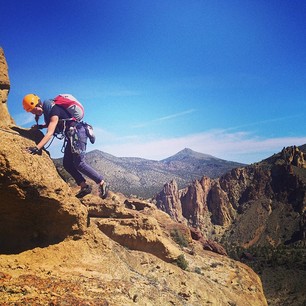 In designing training curriculum and assessment, much care has been given to match industry-standard trainings such as the AMGA's SPI (Levels 1-3 training and assessments) and the Rock Instructor (Level 4 training and separate assessment). Of course, though, some differences exist. I think a vast and obvious difference between COBS and AMGA trainings comes down to the setting for which COBS is training its instructors. The focus of the organization as a whole is character and leadership development within our students, rather than technical skill acquisition. Rock climbing and mountain experiences serve as the catalyst for our students to realize their potential in these realms. While many courses will include one or two top-roping days, only specialized rock courses or semesters spend enough time to progress beyond this large-group, top-rope setting. And even in the specialized "rock camp" setting, multi-pitch climbing is relatively rare because the educational outcomes of teaching movement, belaying, anchor-building, and other introductory rock skills take priority. In order for instructors to guide multi-pitch with students, they must be tested out to COBS' highest rock level, or have passed the AMGA Rock Guide course.
Additionally, as the Rock Guide Course sharply emphasizes, in a traditional client-guide setting, the guide herself is the single point of accountability. In other words, she must be prepared to handle all judgment calls and repercussions as they arise as the ultimate responsible party. However, in the typical COBS setting, an instructor has not only her own judgment, but also that of her co-instructors, her rock site manager (a senior staff assigned to oversee climbing days), and the policies and procedures laid down by the school.
AMGA: What do you perceive as the value of AMGA training?
KF: My Rock Guide Course gave me the opportunity to receive feedback and coaching like I have never before experienced in rock climbing… not to mention opening up the elaborate, puzzle-piece world of guiding. I greatly enjoyed the length of the course—it allowed for greater depth and observation, and was also just long enough to introduce a taste of stress/fatigue (which realistically seems like a wonderful thing to learn how to deal with in a guiding setting). I also feel extremely appreciative of the mentorship of each of my AMGA instructors and the opportunity to spend such an intensive chunk of time learning from their personal guiding styles. And because I hope and plan to guide in a traditional setting in addition to outdoor education, the overall aim of the Rock Guide Course was spot on for my needs to begin to learn the art of guiding.
AMGA: What does it add to the outdoor education experience?
KF: I personally feel a greater sense of confidence teaching rock climbing in an outdoor education setting after completing the rock guide course. The intensive testing nature of the course was vastly rewarding, and I enjoyed being individually held to such a thorough, high standard. The course also introduced me to many new tricks of the trade that are highly applicable in working with COBS. For example, I recently found myself teaching students on an OB semester course how to make a quad out of cordalette to connect a two-piece anchor, and tying/teaching redundant leashes/rappel extensions from a double-length sling in a manner that I learned on the course. I was also able to confidently offer multi-pitch climbing as an option for my students at a recent rock camp, knowing that I could give them not only an educational and enjoyable, but also industry-standard, professional experience. The Rock Guide Course also introduced me to the intricacies of short-roping and -pitching; again, just more tools to potentially flex to meet student needs and the situation at hand.
AMGA: How can these organizations support each other to ensure America has the best trained educators and guides?
KF: I think that we should continue to welcome each other with open arms. Outward Bound has a long and rich history of interconnection with the AMGA. I was delighted to find that the wonderful Angela Hawse (American Mountain Guide/IFMGA Guide), who course-directed my Rock Guide Course, began her career many years ago by working as an instructor for Outward Bound. I think that the two organizations should continue to offer each other knowledge as far as best practices and advances in climbing, knowing that we are working towards a common goal of taking people to the rock and to the mountains to find themselves. And, I believe that it is important that we continue to recognize that the specifics of what we do in outdoor education and traditional guiding are different.