Angela Hawse on her 5280 Magazine Interview
Posted on September 20, 2013 by AMGA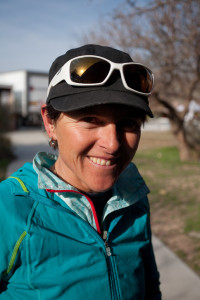 5280 Magazine featured Marmot and GORE-TEX® brand athlete Angela Hawse in a May 2013 article entitled, "Risky Business," about various careers that "might make you love your nine-to-five desk job just a little bit more." The article focuses on Hawse's job as a heli-ski guide. Hawse told us in a recent email that she thinks the publicity from the article puts the guiding community in a positive light.
"Your typical Joe Public doesn't know guiding is a profession," Hawse says. And, they don't necessarily understand that risk management is a guide's No. 1 priority at all times. "5280 did a good job of explaining how the risk is managed in my particular case, which gives credibility and accountability to the work."
AMGA: What do you think about the public's perception of being a guide? Is it as risky as it's made out to be?
Angela Hawse: I think the public's perception of being a guide still runs the gamut of 'What's a guide?' to a degree of respect for the profession. In general, I think the majority of the public is still in the 'What's that…' perception. Those that get outdoors and know what a guide's work involves, I'd say their perception is that it is quite risky. For those few who have actually climbed with a guide, I would think that they don't perceive it to be very risky, or we would not get many return guests! Because guide's job is managing risk and she or he does a good job of it, the dangers perceived by the client should in fact, be very low.
AMGA: How did you feel being recognized in 5280 Magazine as having a "risky job that might make other people love their nine-to-five desk job just a little bit more?"
AH: I think any publicity is good for guiding and guides.  It helps educate the 'What's that' public and puts a face with the job. Initially, they were going to call the article 'Dangerous Jobs,' and I was not keen on that at all. It's a fact that our jobs are risky, so I am fine with it being labeled that way–with explanation. That is what is important here… the label without quantifying the work and what it entails would not be representative of the profession.
AMGA: What would you say to an aspiring guide about the dangers of the job?
AH: The hazards of the mountain environment are real and command respect, foremost. Risk management is the guide's No. 1 priority at all times. Decisions in the field remain solely in the guide's hands and the ability to think quickly on your feet is integral to the job. The ability to make good decisions comes from experience. This is something that cannot be learned solely from courses or skills training. A solid foundation of time in the mountains and continuing to get out and make mistakes and then learn from them is ultimately what it takes to make good decisions. Also, risk management is one of the things about the job that continually keeps it interesting, dynamic, and engaging. The more curious you are about all the factors out of your control, the more successful you will be in managing the risks they entail.
To read the article, visit 5280's website: http://www.5280.com/magazine/2013/05/risky-business?page=0,2