Inside the AMGA | Interview with Jesse Littleton
Posted on April 15, 2019 by Holly Barrass
What do you know about our National Office operations?
Our new series, inside the AMGA helps shed some light on our work. This month, learn more about our Mountain Guide Programs Manager, Jesse Littleton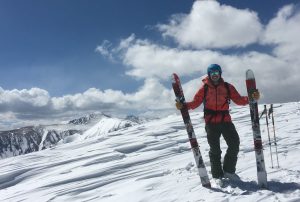 How long have you been at the AMGA and what did you do before working here?  
I began work with the AMGA in September, 2017. Prior to that I worked for four years at the Voyager Outward Bound School's Urban base, managing the Logistics department as well as the the climbing program. While working for Outward Bound I also obtained a Masters degree in experiential education from Minnesota State University at Mankato. 
Have you completed any AMGA programs? 
In 2009 I completed the Single Pitch Instructor Course and in 2011 I earned my SPI Certification. I guided a bit in the Gunks, NY before moving to Minnesota. I also took the Rock Guide Course in 2014 at Smith Rock with instructors Jeff Ward, Pete Keane, and Jonathon Spitzer. 
What takes up most of your time working at the AMGA? 
I'm the primary contact for all things related to the Mountain Guide Program. This includes the Rock, Ski, and Alpine disciplines. My day-to-day consists of interactions with students/members and the Instructor Team in order to facilitate smooth logistics for Mountain Guide programs. I'm also responsible for scheduling, enrollments, tuition, feedback for students and instructors, and various other house-keeping tasks to keep things running smoothly. At times I'm extremely busy (i.e. enrollment periods with hundreds of applicants) and other times are a little slower. The slower times allow for projects and system improvements.
What is your most common member question? 
The most common question I get is, "If I'm registered for a WFR but it's after the application deadline and before the course I want to take, can I still apply." The answer is "yes!" Simply upload a screenshot of WFR confirmation email in lieu of your WFR. 
What do you wish all of our members knew about Mountain Guide Programs?
When I applied for the Rock Guide Course, I was extremely intimidated and had classic "imposter syndrome." I felt like I was going to be way out of my league and was worried I wouldn't be up to snuff. Having worked in the office for nearly two years now,  I've learned the program is designed to set people up for success. If you work hard, meet or exceed the pre-reqs, and enter programs with a learners mind-set, achieving a positive result is most definitely possible. We are here to serve the guiding community and to that end, we want to see people succeed!
What do you like best about working at the AMGA? 
The best part of working at the AMGA is to be immersed in climbing, skiing, and guiding culture. On a daily basis I get to interact with people doing inspiring things.
Describe your perfect day out climbing or skiing? 
I like most adventures in the mountains. I've recently started ski touring more and it's been fun to start back at the equivalent of "5.4 trad climbing"  in back country skiing. The current perfect day involves touring in some mellow terrain with my wife and dog in the morning, and then heading over to Eldo or Boulder Canyon of the Flatirons for some afternoon climbing in the sun. Things change season each season though! I'm looking forward to some Alpine rock climbing this summer in Rocky Mountain National Park, the Winds, and maybe the Bugs!