Majka Burhardt | 2020 Scholarship Report
Posted on February 25, 2020 by Holly Barrass
On February 3rd I became the third-ever AMGA certified Ice Instructor, and first woman to receive the certification. I'm proud to be among the group bringing this certification to the main stage of American guiding. Is the woman part important? It is to me, and likely to roughly 50% of the climbing/guiding public, and hopefully to 100% of it. I took my first AMGA exam 18 years ago and at that time became the 4th woman receive any AMGA certification in any discipline. I was as surprised by that fact then as I am by it still now. I hope that one day we will have 100 certified Ice Instructors, that that time is soon, and that women will continue to play a significant role in the certification.
When I took my Ice exam I came home each night to be the mom of 3.5 year old twins. In 2002 I didn't imagine being the mother of twins would ever be a part of my future, or that I'd be integrating an ongoing guiding career into being the founder and executive director of Legado, an international conservation non-profit, and a pro climber.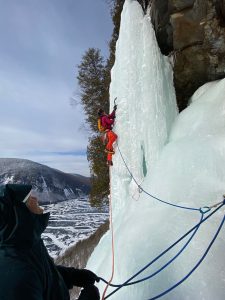 Climbing is dynamic, and thriving long-term as a climber takes ongoing learning and adaptation. I'm glad to be a part of a global community committed to making guiding the penultimate example for the learning, adaptation, safety, and sending in the vertical. I greatly appreciate the support from the AMGA which I have received in the form of a scholarship. I also appreciate the education and mentorship that made up my Ice Course and Ice Exam.
Many people in the New England guiding community still don't know this course and certification exists. While I took this exam for personal and professional reasons, I also took it for community reasons. I grew up guiding, as it were, in the Cascades and Colorado and while I have been in New England for 12 years, it's still new to me. I hope that by being part of this first wave of people valuing this certification, and the education and professionalism it represents, I can help set a standard and inspire others to do the same. Thank you, again, to the AMGA scholarship committee for your help to make this possible.
Sincerely,
Majka Burhardt
AMGA Certified Rock Guide and Ice Instructor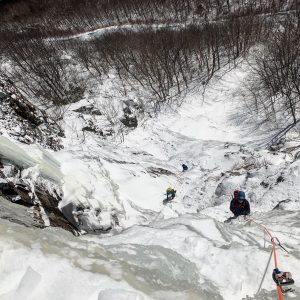 Examiner Eric Wehwall grabbing rays from the sun on a 10 degree day on Willard's Gulley 2.5, Ice Instructor Exam, NH.