The Multi-Pitch Instructor Course & Exam
FAQS: the Multi-Pitch Instructor Course & Exam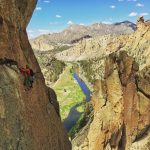 2020 programs at the AMGA feature the all-new Multi-Pitch Instructor Course & Exam. The first Multi-Pitch Instructor Course & Exams will be held in Boulder, Colorado and North Conway, NH. Here is what you need to know about the MPI Certification. 
Q. What is the difference between becoming an Apprentice Rock Guide, an Assistant Rock Guide, or a Multi-Pitch Instructor?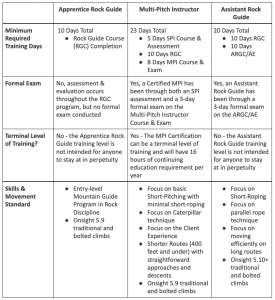 Q. What terrain falls into the Scope of Practice for the Multi-Pitch Instructor?
Draft: Multi-Pitch Instructor terrain is outdoor terrain that is not "remote terrain" and up to 4 pitches in length, not to exceed 400 feet. Approaches and descents should not be complex and only require minimal short-pitching and short-roping. At any point on route, retreat should be available via two 60 meter rappels. If referencing the commitment grades MPI terrain is similar to Grade II. 
Example Routes within the MPI SOP
Example Routes outside the MPI SOP

All routes in Joshua Tree

All routes in the Gunks

All routes in Smith Rock

All routes at Cathedral Ledge

Eldorado Canyon – Wind Tower, Bastille Crag and West Ridge Routes

Desert Towers under 400 feet that are not "remote terrain"

All routes at Vedauwoo

Calico Hills routes at Red Rock

Flatirons in Boulder

Angel Food Wall & Lotta Balls Wall in Red Rock

Whitehorse routes to the top in North Conway

Red Garden routes in Eldorado Canyon

Laurel Knob

Liberty Bell Group at WA Pass
The MPI Certification will have a Continuing Professional Development requirement and will not require any supervision to work under the MPI SOP.
---
Q. Why did the Rock Instructor Exam go away in favor of the Multi-Pitch Instructor Course & Exam? Are they the same certifications with different names?
Although the two programs look similar, they are very different. The Rock Instructor Exam mimicked the Rock Guide Exam, but on smaller routes. The total minimum training days required was lower on the RIE (16 days) than the MPI Course & Exam (23 days). The SOP for the RIE was too similar to the Assistant Rock Guide and this created an overlap in SOP that left out a large part of the instructional community. The MPI Certification meets the SOP need for those focusing on educational outings and multi-pitch rock guiding in smaller terrain.
Q. How long is the Multi-Pitch Instructor Course & Exam?
8 Days Total
5 days of course work and training

1 day of technical skills examination

2 days of mock guiding examination
Q. When will the MPI Course and Exam first be offered? How much will it cost?
The first MPIC/E will be offered in Boulder, Colorado from June 23 – 30, 2020

The second MPIC/E will be offered in North Conway, NH from September 22 – 29. 2020

Tuition is $2800.00
Q. Will becoming a Certified Multi-Pitch Instructor allow me to become an SPI Provider?
Yes, certified MPIs, along with Certified Rock Guides will be eligible to apply to become an SPI Provider.  

Note: becoming an SPI Provider is a separate process involving multiple prereqs and being a Certified MPI does not guarantee acceptance as an SPI Provider. More information on becoming an SPI Provider

here

.
Q. Who will benefit from becoming a Certified Multi-Pitch Instructor?
The MPI is designed for instructors who work solely in areas that fit into the MPI SOP. The MPI is a great option for individuals that work in areas such as the Gunks. A Certified MPI in conjunction with being a Certified Ice Instructor will allow for year-round work. The MPI will also be a great fit for people who work in institutional settings that are more focused on education and don't lead outings that exceed the SOP of the MPI. If the terrain you are interested in working in exceeds the SOP of the MPI, taking the Assistant Rock Guide Course and eventually the Rock Guide Exam will be necessary.
Q. I have other questions; how can I learn more?
---