Packing for an AMGA Alpine Guide Course, Part 3 – By Angela Hawse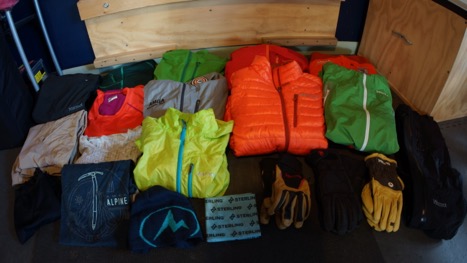 PART 3: APPAREL AND PERSONAL ITEMS
Apparel and fashion is entirely a personal matter but these bare essentials are pretty standard –
Softshell Pants – Two pair. One slightly heavier than the other. Both with a cargo pocket for holding a notebook or phone. I am a fan of Marmot's Pingora and Scree Pants.
Fleece top/s, mid-weight shirt, light-weight top and bottom – Lightweight bottoms for cold weather and overnights a must. If you don't plan to do laundry have some freshies.
AMGA Alpine T-Shirt – You will get one but may not have it for the start of the program. A few T's are nice as temps can be pretty warm these days.
Softshell Jacket – Marmot's ROM is the ideal weight, water-resistance and breathability. It is the official jacket of the AMGA Instructor Team for our Alpine Programs.
Windshirt/s – I go with two. Marmot's Ether DriClime Hoody and the lighter, unlined Trail Wind Jacket for warmer days.
Warm Hat and Buff
Puffy – I go with two. A hooded synthetic to go over everything and a light down puffy without a hood. Combined it's a great cold weather and overnight combo. Marmot's Isotherm Hoody and the Quasar Jacket is my go-to system.
Gloves – 3-4 pair not including the leather gloves mentioned with my technical kit. I have a lightly insulated pair or two of Marmot's Spring Glove with leather palms for good dexterity when not too cold. I bring a pair of mid-weight Marmot Exum Guide Undercuff's and a pair of Marmot Randonee Gloves if temps really drop. Whatever your choice, leather palms aid with grip and you should have good dexterity.
Hardshell Jacket – I bring two. A heavier and a lighter Gore-Tex option gives you the best versatility.  Softshells have become so good that sometimes you may leave a hardshell behind, depending on the forecast. I go with Marmot's Minimalist Jacket which has Gore-Tex Paclite and the lighter Exum Ridge with Gore-Tex's Active Technology.
Hardshell Pant – I typically go with one bomber pair. My soft-shell pants shed most water for a bit but if the weather really comes in I want better protection. I like Marmot's Speed Light Pant with Gore-Tex Pro Fabric because if I am going to carry and put these on, I need full protection and durability.
Sunscreen, Lip Balm, Small Toothbrush and Toothpaste for the over-nighter.
Sunglasses – Two pair. I go with Julbo's Spectron Cat. 4 lenses for full protection and a pair of Zebra photo-chromatic lenses for changing and low light.
First Aid Kit – Mine is broken down into two kits. A small trauma / blister kit for in the lid of my pack and beefier trauma kit with everything else that is in the main compartment of my pack. Should be sufficient to manage everything within your scope of training as a WFR.
Wag Bag – Rest Stop makes a great one, but no matter what brand, you should carry one.
That is an extensive but not all-inclusive list of equipment highlighting the key pieces of kit I pack for an Alpine Guide Course. Obviously not included are key odds and ends such as socks, shorts, car camping equipment, deodorant and a razor to shave your face to keep that professional edge. Food is another beast and one I make the time to get packed and organized before the course starts so I can grab and go each morning. This little effort in prep pre-course leaves me with ample time in the evenings to route plan, re-pack for the next day and sleep.
Post any questions or comments that may help others get their kit together below and don't forget the coffee!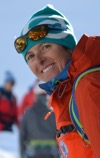 With 25 years of mountain guiding experience, Angela is one of the most experienced and active women in the profession. She was the 6th woman in the U.S. to become a fully certified IFMGA Mountain Guide through the AMGA. Angela's based in Ridgway, Colorado but travels the world for work and play.