Beginner's Mind – Disabled Athletes Take Instructor Course
Posted on March 25, 2014 by AMGA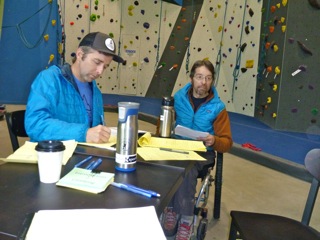 By Ed Crothers, AMGA Climbing Instructor Program Director
"In the beginner's mind there are many possibilities, but in the expert's there are few." -Shunryu Suzuki
Paradox (noun): something absurd or contradictory.
The quote from Shunryu Suzuki served as the guiding light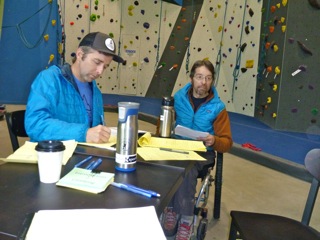 for an AMGA Climbing Wall Instructor course recently held in conjunction with members of the Paradox Sports instructor team.
For anyone unfamiliar with Paradox Sports, it is a 501(c) 3 non-profit based in Boulder, Colo. There mission states that they seek "to recognize and foster an individual's potential and strength, defying the assumption that people with a physical disability can't lead a life of excellence." The organization provides inspiration, opportunities and specialized adaptive equipment so that the physically disabled can be active participants in human-powered outdoor sports.
In pre-course materials all participants were asked to come to the course with the "beginner's mind."
This was not your ordinary CWI course. First, participants included two amputees; one below the elbow, the other below the knee, a paraplegic, an Iraq War veteran dealing with PTSD, and two individuals who do not have a disability. Second, they were all very experienced and talented climbers. Overall, not the typical demographic for a CWI course.
So this is where the paradox of the "beginner's mind" comes in. All these guys had solid technical skills; they are experts. Most already had some experience teaching climbing. Their challenge was to let go of the familiar, to take a step back and see the possibilities. Not always an easy task making the transition from highly skilled recreational climbers to professional climbing instructors.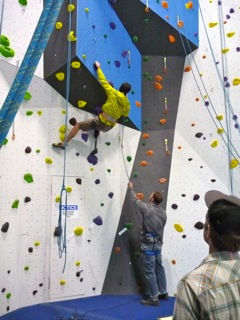 The need for the beginner's mind was not limited to the "students." The instructors were also challenged to see the possibilities. Their pressing question was, would or could the body follow where the mind takes it? The thought of training physically challenged individuals to meet the standard required for an AMGA certification is a nice one, but was it possible?
In the end, everyone involved embraced the paradox and the beginner's mind. This resulted in a synergy of creative thinking and openness to new ways of doing things. Teachers were students and students were teachers. At the end of three days, five participants earned the CWI lead certification and one the top rope certification. Their next step toward "defying assumptions" is working toward becoming AMGA CWI Course Providers. This was, and is an inspiring group with which to work. As one participant wrote to the group after the course, "just wanted to take a second and thank you all for an amazing 3 days. As a climber/teacher/friend you guys totally blew me away with the level of professionalism, fun, and good vibe the whole class gave. I'm super stoked to continue to push Paradox forward with the amazing partnerships like the one with the AMGA." The feeling is mutual.
Participants were, from Paradox: Craig DeMartino, Pete Davis, Sean O'Neill, Dan Sidle, and Timmy O'Neill, Executive Director of Paradox Sports. Mark Webb, Lead Instructor at Earth Treks, was also part of the course. Course Director was Mark Hammond, who among many other professional credentials is an AMGA CWI Provider Trainer. Big shout out to Chris Warner and Seth Murphy of Earth Treks for their hospitality and access to a world class climbing