I put a pole in my puffy: how to navigate the Wapta Icefields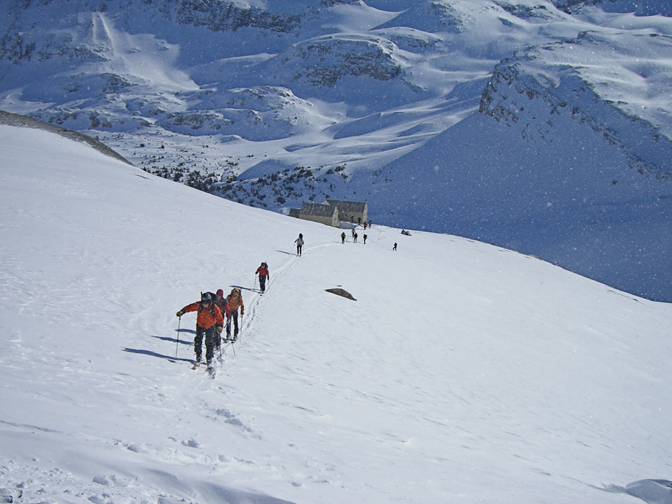 By Jesse Williams, UIAGM / AMGA guiding working with Cloudsplitter Mountain Guides LLC
One time, at ski camp, I put a pole in my puffy. Doug, Pete, and I were headed late out of the gate on a week-long traverse of the Wapta Icefields in the Canadian Rockies. It had been a long night of driving and packing, and we were now paying the price with an afternoon start on the tour into the Peyto Hut. We would have be at task to get there before dark, and wrapping my lightweight carbon fiber pole around a tree, scarcely a hundred meters down the trail, did not help.
I had become friends with Doug and Pete while ski patrolling in northern Vermont many years ago. Doug, an engineer, taught me to ski (read more about Doug in Jesse William's, winter 2013 edition of GUIDE Bulletin article, "The Long Game"). Pete 'The Sween' has taught me more pragmatic life lessons, often mimed in the sarcastic drawl of a woodchuck logger from Vermont's Northeast Kingdom:
"Since none of you assholes is a doctor, how about you all quit trying to make a diagnosis, and we get this guy out of here, into an ambulance, to a real hospital, with real doctors, as soon as possible."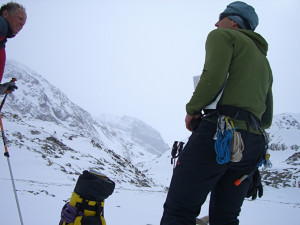 He was a handful for our boss, but he had a good point. Pete captains and delivers high-end luxury boats in the warmer seasons, and put in decades ski patrolling at both Stowe and Jay Peak.
For our Wapta Icefields trip, Pete handled logistics with the Canadian Alpine Club reservations. I would lead the route finding, navigation, and mountain skills, and Doug would be our Mr. Spock, providing an engineer's measured counsel and quiet competence. I was preparing for a ski mountaineering guide exam right after our tour, the last of 14 courses and exams required for full national (AMGA) and international (UIAGM/IFMGA) mountain guide certification. Skiing with these guys across high icefields was something I had sat in the patrol shack on rainy days and only dreamt about when I was a fresh-faced 20 year old.
Mountain guides often work alone, or within their own megalomaniacal bubble, so developing the capacity for honest self-assessment is an important skill. Training has taught me to reflect on every day out in the mountains, and consider what applications or strategies could have been improved. We had a fantastic tour through the Rockies and enjoyed skiing together again. As always, we learned a few more lessons along the way:
On long tours and road trips, keep a spare ski pole or pair in the car at the trailhead. This not only allowed for a quick comeback when I snapped my pole and stuck it in my puffy, but also saved my butt on the ski exam after a hasty quiver change. I owe Joe St Onge from Sun Valley Trekking a lifetime of beers for that one.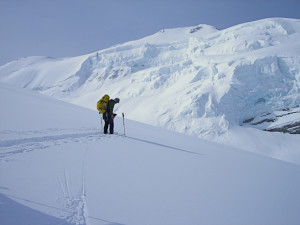 Learn to think like the metric system. After a dismissive glance at the guidebook distance and elevation into Peyto Hut (roughly 9km and 670 meters elevation gain), instead of packing all day, we had chosen to ski thick, late-season powder at Kicking Horse. When Spock actually ran the imperial numbers at the trailhead (1 meter = 3.3 feet or 3,300 feet = 1000 meters), the approach looked to be more like 2200 feet over 5.5 miles, with six day packs. We were resigned to an afternoon of uphill with thrusters on, when allowing some time for stargazing would have been more recreational. Many parties also opt for a shortened 'classic' traverse using the less strenuous tour up to Bow Hut, or as an alternate entrance if conditions are uncooperative to reach Peyto.
Stay and play at the huts. The standard Wapta Traverse is more 'mountaineer skiing' than 'ski mountaineering.' Fitness and the ability to shuffle along and make kick turns are the fundamental movement skills required. If making turns is a priority over traversing the icefield, then a loop tour from the Bow Hut to a few nights at Peyto Hut would be a good alternative itinerary, allowing access to turns from several distinct summits.
In good visibility, the Bow Hut is a moderate tour from Peyto Hut up over the wide expanse of Wapta Saddle and down a steep lobe of the glacier towards Bow Lake. It is the largest hut on the traverse, and has a large common room with woodstove, so it's a comfortable place to dry gear, have lunch on a weather or rest day, and hang out. Winds from the west frequently blow across the icefield, collecting and re-depositing fresh snow on the perfectly pitched access slopes above the hut. In stable spring conditions, a good skin track put in here allows for hours of backyard turns, easily accessible from the hut.
Good application means using the right technique, in the right place, at the right time, with that specific team, in those specific conditions. We enjoyed good, cold, late winter conditions on our traverse in early April. Seasonal snowpack high on the icefield was several meters deep, with low ski penetration below new surface snow. Route finding and navigation minimized our exposure to most of the crevasse hazard without having to always ski roped together. We were always prepared to manage the hazard though, and toured with our lightweight harnesses on, equipped with a tidy handful of cordalettes, prussiks, long slings, carabiners, and one ice screw each, for self-anchoring to a deeper crevasse wall or exposed glacier. We also carried two 30m half-ropes instead of one longer one, to better distribute the load and the rescue resources.
When not on a rope, we kept a moderate distance of a few ski lengths between us. We watched more than one party stay clipped into a long-rope at 10m intervals all the way up the flat, unbroken glacier, onto scree and through the dry rock of the Mt. Olive and Mt. Nicholas Saddle, which was definitely over-application of the rope. With good visibility and coverage, we skied unroped all the way down to the windswept moonscape on the moraine at the Balfour Hut. The following day, Thomas- a local Austrian/Canadian mountain guide and his guests, descended the same vast low-angle glacier by compass, in a complete whiteout. They skied slowly and on a rope in the poor visibility through the thin coverage on the lower glacier. We used the rope when we needed it, but not when we didn't.
Always use 'strategery.'  The crux of the classic Wapta traverse is getting over Balfour High Col, and navigating around some heavily crevassed terrain and up a broad ramp beneath hanging seracs on the northern face of Mount Balfour. There is room for ascending (or descending) with minimal exposure, but it requires stable conditions and decent visibility for route finding. Pete had wisely planned an extra day here to allow for a two-day window to make it over the pass. A forced weather day proved this to be a smart strategy and sent an otherwise very solid team of Kootenay boys back through the Bow Hut for the remainder of their second attempt on the traverse. We spent the day touring around the moraine in a whiteout, putting in a 'mini-golf' tour through snowy, wind-loaded pockets in the moraine. Steady winds refreshed our tracks in the boot-top powder and the rocky features provided good points of reference in the flat light. Occasional breaks in the clouds allowed us to survey the face, and when the next morning dawned clear, our existing skin track gave us an efficient way onto the snowy ramp that bypassed the most crevassed terrain.
'If I don't like your track, I'll just put in my own.' Multi-day hut tours are like mini-expeditions, and you end up traveling in sync with the same parties. Thomas and his two guests, both free-heelers from Quebec and Alberta, caught up with us on the whiteout day at Balfour Hut. Thomas is around my age—early 40's—but twice as tall and half as thick. He's a friendly, Bavarian-born, Austrian-trained mountain guide, transplanted to Canada, and was preparing to defend a PhD in avalanche science the following week. While our team was likely headed out the door first, I definitely didn't want to put in a crappy amateur skin track for them to follow. Yet when I approached him about collaborating, he put me at ease and told me not to sweat it, to just put in a track that worked for our own team. If he didn't like it for any reason, he would simply put in his own track. No big deal either way. They ended up drafting along right behind us, and better yet, on the descent of the Waputik Glacier, we leapfrogged our teams, setting a wide contouring track that allowed us to kick and glide most of the way to the Scott Duncan Hut and kept us away from the heavily crevassed zone down the glacier's fall line.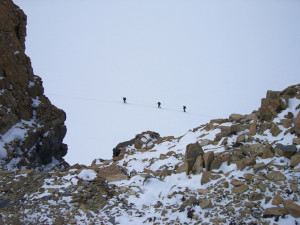 You gotta know when to hold 'em, and know when to fold 'em. Like gambling, ski touring in the high alpine has both risks and rewards. Wise gamblers like Kenny Rogers stack the odds in their favor with both foresight and patience. The descent from the Duncan Hut traverses directly below the rocky southern aspect of Mt. Niles, which is capped with a long eyebrow cornice on the summit.  Stopping at the Duncan Hut for one last night allowed us to take in an incredible sunset view of the Waputik Icefield and to get an early start on the descent, before the sun's warmth would affect the cornice. We also had time to enjoy the views into Cathedral Mountain's hourglass couloir (a helpful perspective for me, as we descended it on our guide exam) and other potential day tour options in the narrow exit valley to Sherbrooke Lake and the Great Divide Lodge.
It's called gratitude. 'I need beer…I am Bavarian!' Thomas had cried our last night in the Duncan Hut, shortly after his guest nonchalantly hung his bare, scaly farmer's feet off the bunks and over our full dinner table. We converged for celebratory burgers and beers at the Lake Louise Alpine Center's Peyto Cafe. Sometime after we finished our meal, and yet before the waitress came back with the check, Thomas disappeared. When the bill arrived, we covered of our share, but his two guests dithered, wanting Thomas to return so that he could pay his share…
Now, if you're into ice and snow, western Canada is mecca and one of the grandest arenas in the world for both skiers and ice climbers. The combination of vast North American wilderness, peaks on scale with the highest Alps, European style huts, flight access, and roadside trailheads to alpine glaciers, is unmatched. Canadians I meet in the mountains from Quebec to British Columbia are simply good people—friendly, courteous and accommodating of my uncivilized lack of familiarity with a second language or metric speed limits. I envy Canadians' social programs and government policies that recognize the collective social imperative to at least try to provide reasonable universal health care and formal education as a foundation of a successful economy. Along with requiring a high standard of professional licensing, government support for outdoor recreation as sustainable economic development makes a career as a Canadian mountain guide much more sustainable than for an American mountain guide.  I see why Austrian guides like Thomas move to Canada. It makes me want to move to Canada.
But this dithering about the check was my chance to offer the unabashed American perspective. I pointed out to his guests that we had watched Thomas serve them up with delicious, hand-prepared snacks, teas and meals all week long- in addition to him nailing the whiteout navigation to Balfour Hut, which had shut down every other team of amateurs behind them and put them into position to complete the traverse. The least they could do was buy him a burger and a beer. They sheepishly agreed. After which Thomas suddenly reappeared.
Damn, those Canadian mountain guides are good, I thought.