How to Prepare for the AMGA Ski Guide Program | Part 1: The Skiing Standard – by Danny Uhlmann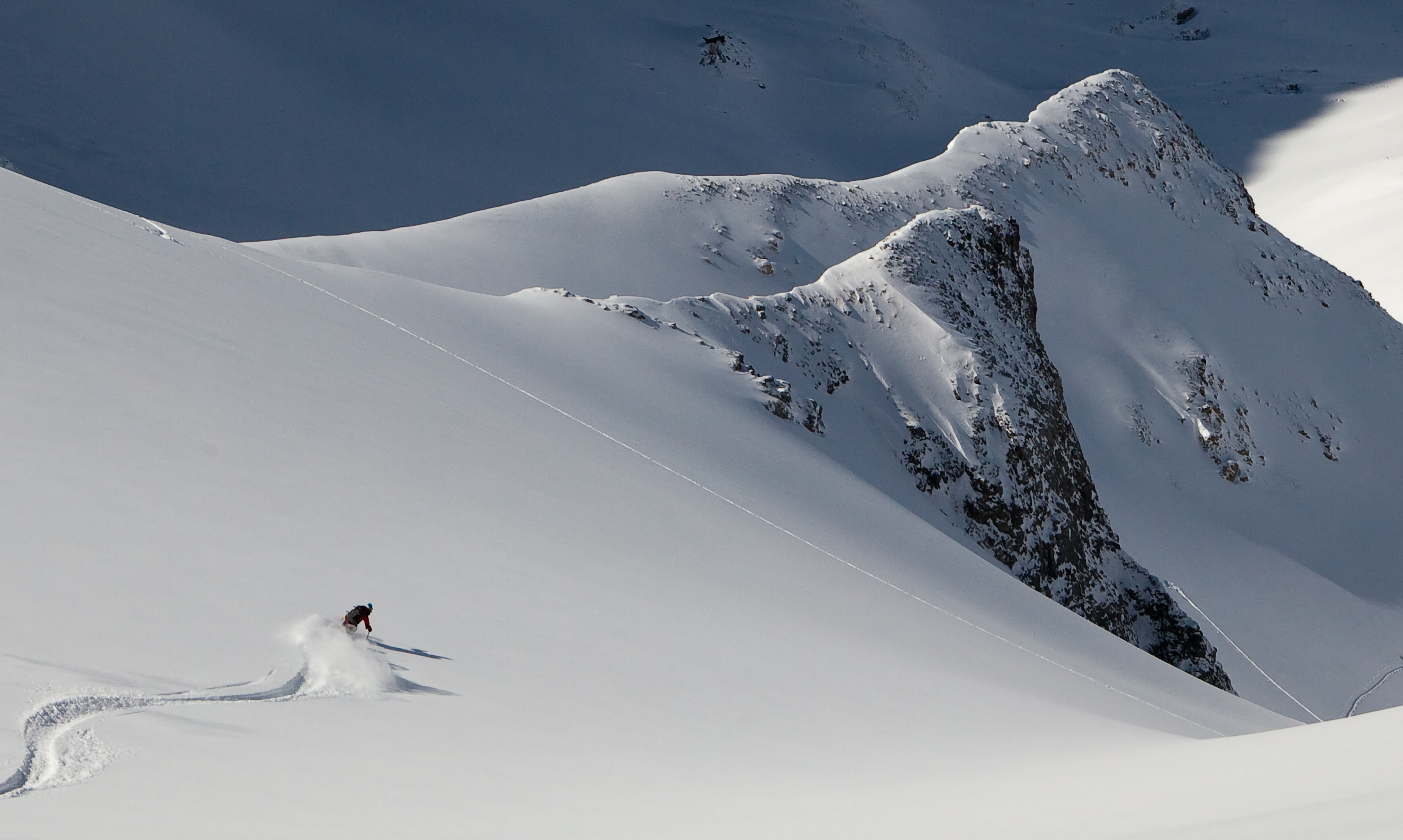 How to prepare for the AMGA Ski Guide's Program
First, go read the prerequisites on the program website. I want to group the items on that list into three simple categories. This article only addresses the first category.
1) Skiing standard (raw ability)
2) Skiing experience (where/what/how have you done)
3) Toolkit contents (crevasse rescue, AIARE III, rescue, rope techniques, navigation, etc.)
Part 1: Skiing Standard
-10,000-hour rule, put in your time/meters/repetitions
-Best place to learn and improve is from the lifts
-200-300 days to minimum movement standard (3-5 years)
-Engage in professional structured training (ski racing, moguls, freeride, PSIA)
-Find feedback mechanisms (video, competitions, ski instructors, certified guides)
-Ski touring is a poor way to learn skiing
-99% perspiration, 1% inspiration
-Develop playfulness and curiosity
No one should tell you that a love of skiing is prerequisite for becoming certified. But that said, the idea of love is a good starting point. Love is about passion, curiosity, inquisitiveness, critique, introspection, openness, and exploration. These are, in my opinion, the qualities that most closely describe the pursuit of skiing. It is a very left-brained, non goal-oriented pursuit, where process trumps result and fun is a central theme. The same cannot be said wholesale of climbing, especially guiding. The proof is in the pudding. Clients by and large climb with us to summit well-known peaks. Ski clients, on the other hand, come to ski powder and to have a good time. 
Your skiing standard matters. How much it matters depends on who you ask. There is a spectrum of opinions among certified guides and examiners. Suffice it to say, lets stick to the facts. You have a minimum standard to attain. If you have any questions where your current skiing level is in relation to the standard, I'd seek professional feedback via AMGA examiners, PSIA level III ski instructors, coaches, or other trusted sources. An additional option is to send a video of yourself to the Technical Director or other ski discipline instructors.
I asked for input from a few high level skiers who are IFMGA guides and PSIA examiners, and the consensus was pretty clear – There is no one-size-fits-all way to determine one's level of skiing. I'm targeting this advice for people in the gray area and debutants; if you are confidently above the standard this article will not mean much to you.
Skiing is a language, and the only way to become fluent is not just repetition, but structured repetition with feedback mechanisms. 10,000 hours of undirected practice is less valuable than 1,000 hours of highly structured practice. Skiing is muscle memory in a four dimensional environment and it can't be faked. Immersion, like with language, is the shortest route to fluency. Ideally at the youngest age possible. We don't choose our past, only our future. So if you find yourself an adult learner of skiing, you have a lot of catching up to do, and fluency will take longer to attain, and it will be harder fought. That's just a fact we have to face.
Your body will usually revert to its lowest common denominator when the going gets tough. In climbing we talk about what you are comfortable on-sighting off the couch, in skiing it's the same. If your body is going to revert to its lowest form when its tired, scared, exposed, skiing over poorly-lit, crusty snow, you want that lowest standard to be reasonably high. Without the skiing being automatic, it's impossible to focus on the safety-oriented things like avalanche hazards, navigation, and client care.
The guides and professional skiers I asked for input to this question of how to improve a person's skiing all agreed on a few basic things. Repetition is key. Therefore, skiing from lifts is the best way. Groomers, ice, bumps, crud, trees, everything – Ski the whole mountain; ideally you want skills in all conditions.
Glen Plake told me, "simply put, being confident to be on skis in any setting or condition, anywhere, needs to be the standard. That doesn't mean you have to ski 1k of 50′ refreeze. But stopping on a slope, sidestepping back up to re-correct and/or prep for a client lower should be no problem."
He went on to say, "I would also suggest getting a season pass as a means for repetition. Like joining a climbing gym to tune up in the winter. It's the cheaper way to go in the long run, and you'll meet other skiers. I also think it's not important to be at the "cool big mountain". A lot more successful ski champions have come from small hills rather than big ones, because they are forced to focus on the ski skills. Big geographic features don't translate to being a better skier, contrary to popular belief." With Glen's advice here we are talking strictly about raw skiing ability, as opposed to Part 2, which will talk about experience. On the topic of experience, getting to some big mountains is vital.
Easy enough, right? Wait, not so fast. He also said, "Without a doubt the only way to learn is to be taught in some form in a ski area setting."
The need to have structured training early on is paramount. I want to stress this point. Attempting to teach oneself skiing is certainly possible, but not the shortest route to excellence. For proof, most of the world's best skiers were involved in competitive skiing and were coached. That should be a lesson for the rest of us. Money and time spent with structured training will pay itself back in spades. Don't shortchange yourself here.
IFMGA Mountain Guide Chris Simmons had to work hard to achieve the ski guide's standard, and he credits working up to the PSIA level II as contributing greatly to that. It's really the only form of training, outside of competition, which naturally rates you against other skiers in an objective way, that gives the chance for a prescribed toolbox of skills to acquire. PSIA is by no means the only avenue, but is probably more effective than simply getting a job as a ski patroller and skiing every day without feedback.
Most people I've spoken with agreed that ski touring is a poor way to improve at skiing. The most basic explanation is that you ski a fraction of the vertical meters you would at the ski area, and often in quite forgiving conditions. Norway is a great example of this. Many Norwegian clients are not good skiers, but they have good mountain skills because they spend lots of time in the mountains. They have a strong touring background and very little time on the lifts, which equals a relatively low lifetime-meters-skied count. The proof is in the pudding. For example, I know if I have clients from New England who are lifelong skiers, they will probably be good because of a lifetime skiing in crappy and difficult conditions. Powder does not make you a good skier.
Go out with skiers better than you. Simply trying to keep up with them won't make you better automatically, but being humbled and measuring your progress against their level can be helpful. Seeing how better skiers handle terrain is incredibly valuable, even if you don't need to attain the same standard.
That said, as Swedish IFMGA guide Morgan Salen said, "It doesn't always work to ski with your friends who are good skiers. They are there to ski, not to teach you. Kind of like casually asking your doctor friend at dinner what's wrong with your foot. You will get a better answer if you meet a doctor in that person's clinic and get quality time to figure out what's wrong." But then he went on to say, "I think the key is deliberate training in combination with shredding."
In order to improve quickly a person needs to have specific guidance. Attempting to keep up with the big dogs at the mountain is one way to see what a high standard looks like, but is not a panacea to teach you skiing. Both have value though, and the ultimate goal is to shred.
The last point which both Glen and IFMGA mountain guide Kris Erikson emphasized is that being a good skier has no necessary relationship to one's mountain sense and mountain skills. Kris said, "The better we can ski as guides the more likely we can filter in the information to take better care of our clients. But I've also seen several really good skiers think they're guides when mostly they aren't providing any real security for their clients."
There are different components to the ski standard. Largely we can summarize it as being able to ski with style and fluidity in a variety of skiing modes, turn shapes, slope angles and conditions, and in a way that is hopefully inspiring.
Summary
A person's starting point and life circumstances will determine the best course of action. If money and time are no issues, moving to the best ski area with the most varied terrain, and surrounding yourself by other motivated and skilled people, is the shortest path to excellence. Most of us have to work though, some have families, and other circumstances. And as Glen said, any ski area will do if you subject yourself to a rigorous training regime and you ski a lot.
I'm not here to tell you how to do this, only to offer suggestions. It takes an absolute minimum of three full seasons for a highly motivated and athletic person using structured feedback mechanisms to gain competence at skiing. 200-300 days is probably a low estimate. One day of ski touring does not equal one day of riding lifts in terms of raw skill acquisition because the vertical meters skied are a fraction.
Feedback from professionals is the best hack towards improvement.
Hopefully there was some useful information here. As I said before, the ski discipline has the least amount of agreement amongst guides and instructors. There is no solid measurement rubric like in climbing. For that reason, I've taken this advice mostly from those whose opinions are rooted in excellence in skiing and ski guiding. In the end it's about the love of it and fun. I hope you have both of those this season!
Danny Uhlmann, IFMGA Mountain Guide, Chamonix, France.
with input from:
Kris Erickson, IFMGA Mountain Guide, Chamonix, France. Morocco.
Morgan Salen, IFMGA Mountain Guide, Chamonix, France. Sweden.
Julian Hanna, AMGA Ski / Splitboard Guide, Lake Tahoe, California.
Joe Vallone, IFMGA Mountain Guide, La Grave, France.
Chris Simmons, IFMGA Mountain Guide, Seattle, Washington. PSIA II instructor.
Glen Plake, AMGA Apprentice Ski Guide, PSIA Level III instructor. Chamonix, France, Mammoth Lakes, California.