12 Women-Specific Scholarships Offered to Members Seeking Courses in the Mountain Guide Program
Posted on June 15, 2018 by Rachel Vermeal
Each year, outdoor industry leaders and private foundations generously give to the AMGA so guides and aspiring guides have the opportunity to gain the necessary skills and training they need to be America's best. This year, we are happy to announce 28 scholarship opportunities open to our members seeking courses in the Mountain Guide Program.
The AMGA is proud to announce that for 2019 we will have 12 women's specific scholarships to show its commitment to see a greater representation of women in the guiding industry. Throughout the years Arc'teryx, Eddie Bauer, Patagonia, and the Julie Cheney Culberson Educational Fund have helped us achieved this goal with their support and now the First Ascent Charitable Foundation has extended a gift of $15,000 to increase the number of available scholarships for 2019 and boosts opportunities for female members of the AMGA to pursuing courses in the Mountain Guide Program.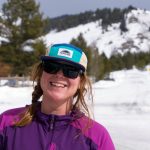 Lindsey Clark, 2018 Julie Cheney Culberson Scholarship recipient, felt very invested in expanding the female presence in the guiding world in Oregon. After participating in the S5 SGC 18 course Lindsey reflected that she "truly appreciated the opportunity to receive a female-specific scholarship for the Ski Guides Course and hope to pay it forward in the form of inspiring many more women to get after it in the mountains."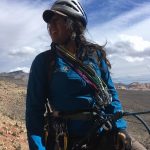 Certified Single Pitch Instructor Alejandra Garces Pozo is also inspired to pursue the guide track and feels fortunate to be a part of an organization that takes pride in pursuing professionalism, education, and community. As the 2018 Patagonia Scholarship recipient she sees that "the Patagonia Scholarship helped me progress in the Rock Discipline and helped me to start my guide track with the AMGA. I am very grateful for the opportunity this scholarship gave me and am looking forward to continuing in the Alpine Discipline and Advanced Rock in the coming years."
Those beginning their guide training journey with the Alpine Skills Course or Rock Guides Course as well as seasoned female guides working towards discipline certification (rock, alpine, or ski) or American Mountain Guide/IFMGA certification are encouraged to apply.
Applicants must meet the prerequisite qualification for the Mountain Guide Program course they wish to apply for in 2019 and scholarship application must be completed by 11:59pm PST, on July 1, 2018. In addition, applicants must still apply to AMGA program(s), fulfill prerequisites for the applied for course, pay program application fees, and meet application deadline(s) for their 2019 program(s). Note: 2019 Mountain Guide Program schedule will be posted on July 16, 2018. Contact [email protected] with questions.
Note the deadline is July 1, 2018, applicants must be AMGA members ($80/year), and course prerequisites must be met prior to course start.