2018 Arc'teryx Alpine Mentorship Camp Interview with Jason Martin
In the summer of 2018, Jason Martin was awarded a mentorship opportunity that took place over several days in the North Cascades. Check out his thoughts on the outing, mentoring, and more!
What does "mentorship" mean to you? Has the definition changed as a result of attending the camp?
Mentorship is a multi-faceted term in the mountain guide world. Mentors are people who have experience, training and knowledge in the field. They are also people who have lived the life of a guide for a long enough period, that they understand the social and financial pressures of the industry. A true mentor in our field is someone who understands both the technical demands as well as the lifestyle demands and can provide advice in both venues.
A mentor is also someone that you feel that you can trust. The ideal mentor is someone who you can feel vulnerable around. It's okay to make mistakes in front of this person. They won't hold it against you. Instead they will provide advice and feedback in order to help you become better at what you do.
I don't believe that the camp changed my understanding of what a mentor should be. It just reinforced it…
In what ways do you feel mentorship is significant to the craft of mountain guiding?
Many guides desire mentors that pat them on the head and tell them that they're the best at everything they do. It's hard for a guide to get critical feedback. We seldom get it from our clients. They think we are the best at what we do. This can create a dangerous personal narrative, a narrative that can lead to a belief that we are, indeed, the best, and that we don't make mistakes.
One of the most interesting comments made during my mentorship camp was that, "guides make mistakes every day." In other words, we can all be better at what we do.
A good mentor will both prop up a guide, while also identifying a guide's weaknesses. This is something that our industry needs at all levels. No matter where one is in one's career – whether at the very start, or operating as a seasoned veteran – there is always something to learn and someone to learn it from.
Many guides operate in a vacuum. There is no one out there looking over their shoulder and saying, "you probably could have done that better." We need more people looking over every guide's shoulder and saying that. It's how we will get better, not only as individuals, but as an industry.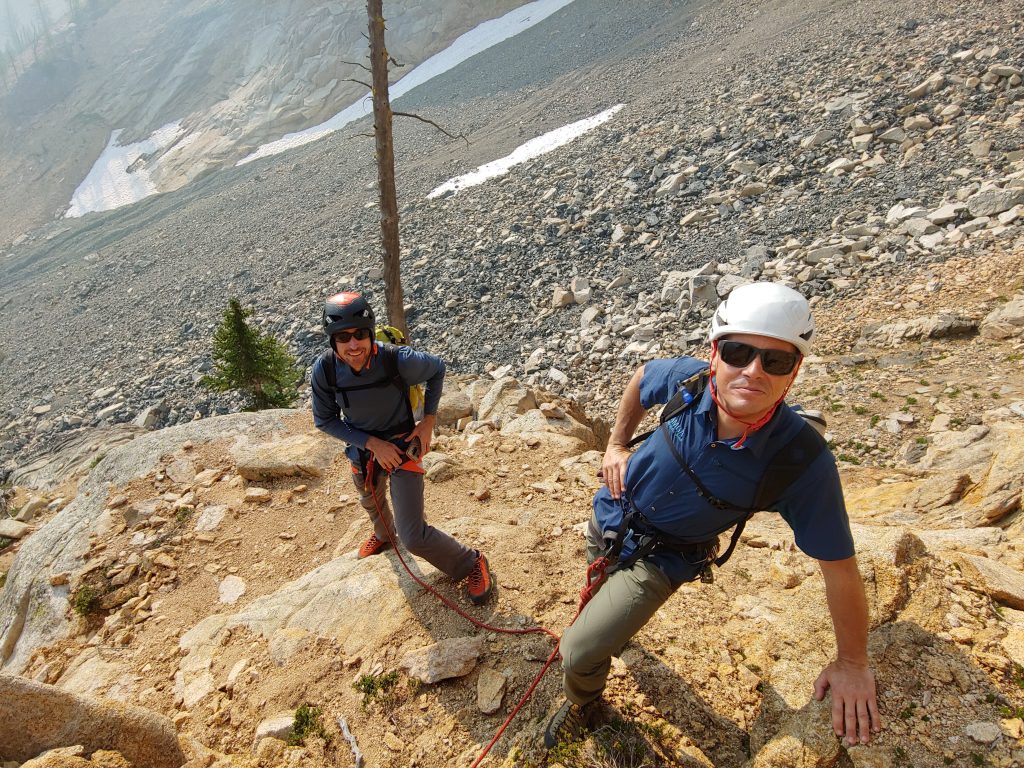 How did the 2018 Arc'teryx and AMGA Alpine Discipline Mentorship Camp help you grow as a professional?
It is not often that we have the opportunity to have our skills and techniques assessed. Usually this happens in an exam setting where there is a tremendous amount of stress. The low-stress format of the camp allowed for significant growth.
Additionally, there is always value in spending time with guides who you don't work with. Part of my job is to manage other guides at our guide service. It's good to rub elbows with guides from different companies to hear what they're doing.
And finally, the Mentorship Camp helped me to prepare for an upcoming exam, something I feel better about after attending the camp.
What is the biggest learning you had on the Mentorship Camp?
The Alpine Discipline Mentorship Camp helped me zone in on some persistent weaknesses in my guiding. I was aware that I had an issue, but I thought I had resolved it. The camp opened my eyes to some techniques that allowed me to put the issue behind me, once and for all.
What was the most fun you had while on the Mentorship Camp?
Honestly, the whole thing was fun. There was no particular moment that stood out, but I definitely had a good time…!
What is your next step on your path to becoming a Certified Alpine Guide?
I did book some days with a few other instructor team members to continue my growth. I intend to take my exam at the end of the summer.
What advice do you have for future mentorship camp attendees?
If you know what your weaknesses are, try to climb/ski routes that play on those weaknesses. If you don't know where your weaknesses lie, use the mentorship camp to identify them. The key to success is an awareness of what you need to work on…and then to work on it…!