A Jill of All Trades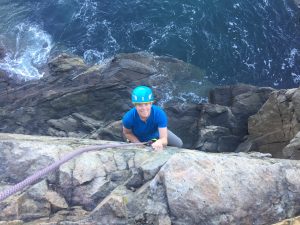 After twenty years as an outdoor educator, I decided to become a part-time guide. To be honest, I found the transition from teaching to guiding daunting. Despite being an experienced educator, I was unsure if guiding offered a place for me as a 42 year-old woman who is not "a crusher," especially compared to my colleagues who are predominantly young men. I was also uncertain how to adjust to the biggest differences between teaching and guiding. After some time in the saddle, though, I can confidently say that there is a place for me, and others like me, in the guiding realm, but it is not without hurdles.  Hopefully these reflections will help others with similar goals transition between careers more smoothly in the future.
First, let me provide some context.  In my former life, I was a "Jill of All Trades" and taught a variety of outdoor and leadership skills while Director at Colgate University Outdoor Education. My teaching load was diverse and I defined myself as a generalist with strong technical skills in whitewater boating, sea kayaking, Nordic skiing, and rock climbing.  I left this job to travel, spend more time with family, and live in my ideal location and former home, Downeast Maine.  I was interested in an outdoor job that allowed me to be part of a community rather than working away on multi-week trips all the time. As a result, I eagerly sought out work as a single pitch instructor with Acadia Mountain Guides (AMG) in Bar Harbor, Maine. While there may be more adventurous places to climb, I would argue that few are as beautiful and soulful. How many other places do you see porpoises, seals, and eagles from the cliff? I was excited to enjoy the location and contribute to my local community, but I did not know what to expect until I worked as a single pitch instructor for the 2017 climbing season. Below are a few insights about the differences between teaching and climbing as well as how I met the challenges and what I learned in the process.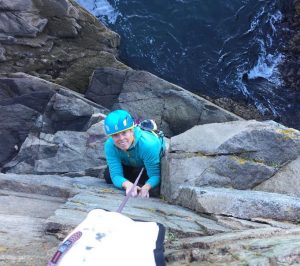 The majority of AMG clients climb as one of the many activities they want to check off in Acadia National Park. I typically guide back-to-back four-hour half-day sessions with the occasional full-day session.  My client group sizes range from 1-5 and include children, solo teenagers, couples, families, and senior citizens. I primarily set up either top- or bottom-managed top-rope systems and only lead climbs for a handful of clients. Most of the time, I take clients to the sea cliffs that present a range of easy to difficult climbs and provide a stunning backdrop. The commercial activity and active wildlife on the water allow for a sharing of excellent natural history and place- based information that help clients connect to their surroundings.
Most of my clients expect a twenty something year-old male guide and express surprise when I greet them at the shop. While I am certain one group of four eighteen year-old bros would have preferred someone else (and vice-versa), most of my clients appeared to appreciate my "life status." Parents feel very comfortable placing their children in my care, I communicate equally well with parents and their high school and college-aged children, adults are surprisingly comfortable being uncomfortable in my presence, and all my clients find me relatable.  For the most part, guiding requires the same emotional and communication skills as teaching and mentoring and allows for a natural transition from one skillset to the other.
There are, however, a couple key differences that require significant adjustment. First, guiding is much more time-bound than instructing.  Clients pay to have a specific experience in four hours, door to door.  The efficiency needed to fill four hours with enough climbing to satisfy 2-4 people requires fast, fast, fast set-ups and transitions. The emphasis on hyper-efficiency challenged me most as a new guide and presented the steepest learning curve last summer. It is also the element I like least about guiding, as I think it challenges some of the more meditative and reflective aspects of the experience.
Second, these outings are not about climbing per se, but are about an experience, as an individual, couple, or family, in a natural setting. For most of my clients, climbing in Acadia is about trying something new: rappelling with the ocean lapping at their heels, being buzzed by guillemots and gulls while climbing, and finding hidden nooks and crannies among the hub-bub of one of America's most visited National Parks. I do not guide experienced climbers or people particularly eager to learn about climbing…at least not at the outset.  While initially challenged by this shift, I was able to adjust my perspective to focus on the value of the experience as a way to immerse oneself in a landscape, face a new dynamic as a couple, or have a challenging adventure as a family.  I learned to transition from teaching to coaching.  I also learned when to accept help from clients (and go home with a poorly coiled rope) and when to just forge ahead at "guide speed" for the sake of creating more climbing experiences.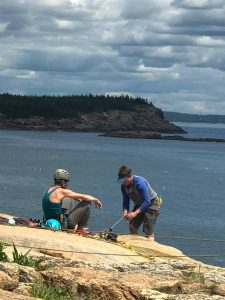 Lastly, word choice and efficient communication are even more important when guiding than teaching. While my clients are not interested in gaining independence in climbing, they are interested in knowing they are safe and knowing what is happening to and around them. This requires very clear and concise explanations free of jargon that are understandable across significant age spans.
In a nutshell, the answer is yes, there is a place for me guiding, but it requires molding an existing spot to be a better fit.  In the end, the shift from teaching to guiding was about me managing my expectations and identifying my strengths in this new setting.  I needed to re-focus on climbing as a vehicle for self-discovery and a catalyst for relationship building rather than as a skillset. Guiding is a unique opportunity to work with parents willing to challenge themselves in front of their children, to create a scenario in which siblings turn their bickering into cheerleading, and to tactfully praise an entire family when a mother is clearly challenging family norms by climbing better than everyone else. I feel poised to do all of these things, and I encourage more women to choose this path.
---
Abby Rowe, Certified Single Pitch Instructor