Accreditation-Based Access & Advocacy Discussed @ Bishop Round Table
Posted on May 28, 2014 by AMGA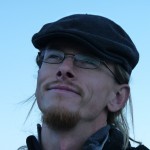 By Scott Massey
Once again, we would like to thank Arc'teryx for their support of the Round Table Discussion tour.  On May 12, AMGA Executive Director Betsy Winter, Outreach & Advocacy Director Scott Massey, and Technical Director Dale Remsberg visited Bishop, Calif., for the second stop of the year.  It was a beautiful spring day and a nice reprieve from snowy Colorado.
We had a decent turnout at the White Mountain Research Center, with representatives from most of the major Sierra guide services in attendance, other folks from as far away as Colorado, and even a few local land managers.  Having several of us from the office was great, in that we were able to present, in depth, on many of the AMGA's recent initiatives. These included: our brand audit and new logos, our advocacy initiatives surrounding accreditation-based access and minimum business standards, the new terminology representing different levels of training, and the terrain and supervision guidelines.  After the presentation, the floor was opened up to discussion and questions.
The biggest topics of discussion were our advocacy efforts and the value of certification and accreditation.  Overall, given the Board's decision to more closely tie accreditation to the training and certification process through the revised terrain and supervision guidelines, requiring guides to be trained for the terrain on which they work, the consensus was positive.  Folks, who in years past did not see the value of accreditation as a meaningful credential, expressed their support for the new model as a substantial change in the right direction.  Given the complicated nature of our permitting system, it was agreed that accreditation appears to be a viable tool for credential-based access in the United States. In addition, the land managers in attendance also stated the value of such a system to them as an effective streamlining tool for permit management, but stressed that such a change would need to come from a national level.  This corresponds well with the AMGA's efforts to create a workable, inclusive strategy to institute minimum standards for commercial mountain guiding users of our public lands.
We also discussed ways to support certified guides and accredited businesses further, especially in the interim as we work towards accreditation-based access.  It was expressed that the AMGA does a great job supporting students going through the programs, but is less supportive after students complete courses and exams.  This evolved into a discussion of the AMGA's varying roles, in addition to being primarily an educational organization.  While the AMGA is not a trade organization, and there are some important legal distinctions, we are committed to inspiring and supporting a culture of American mountain craft and evolving the role of the organization to best meet the needs of our membership.
Overall, it was a great civil discourse and an amazing opportunity to be present in another guiding community.  We thank all who attended for participating and offering input. And, most importantly, thanks to Arc'teryx for providing the funding to make this possible.  We look forward to continuing the conversation as we progress. And we encourage you to contact us with any further questions or comments.