Joey Thompson Becomes American Mountain Guide after 10 "tough" years
Posted on June 2, 2014 by AMGA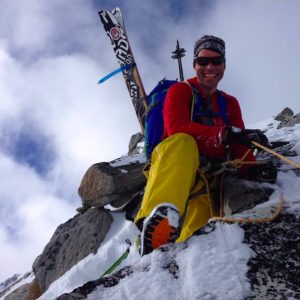 A news piece on Joey Thompson becoming an American Mountain Guide/IFMGA Guide appears in GUIDE Bulletin #3, spring/summer 2014. This is the full interview with Thompson.
Joey Thompson's journey to full AMGA/IFMGA certification took a tough ten years. "It was rigorous, demanding, and very expensive," he told the AMGA in a recent interview. "I sacrificed a lot."
In order to afford the courses and exams, plus the costs associated with "regular life," he worked full-time guiding, which often meant up to 200 days per year. Travel costs alone ran into the thousands of dollars. But, said Thompson, he was lucky to receive three full-tuition scholarships.
Thompson also had to regularly forego personal trips and climbing goals in order to train for courses. "But guiding goes beyond being a climber or skier," he explained. "We have to have that tool in our guiding repertoire, but it's much more than that."
However, because he really enjoys his career, all the hard work was worth it, he said.
"I love seeing the same places I've been to 25 times fresh through the eyes of different clients," he stated. "And I enjoy working in diverse terrain. In one week, I'll be doing some avalanche education, a day of multi-pitch rock climbing, and I'll find myself on a Fourteener, guiding in the alpine. Plus, I have the opportunity to travel to new and exciting places."
AMGA certification also elevates the profession as a whole. "It's really important for mountain guides to go through the process; we need to increase that standard so that the next generation has the opportunity to finance their education," Thompson said. Students of mountain-craft should be able to get loans just like any other college student or tradesman.
As a parting piece of advice, Thompson suggests that aspiring guides enjoy the process, and relax. "It's so easy to stress out in this AMGA program, but stress can lead to lack of sleep and second-guessing yourself as a guide. These are traits you don't want," he said. Thompson said he never felt rushed, and that he was always able to incorporate new skills into his practice and also utilize those skills as he worked.
"I spent the time to refine my technical abilities, and when I brought them to the exam, they seemed to be smoother and more ironed out," he explained. "I eliminated a lot of stress by not being in a hurry. For me, it was a really fun thing. I had a good time."