Bluewater Ropes Lightening Pro 9.7mm, 70m double-dry REVIEW
Posted on December 4, 2015 by Dana Ladzinski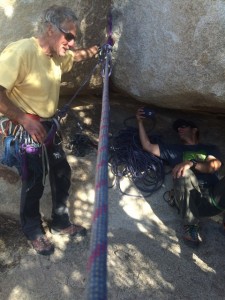 It's safe to say that we are experiencing the golden age of climbing equipment as manufacturers continue to shed weight and bulk. One category that continues to evolve is that of single rated climbing ropes. Now as thin as 8.7mm, many climbers are choosing to opt for the thinnest cords available to lighten their loads on the trail and while climbing.
Lately though, I've found myself choosing thicker diameter ropes anytime I expect to be climbing in places with sharp edges or highly abrasive rock or I expect to be working a route (i.e. falling) regularly.  Because the crags around my home in Revelstoke, British Columbia are comprised of very sharp edged quartzite, I tend to reach for these mid-fat cords as my go-to ropes.
Given my fondness for a good mid-fat rope as well as an upcoming trip the notoriously abrasive quartz monzonite of Joshua Tree National Park to instruct an AMGA Rock Guides Course, I jumped at the opportunity to tie into Bluewater Ropes' 9.7 Lightening Pro Dynamic rope.
Right out of the package the Lightening Pro's smooth handling was apparent. While most ropes tend to snag and tangle even with the most careful unfurling, the lightening pro stacked cleanly. On the rock, that same smooth characteristic of Bluewater's double pick sheath construction was easy handling and consistently earned praise from partners.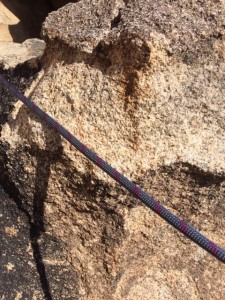 In the age of ultra-skinny diameter single ropes, 9.7mm is considered a mid-fat. Not quite light enough for your multi hour approaches or your hardest red-points, nor svelte enough to make top belaying pleasant with even the lowest friction belay devices.
I did notice the additional diameter when top belaying with my low friction assisted braking CAMP OVO (-hyperlink to Unger's ovo review), but the tightly woven sheath seemed to make it smoother than other similar sized ropes.
After countless transitions and very abusive rescue practice sessions, the lightening maintained it's feel and resisted the common "fuzzy caterpiller" feeling that is all too common in with abrasive rock. Despite it's apparent durability, the Lightening Pro is lighter and has a lower impact force than other ropes with similar diameter ropes, while still maintaining a high fall rating (8).
As with all bluewater ropes, the quality of manufacturing and attention to detail are what separates the Lightening Pro from similarly spec'd ropes. It truly is a pleasure to handle and climb with.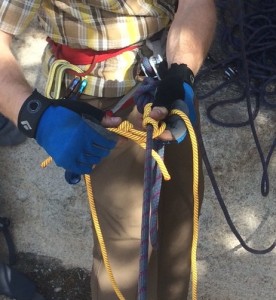 From Bluewaterropes.com "This rope is ideal for sport or extreme alpine climbing. Compare the specs of the Lightning Pro to any similar diameter from others and you'll see the Lightning Pro outshines all the rest. Lighter, lower impact force and Super high fall rating for ropes in the sub 10mm category. The Lightning Pro is easy handling and easy to clip. The low bulk, light weight and performace characteristics have made this rope the choice for many high-end endeavors, from sport to wall-in-a-day to alpine routes.
The BlueWater Lightning Pro specs highlight the loving care and manufacturing expertise we put in all our ropes. In addition to the color selections below the Lightning Pro is also available in Black with O.D stripes, O.D. with Black stripes, Coyote Brown with Black stripes."
Available in:
Standard: 60M and 70M in Flavine or Blue/Red.
Double-Dry: 60M and 70M in Flavine or Blue/Red.
Double-Dry Bi-Color: 60M and 70M in Flavine ONLY.
Diameter:    9.7mm
Grams Per Meter:    61
Impact Force:    7.8 kN
UIAA Falls Held:    8
Static Elongation:    8.9%
Dynamic Elongation:    32.2%
Sheath Slippage:    1mm
Sheath Mass:    36%
– Mike Bromberg