Chris Wright receives Mugs Stump to climb the North Pillar of Teng Kangpoche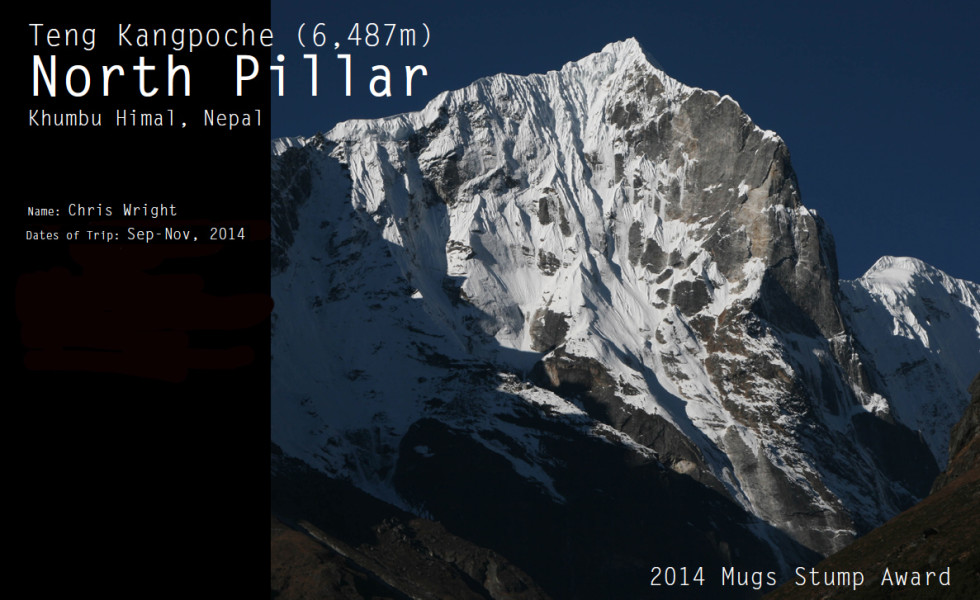 Congratulations Chris Wright for receiving the Mugs Stump Award to attempt the North Pillar of Teng Kangpoche (6,487m) in the Kumbu Himal, Nepal! We appreciate him letting us reprint part of his engaging Mugs Stump Award application on The Guiding Life blog. We can see he won not only for the cutting-edge nature of his prospective climb, but also because he is a compelling writer. Chris recently chatted with us via email to let us know the history behind his desire to climb this line. He first saw the line in 2012 en route to the Lunag Massif.
"I had no idea what it was, but I thought it looked incredible and I wondered if it had been climbed," he explained. "When I got home that year I did a bunch of research and found out it hadn't, but I really didn't want to go back to Nepal and just get shut down again since Geoff and I finished that trip with a lot of unfinished business up valley. It was in my mind all year and I had a feeling that when Scott saw it he'd want to climb it, too. But at that point we had other objectives, and we really didn't know if we'd end up wanting to climb together again since we still hardly knew each other. When at the end of the trip we'd had some good luck and decided we definitely did want to keep climbing as a team, there was almost no question we'd come back for it. Somehow I think Scott's psyche for it made it seem doable, and even though it's huge and audacious and probably really really hard, we stared at it and studied it and took a million pictures until we were convinced it would go. And here we are. I keep checking the line every now and again just so I can keep believing, but I really think that in the right conditions it'll all connect. Now we just have to make sure we're ready."
Chris guides for Jackson Hole Mountain Guides, among others. He has climbed and guided around the world.
From Chris' Mugs Stump Award:  Significance, History, Style & Approach
I'm not sure exactly what goes into the making of a Last Great Problems list, but if I had to come up with one for the Khumbu, or even for all of Nepal, I've got a few ideas of what would be on it. I'd be reticent to tell anyone though, since I think the Venn diagrams for Last Great Problems of the Nepal Himalaya, Things I'd Like to Climb, and Things Other People Would Also Like to Climb would have an awful lot of overlap. That said, I will tell you that the North Pillar of Teng Kangpoche would be at the very top of my list. Why, you ask? Let's see. I'll give you three good reasons.
It's strikingly, imposingly, crushingly beautiful.
It's six thousand feet long. The line itself, that is. Two thousand meters. I say again: It's 6000 feet long. That makes it not only one of the sexiest alpine lines I've ever seen, but one of the bigger technical routes around.
It's unclimbed.
That's it really; it's absolutely stunning, it's huge, it's gorgeous, and nobody's done it yet. That's most of what I'm looking for in an objective. That and I don't think it's going to try to kill me with seracs or dragons or anything.
On the question of character, I think it's going to be hard. I'll bet that in the end, that's going to emerge as the overriding character of the thing – hard. The rock is supposed to be quite good, but it's compact, and the headwall in the middle of the route looks extremely steep and a little blank. Also the route is 6000 feet, so there's no way it's going to go in less than three or four days, and probably even longer, which means heavy packs and probably some pretty slow going. It's north-facing, and it tops out at 21,283', which also means it's going to be cold and potentially windy, although you could really say that about anything in the Himalaya.
However, lest it sound like I'm explaining why it's not going to, after two years of gawking at it, I think things link up. There are clear features and sections that look really climbable, and there are drips and smears that often appear to connect them. I'm sure there's going to be mixed, aid, and rock climbing as well as probably some thin, scary ice, but to that I would say that I think there are bivy ledges, it's safe from any obvious objective hazard, it's easy to get to, and my partner and I feel pretty good on this type of terrain. So yeah I think it's going to be pretty hard, but that's the idea, right?
It seems to be. As far as history goes, the line has had quite a few suitors, but only one that got very far.
According to Lindsay Griffin, there have been a number of teams to mount expeditions to the route, but for one reason or another, most have never actually done much climbing on it. You don't have to look past this season to find two of those stories, when a team of Russian and Ukranian women abandoned plans to climb the pillar in favor of a (new and proud) line on the northeast face, and Ines Papert and Thomas Senf decided against an attempt in favor of a different peak entirely. The only significant attempt happened in the fall of 2006, when a strong team of Canadians Matt Maddaloni and John Furneaux, along with Paul Bridge as photographer/videographer, spent 14 days climbing to the middle of the headwall at 5,800m, but were forced down by a storm and lacked the time and resources for another attempt. They described the climbing as mentally and physically taxing, grading their efforts at 5.11, A4, WI6, and M8.
So in terms of style, we plan to climb it alpine style. With two ropes and two packs, hopefully we can avoid actually taking a portaledge, although we will bring one along at least as far as basecamp. I do also have a line on an ultra-light ledge system (honest) that I think will be perfect, and that should hopefully save us a considerable amount of weight if we do need a hanging sleep solution. Plus I like climbing, and failing if needs be, in alpine style.
As far as the approach and my previous experience in the area go, I'm as excited as I am about it because I've had to pass the mountain on the approach to basecamp the last two years in a row. This year I warned Scott that once he saw it, he'd want to climb it, and it turns out I was right. We were able to forget about it as we were rather preoccupied, but once you get up to about 5,500m, you can see it poking up out of the clouds and you're reminded that it really is worth coming back for.
Luckily, if we're to attempt it, instead of turning north at Thame and walking another few days up the valley as we did this year and last, it's practically right there. No hellish glaciers or moraines, just a steep schlep up the hillside, and there you are.
Whether or not it is on that Last Great Problems of the Khumbu list, it's number one on my list. That said, I think it really is a world class objective, and I know I'm not the only one who feels that way. In a range full of compelling lines, I think it just hasn't been done yet because a lot of people don't see it; it's not on the Everest circuit, and unless you're headed up or down from the Renjo La or Tashi Lapsa, you really don't have much of a reason to be there, and like so many other peaks in the Himalaya, its 6,487m is easily overshadowed by many of its higher neighbors. The other reason, of course, is that it's hard—probably really hard—and I'm fully aware that we might get completely shut down.
Sponsored by Alpinist Magazine, Black Diamond Equipment, Ltd., Mountain Gear, Patagonia, Inc., and W.L. Gore & Associates, Inc., the Mugs Stump Award encourages men, women, and teams from North America to submit their applications for a part of upwards of $25,000 in grant funding.